Cathartic: Students Respond to Election with Art
Students respond to election aftermath with creativity
Many students across campus have been dealing with the election results for last week, and some have turned to art to address their feelings. Students are using film, sculpture, writing and drawing to grapple with Trump's election. The art department organized a space in Fouts Center for Visual Arts for students and other community members to visually express their sorrow and shock.
Senior art major El Horsfall is collecting submissions for a zine that will be published before the end of the semester. Horsfall believes that creating a zine is a way that she can support individuals who feel worried by the election.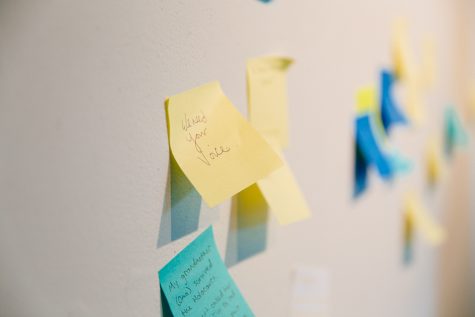 "Since the election, like many of us, I've been feeling scared. Scared for my uterus, scared for my rights as a queer person, scared for the future of our planet. But I also recognize that I possess as great deal of privilege, with which I have the ability to occupy space or create it for other people," Horsfall wrote in an email to The Wire.
By creating a zine, Horsfall hopes to provide a space for threatened individuals to voice their fears. Horsfall will also include information about volunteer opportunities, organizations that need support and resources in the zine.
Senior film and media studies major Annie Roge and senior rhetoric major Ari Appel are in the process of creating a short video about election responses. In the days following the election, Roge and Appel interviewed students and asked them, "How are you feeling?"
"We provided a space for people to talk openly about their emotions, and we really wanted to help people feel validated," Roge said. Though the two have collected many responses that highlight the community's shock, sadness and impassioned desire to create change, they want to make sure the video fully addresses the election's impact.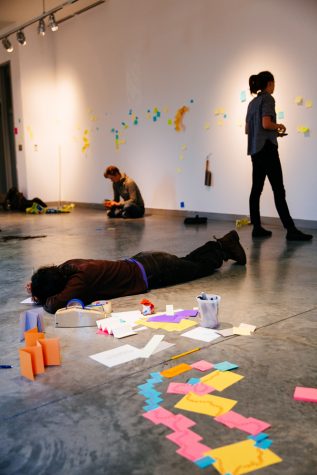 "We're trying to make it a little more comprehensive and a little less, 'Hey, here are a bunch of sad liberal arts school kids and look at how shocked and sad they are,'" Roge said. They hope to include more information about specific issues.
For Appel, their video provided a way for students to address their immediate emotional responses.
"Most of the responses were centered around the effects of the election and the way that they were handling it in a local and immediate sense," Appel said. "We didn't talk very much about policy or anything like that."
Many mediums have been utilized to address the election. For senior English major Hillary Smith, poetry was the key to addressing dealing with issues in the election.
"The night of the election I was just very numb and didn't know how to deal with it personally and within the community," Smith said. But then she saw a video that her friend posted on Facebook who had written a song in response to the election.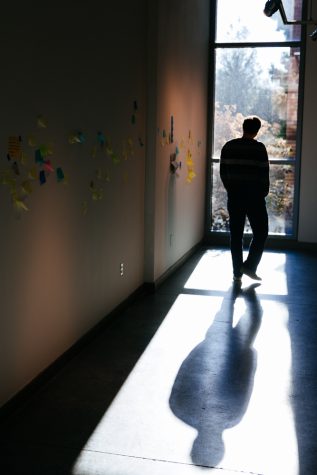 "I watched that and realized I had to write a poem, it was just where my mind went, and I was like, 'Why hadn't I done this yet?'" Smith said. "Poetry is what I am the most passionate about in my life, and it is something that I have always turned to. In a certain way, it has always helped me to respond to myself and my feelings."
Smith, Roge, Appel and Horsfall all noted the power that art has for individuals to express their feelings, especially in times of grievance.
"Art is our path forward, our path of resistance, our path for coping and it is how we will show solidarity with each other and be who we are," Smith said. "Our art in various forms has made us feel stronger as a community."
Students who are interested in participating in these projects should contact the artists. Interested individuals can email Appel and Roge if they would like to be interviewed, and can submit content for the zine to Horsfall until November 22.