DNC Convention Spotlights Philadelphia Inequalities
Presidential nominees not on every mind in low-income Philadelphia neighborhoods
Philadelphia – "Fuck the police! Fuck the police!" Chants echoed down Broad Street, kept on rhythm by a steady and ominous drum beat. Black Lives Matter (BLM) protesters filled every inch of the four lane thoroughfare as they stampeded down Broad St. to the City Hall and ground zero for protesters at the second day of the Democratic National Convention.  
The second day outside the DNC had a distinctly racial focus as Black Lives Matter and related groups staged the largest gatherings of the day. Protesters didn't seem concerned with the roll-call taking place a few short miles away, roasting Democratic nominee Hillary Clinton only as an afterthought.
"No justice, no peace, no racist police! Fuck Hillary!" 
The anger in the air was tangible; at multiple points during the march, the organizers stopped the procession and quieted the crowd in order to find "FBI infiltrators" who had permeated the group. This led to several fistfights along the way, which the police were strangely apathetic about.
The Philadelphia police were the direct and sole target of the protesters' anger. One black protester dressed in military style clothing walked down a long line of officers on bikes, made the shape of a gun with his fingers, and pretended to shoot each officer one after the other.
Michael Wilson is a resident of Philadelphia who organizes for the Philadelphia chapter of BLM, "Real Justice." Real Justice has held a number of protests in response to the deaths of black Americans at the hands of the police, both locally and nationally. The protest today included a speech from the mother of a young man who was killed by the Philadelphia Police Department.
Wilson talked about repairing relations between black communities and the local police force.
"We want the people in the neighborhoods to be able to view the police as not being their enemy, and the police to not view the people as being criminals," Wilson said. "That will mean better training, especially for young white male cops who have no connection to the black community."
"You bring in more police, you lock up more black men, and the worst part of it is that most of these kids are between 16-21, which means they are tagged as felons and kept outside of the American employment system for the rest of their lives," he added. "They have been pimping the black community for years."
Wilson connected the problem of police brutality in black neighborhoods to the problem of racially based economic inequality.
"The issue is that a lot of black men are committing crimes. But it's not because they are bad people," Wilson said. "You can't lock up everybody for long prison terms when that's really the only occupation in the neighborhood."
Racially based economic inequality is an epidemic in Philadelphia. "March for Our Lives" is another Philadelphia based activist group that protests local economic inequality. Statistics on their homepage proclaim that Philadelphia's poverty rate is 26%, with the highest deep poverty rate (people with incomes that are below half of the poverty line) in any of the ten largest cities in the U.S. at 12.3%.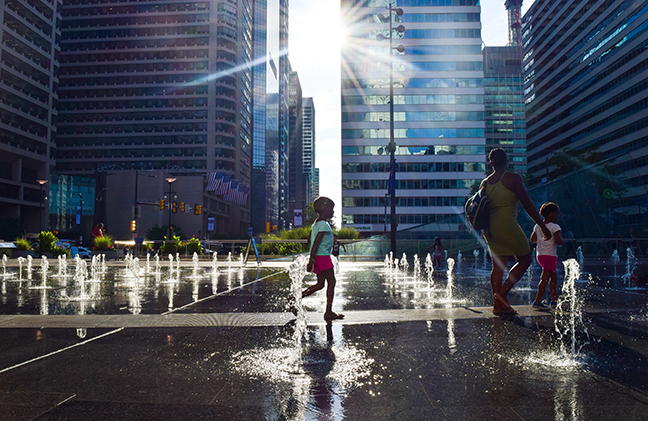 Philadelphia is also a deeply segregated city. North and West Philadelphia are predominantly black, and are plagued by crime and poverty. Kingsessing is a neighborhood in Southwest Philadelphia that fits this description. The median income is far below the national level, luckily the rates for "Airbnb" houses are low, which is what attracted me.  
The people in Kingsessing have all been nice to me. I get nods and greetings as I walk down Belmar Avenue to catch the bus downtown. I stick out like a sore thumb, but so far that attention has only warranted kind older women asking me if I'm lost. Blond hair, blue eyes, and blindingly white skin are definitely out of the norm in Kingsessing.
Last night I was dragged away from Bill Clinton's emotional endorsement of his wife by the sound of music and laughter coming from outside my door. I was greeted by Dave, Shawn, and Shaun, my next door neighbors. We ended up talking for hours about everything from the upcoming election, to our love lives, to life in general.
All three of them grew up in Philadelphia, without fathers in the home, incarcerated for various reasons. Shaun and Dave never finished high school, and Shawn is attending community college. Shawn was quick to tell me that the only reason he made it this far is because his mom is white.
They took me on a late night tour of the neighborhood, something that I would have never done alone. We had a great time swapping stories and trading laughs. They made me feel at home, which was a welcome relief after a week of no human interaction outside of the context of an interview.  
Dave, Shaun, and Shawn were all undecided voters. They didn't like Clinton, and they thought Trump was funny, but they didn't really think either candidate would have a huge affect on their lives. They also didn't really care about the protests going on all week, many of which are going on in their names. These are the victims of racially based economic inequality, the victims of a system that perpetuates itself by sidelining millions of Americans.
They didn't seem to mind too much. They all had plans of how to make a better life, and none of those plans involved the implementation of a different tax code.