Students organize to help Haiti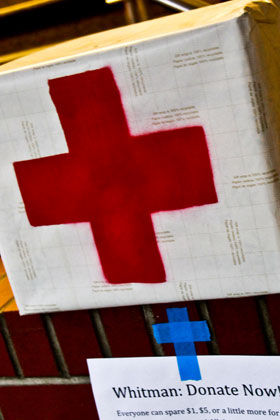 Following the devastation of a magnitude 7.0 earthquake near Port-au-Prince, Haiti, several Whitman students have sprung into action with fundraisers to raise money for disaster relief.
The quake, which killed 200,000 people and displaced as many as 1.5 million Haitians, occurred on Jan. 12. The American Red Cross said in a press release that they are using donations to provide clean drinking water and hygiene kits to those in need.
The post-disaster situation and efforts of the Red Cross in Haiti motivated junior Hayley Sampson to distribute dozens of Red Cross donation boxes across campus. The boxes, which were available for a week, raised around $900, exceeding her $500 goal.
"I looked on the listserv to see if anyone was doing anything student-based and it didn't look like anyone was, so I decided to make a bunch of donation boxes and distribute them around campus," she said.
ShopKo donated supplies for the boxes, which Sampson placed in academic buildings, residence halls and Reid Campus Center. Sampson's effort got a boost from the Saturday, Jan. 23, men's and women's basketball games against Linfield; all gate proceeds were donated to her cause.
The Red Cross boxes aren't the only student disaster relief project. Sophomore Adam Delgado spearheaded an effort for the Black Student Union to raise funds through a dance that took place last Saturday, Jan. 23.
"I was very impressed with most of the student body who realized that while the dance was primarily for entertainment, their donations would go to a good cause," he said. "People gave [from] pennies to twenty dollar bills. It exceeded all of our expectations."
The dance raised $523.44 for Partners in Health, an organization that provides healthcare to impoverished areas, including Haiti.
Sophomore Yonas Fikas, who attended the dance and is a member of the BSU, commented on the success of the dance.
"It was a good thing to do overall," he said. "I think it brought the club together. It had a common goal."
With separate fundraising events complete, Delgado, Sampson and first-year Jack Lazar have started an effort called Haiti Relief Initiative @ Whitman. The group will sell fried plantains and lemonade in Reid one day next week, with proceeds going to Partners in Health. A special Haiti Relief Initiative @ Whitman fundraising page on the Partners in Health website notes the group's goal of raising $3,000; as of Wednesday night, they had raised $190.
Delgado said he is interested in making Haiti "a long-term commitment." In addition to raising funds throughout the coming months, Haiti Relief Initiative @ Whitman hopes to raise awareness through a "Wear Red for Haiti" day, student meetings and a candlelight vigil.
Though initial efforts were various and unconsolidated, Sampson felt that the high level of interest in fundraising and awareness programs was good.
"I know there [were] a lot of disparate efforts going on and they [were] not unified, but it's great that the disparate efforts [were] going on," she said.
For students interested in helping out, you can donate to the Red Cross at http://tinyurl.com/yhy577o or to Haiti Relief Initiative @ Whitman's fundraising page through Partners in Health at http://tinyurl.com/yglghec.