Whitman Students in Agriculture: Breaking Bubbles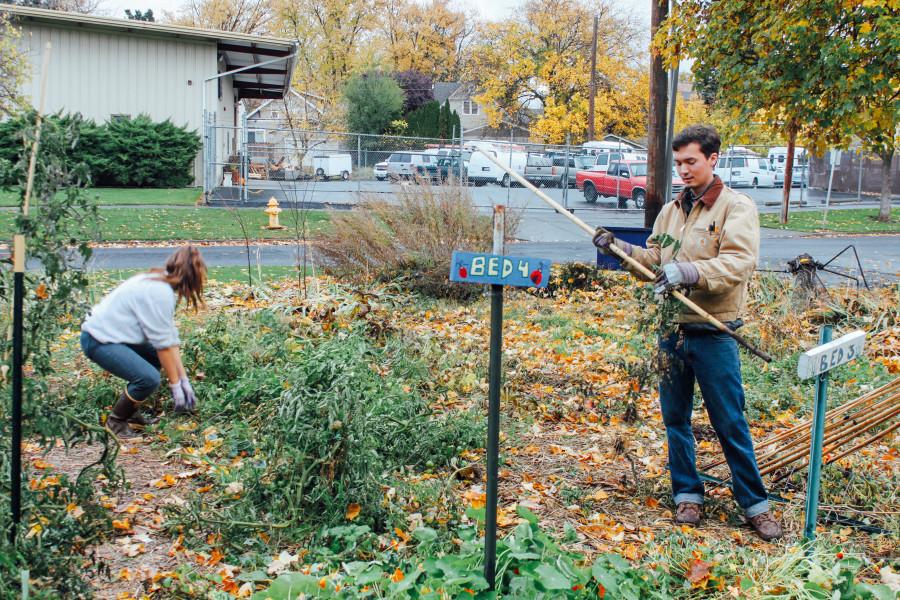 Walla Walla is Washington's breadbasket, and the rolling wheat fields around Walla Walla provide an attractive accent for Whitman's brochures. But some students and alums have ventured past the wheat fields to get involved with local agriculture as volunteers, farm hands, and managers.
Many students start close to campus. They can join a number of clubs and efforts that touch on issues of food insecurity, from Challah for Hunger to the Whitman Glean Team to the Whitman Organic Garden. Many organizations table at the annual Activities Fair, eager to recruit first-years who are searching for ways to spend their limited free time.
The Organic Garden
Junior Jo Canino, who is now Co-President of the Organic Garden, started as one of those first-years, signing up for clubs at the fall Activities Fair. Canino sees opportunity when she looks at the garden, located a block off campus at the corner of Pacific and Penrose, which is home to several rows of produce, grape arbors, chickens, and a young kiwi tree.
"It's a community where people who are interested in growing their own food can come together … and produce something to benefit from as a community," said Canino. "It's nice to have an activity to do where you can talk and get to know people who have a common interest."
The Garden has been a part of the College since 1997, when it was founded by a group of students. Bob Biles, class of 1974, advises the Garden, but students do almost all of the planting, harvesting, and maintenance. Jo explains that not only is gardening a mental and physical break from the academic environment of Whitman, it helps her meet one of her eventual goals of total subsistence.
"It would be nice to be able to supply myself with food where I know where it comes from. And I feel like it tastes better too, if you eat a tomato from the garden versus a tomato from Safeway, they're leagues different in my opinion. It's worth the effort to grow it to be able to experience where it comes from and also how fresh and amazing it is," said Canino.
The Glean Team
The Whitman Glean Team does its fair share of recruiting at the Activities Fair as well, boasting an official pool of around 300 students to draw volunteers from. The Glean Team was founded by senior Samuel Curtis, who now leads the club with junior Caity Varian after the Blue Mountain Action Council lost funding for an AmeriCorps position that focused on gleaning.
"Gleaning is the act of going to farms or even just gardens in people's yards and picking the food–with their consent of course–that they feel they can't eat or sell…and then taking what we glean to the food bank," said senior Hannah McCarthy.
McCarthy and senior Natalie Lyons-Cohen and Hannah McCarthy were at the helm this summer, coordinating gleans from May through early September. They were funded by a Whitman Internship Grant but worked mainly with the Blue Mountain Action Council staff and Food Bank.
Although it involves a lot of physical work, gleaning also has academic value. Whitman offers a few courses that focus on the importance of food systems in the economy and the environment, but Whitman students have an interest in food and agriculture outside the classroom as well.
"Agriculture…is the nexus of all environmental, sociopolitical, and economic problems in the world," said Lyons-Cohen. "There's something really magical about internalizing the externalities of a food system. We're just college students and I think this season we've already almost gotten 25,000 pounds of food…and there's so much need that goes unnoticed in Walla Walla."
In the end, gleaning is part of a Whitman's service ethic, but it requires the help and cooperation of people who find their lives and livelihoods in the fields surrounding the ivory tower of the College.
"Whitman has a really good desire to want to adhere to what Walla Walla might view as most positive for the community…[but Whitman] is a really privileged college and so insular," said McCarthy, "I think there's a sort of disconnect and I don't know how that can be fixed but I want to help."
Alumni and Farmers
Many of Walla Walla's farms are small, organic operations that embrace principles of sustainability and cooperation. They tend to draw one or two members of each graduating class, and a handful of current students, to the agricultural lifestyle each summer. Some stay on permanently or semi-permanently.
2011 graduate Liz Phillips, one of the three farmers that run Welcome Table Farm, a horse-powered farm on the Old Milton Highway. She has been living the farm life for three years.
"I feel that my passing from Whitman to farm was eased by the community that's built around the farm. It's a bunch of wonderful, warm people who care very much for each other and are able to ask and give help freely," said Phillips, "Which makes it sound like a commune but it's not. We all live in our own houses. I think that that's been less of a challenge and more of a blessing in that it's a finding of place."
Phillips lives on Welcome Table's property and spends her days planting, harvesting, weeding, pounding fence posts, putting together Community Supported Agriculture boxes, delivering the CSAs, and doing all of other the work that farming requires. All of that physical labor leaves her very little time for scholarly pursuits, but Phillips still finds time to explore Walla Walla's other classroom: the great outdoors.
"I make a point of spending time outside. I spend almost every weekend in the mountains during high farming season because that's my mental respite, is to go from a landscape where we need to change everything and control everything on the farm to a place that doesn't give two shits that I'm alive," said Phillips. "I don't need to fight these mountains. I don't need to fight the groundhogs. I can just relax."
Theo Cisewski, who graduated this past June, has taken a different path to get to a neighboring farm, Nothing's Simple, located on Bob Biles's West End property, out on Wallula Way. He volunteered at West End during his time at Whitman, interning during his senior year to prepare him for his position as manager. Unlike Welcome Table, Nothing's Simple does not table at the farmer's market. Instead, he sells his goods to local restaurants, Whitman dining halls, and, for the summer at least, students.
"I spent some time at Welcome Table …and a lot of what I contributed to was harvesting and packing for their CSA box, so I did get a feel for how much they would put in, for what they had at certain times, for price," said Cisewski, "but this model was totally rearranged for students…both in terms of thinking like a student and imagining a price point and in thinking about my numbers."
His CSA boxes were delivered to students who stayed in town for the summer, filling their houses with carrots, chard, purple beans, and basil among other things. Cisewski plans to stick around the farm for at least another two seasons, after which he hopes to pass the mantle to another Whittie. Part of that hope stems from a belief that Whitman can grow farmers, and not just scholars.
"Whitman was…the stepping stone to the community and this opportunity," said Cisewski, "[T]he ethic of hard work here…applying yourself to any discipline is no different so that transfers for me."