There's something in the way she moves: Sarah Bolton's Beatles Insta post summons George Harrison's ghost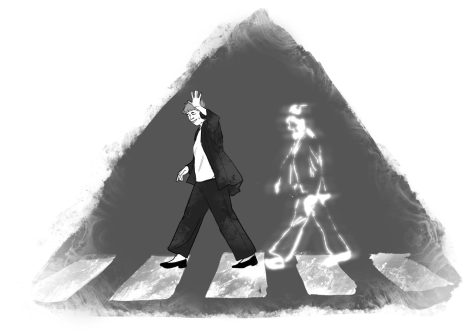 For those of you who may not be privy, last Friday, the Whitman College Instagram posted a Beatlesque "Happy Friday" post of new President (and secret fifth Beatle?) Sarah Bolton. As it turns out, the Abbey Road cover spoof lifted more than just the student's spirits.
Later that day, as I sat in Reid basement contemplating existence (unproductively), a familiar tune resonated from the previously silent speaker. An acoustic, slightly off-key "My Sweet Lord" murmured through the air like an unseasonably spring-ish breeze. To my surprise, the same thing happened in the music hall late that night. I was on a couch upstairs observing the weeping willows outside, when slowly but surely "Here Comes the Sun" strummed itself throughout the entire building. Alarmed, I rose and assumed an attitude of tentative defense. The music gained intensity as I approached the overlook of the foyer, and as my eyes laid on the scene below me, my ears could hardly stand the sound of that sweet, feverish music. 
Below were two figures, one very real and the other … questionable. Opaque in the shadows and translucent in the light, there he was — member of the Most Excellent Order of the British Empire [derogatory] George Harrison. His body took the form of his Abbey Road self, dressed in all denim with the signature flowing chestnut tresses, going full ham on the guitar. I couldn't help but shed a tear (can you blame me?). Next to him was THE Sarah Bolton on bass. She was confident; she was powerful; she was the music actualized in one single human being. 
And then she messed up. 
It was the tricky little bridge where her rhythm fell off track. George immediately stopped and whispered in a steady strained voice:
"I'm not going to throw a chair at you like John, but if you ever fuck up like that again you're out of the band."
Red with embarrassment, Bolton resumed playing. Flawlessly (though with a considerable amount of respective angst and fear), they played the entire night away.