V-Nord Improv's return countered by heckler group
Campus was delighted recently by the return of the improv group Varsity Nordic (better known as V-Nord) to in-person shows. However, every light casts a shadow, and as they returned, so too did their sinister enemies, the self-proclaimed V-Bored Heckler group. Their only goal: to interrupt improv shows with poorly timed jokes, boos and complaints.
When COVID forced V-Nord to perform their shows online last year, it gave the hecklers no opportunities to chime in, since they could simply be muted by force. However, now that they are back in person, V-Bored is ready to take their Statler-and-Waldorfian schemes to new levels.
"We've got some good zingers this year," said V-Bored founder Avery Wun-Zacritick. "Improv? More like you should improve your jokes! That's a new one, we're real proud of that. And of course there's the customary booing, yelling random words at the wrong time, throwing overripe tomatoes. Classic stuff."
Following the recent V-Nord auditions, V-Bored is holding auditions of their own, and encourages all to apply. "We need as many people as possible to get as many butts in seats as we can," said a V-Bored representative. They have a robust audition system, rating potential hecklers on quickness of insults and comebacks, average "boo" duration and general obnoxiousness.
However, the V-Nord team has been undeterred by these threats. In a sidewalk chalk statement released yesterday they reaffirmed their commitment to lightning quick jokes and thinking on their feet with the simple words, "Bring it on!"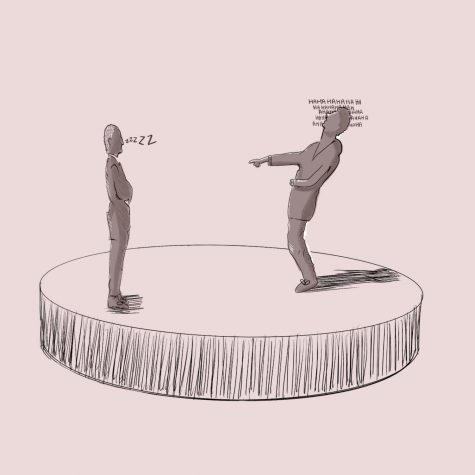 In fact, some welcome the hecklers, seeing them as a natural way to keep the improv team strong and clever. "A lock maker needs a lockpicker to test their skill and push them to improve their craft. Comedians need hecklers to push them to funnier heights and keep them on their toes" said one student.
However it shakes out, it will be a sight to behold. With improv starting up soon, and the hecklers not far behind, campus will surely be ringing with peals of laughter, followed shortly by shouts and jeers.