Whitman hosts "America's Got Talent"-esque competition to choose next president
Conor Bartol, definitely not multiple ducks in a trenchcoat
April 29, 2021
Following the announcement of President Kathy Murray's retirement, Whitman will decide the new president via a thrilling "Whitman's Got Talent" competition.
The presidential search committee has elected to focus on the creative side of the presidential candidates, rather than the mundane requirements of the job. "Resumés may show work history and administrative skills," said a member of the committee, "but they don't show passions that our candidates have worked so hard on, be they juggling, dancing, magic tricks or more."
Four members of the presidential search committee will be judges, with an additional rotating guest judge randomly selected from members of the student body. Anyone could play a part in choosing the new president, from people in your classes, to those playing spikeball on Ankeny at all hours of the day and night, to whoever put googly eyes on all the statues (and is still at large).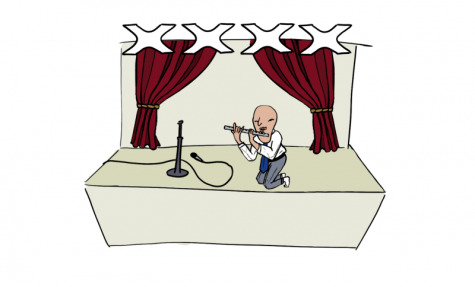 The competition will be streamed over the summer, providing "more transparency" by giving students an opportunity to see the presidential selection process. The move has been called "pandering" by some students and faculty members, but the committee has maintained that the show will help build school spirit and morale in the transition to the new president.
Candidates have expressed their excitement for the competition, with acts that will include slacklining on a unicycle, blindfolded sweet onion identification by scent alone (a skill in which the current president excels) and a heartfelt operatic rendition of "Low" by Flo Rida.
However, some candidates claim the talent show is unfair to those without a prepared performance. "I've spent dozens of years in twice as many school administrations," said one anonymous candidate, "but I wasn't prepared for this! Now if you'll excuse me, I need to finish my act. I'm training my dog to bark the alphabet."