Netflix Announces Chef's Table: Antarctica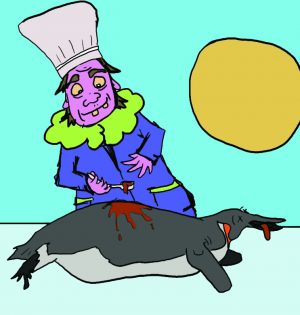 The producers of Chef's Table–a Netflix series that highlights the best chefs from different countries–announced last week that they will be adding Antarctica to the list of countries that the series explores. The announcement came after widespread protests and arson attempts occurred in McMurdo Station, the only place in Antarctica where the population does not consist solely of polar bears, penguins or the bodies of tormented scientists.
The special episode will focus on Sonny Snowe, a female elephant seal that has taken Antarctica's culinary world by storm. She currently works at The Benthic Plate and draws inspiration from deep-sea diving adventures to create a unique dining experience.
"I would describe my style of cooking as a fusion of traditional elephant seal artistry mixed with the love and warmth of the Arctic environment," Snowe shared as she flexed her heavily-tattooed bicep.
The restaurant has been awarded three Michelin stars, the highest honor a restaurant can receive. An anonymous source informed The Wire that the Michelin reviewer was not influenced by the threat of being beaten with a bass or the fact that this happens to be the only restaurant in Antarctica.
But what really makes this restaurant so special? Is it the liquid nitrogen-poached penguin? The albatross waiters? According to Snowe, the real reason the restaurant is so successful is the method of payment.
"I didn't want to turn anyone away because of financial reasons, so I decided to create a little exchange," she explained. Customers are expected to venture to the ocean, reach their hand in the water and grab whatever sea life they can find. "This works immensely well," Snowe continued. "Diners get to experience Antarctica firsthand, while we save the lives of several of our chefs. It's a win-win situation."
When asked to comment on the disappearance of several groups of people that visited the restaurant last year, Snowe declined to answer.