Historic Pioneer Park Changes Name to The Wire Park
Arie Knops, Doesn't Check His Email
February 16, 2017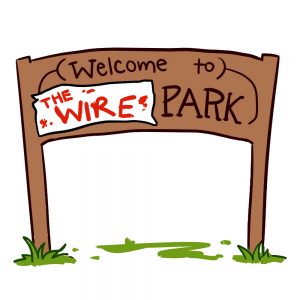 The city of Walla Walla officially decided this week to change the name of Pioneer Park to The Wire Park. The park was founded in 1902, making it the oldest and most famous park in Walla Walla. Thus, such a significant change was met with some resistance from the community. Walla Walla citizen, Walter Walters, was one of many upset with the change.
"This name change throws away 105 years of this city's history. Throws it away after having been stomping on it for hours. No, days. And then takes a lighter to the trash can it was thrown into. This is of course after the trash can has been drenched in gasoline. Then, the ashes that remain are swept up and put into an urn. This urn is then put into a house. A house that is then set on fire. That is exactly what this is like. Nobody will ever visit the park again."
Other community members were more in favor of the change. Mayor Wally Walls said in a press release, "I like wires."
Head of the Walla Walla's Parks and Recreation Department, Clara May, released a statement on the city's website saying, "By changing the park's name, we hope to encourage greater discussion and engagement with our history and move away from the traditional Walla Walla narrative. At the same time, we aim to have the name better represent the diverse, tolerant and curious community the park serves. This is something that wires undoubtedly do."
The naming decision of "The Wire Park" came after a poll was released on the city's website. Other options in the naming were Game of Thrones Park, Sex and the City Park, The Sopranos Park and Curb Your Enthusiasm Park. The Wire Park won with 20.01 percent of the vote.