RenFaire's annual Murder Mystery takes the stage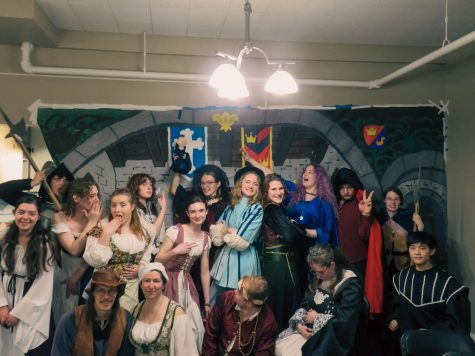 On Saturday, March 4, the common area of Lyman Hall transformed into a castle dining hall with shields on the walls and candles atop each table. A group of characters in Renaissance clothing, from a bard to a witch to a princess, sat at the front high table. Audience members sat at round tables throughout the room. This was the Renaissance Faire Planning Committee's annual Murder Mystery dinner, an interactive performance where the audience must interrogate the characters to figure out which of them committed a murder earlier that evening. 
Ilse Spiropoulos, the co-chair of the Renaissance Faire Planning Committee, was one of the organizers of the event. She also acted in it as Lady Alexis Asino. She explained that while this is her fourth year participating in Murder Mystery, the show itself has been happening annually for over 20 years.
"What we do is we prepare a Renaissance period dinner, and then we put on a show. It's self-written, and it's the club that writes the mystery. We all come up with our characters, the clues and the plot lines. We then put on a show, and the audience has to figure out who did it," Spiropoulos said. 
Spiropoulos was most excited about seeing how the audience would engage this year.
"My favorite [part of] every year is that the characters are always different; seeing how the audience interacts with them is always fun," Spiropoulos said. "We also have a lot of new people this year, so a lot of new ideas, which is really exciting because it makes it feel really fresh."
Spiropoulos also encouraged other students to participate in RenFaire events. In April, they will be hosting their Renaissance Faire.
"We're here to entertain," Spiropoulos said. 
June Lewallen, a first-year student who lives in Lyman Hall, is a member of the Renaissance Faire Planning Committee. She was excited to be involved in this event.
"This will be my first time getting back into a little bit of theatrical stuff. RenFaire is a really fun group. It's just really cool seeing people work together on something that they love," Lewallen said. 
Lewallen acted as a server for this event, passing out clues and various dishes from the three-course meal that the club prepared. So far, she has enjoyed being a part of the club.
"There were no sign-ups or anything for joining the club. It's just come and [there's] a bunch of people who are there because they want to be. It's difficult when you get into a club and then certain people aren't as invested. Everybody's invested to the best of their ability," Lewallen said. "I think that's in part because of the people that are there, the care that they put into this event and the reasons why they're there." 
Lewallen also attended the RenFaire Winter Ball last semester, which she really enjoyed. Lewallen especially enjoyed going through clothing from the club's closet of outfits and getting to wear a ballgown.
Lewallen explained that the Murder Mystery was planned before the Winter Ball. While the Winter Ball was new, the Murder Mystery is part of RenFaire's regular lineup. The date for the Murder Mystery was picked long before winter, and they were working on multiple events at once.
Lewallen encouraged other students to attend club meetings and events.
"We love having people there," Lewallen said. 
First-year Piper Scherr participated in the Murder Mystery event as an audience member.
"My friend, who's part of the club, has been really busy preparing for the event. It was amazing to walk in and see how all of that work had paid off," Scherr said. "It was stunning to see [the] Lyman lounge transformed into a medieval castle. It was very immersive with fun characters and attention to detail. The stakes were high to solve the murder, but it was still fun, collaborative and low pressure."
For Scherr, the event was a great way to take an extended study break while still putting their brain to work. It was entertaining and dramatic, and they described it as something new for them. 
"I'd never been to a murder mystery dinner before, so I didn't know what to expect. I ended up enjoying it a lot and would definitely go again. Also, there was free food," Sherr said. 
The Renaissance Faire Planning Committee is now working on planning the Faire itself, coming to town on April 22. For further updates, you can find them on Instagram @wcrenfaire or on Presence.