"Robbed Women" calls attention to human trafficking and exploitation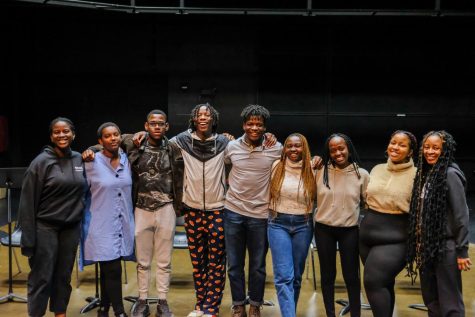 On Tuesday, Nov. 1, students and faculty gathered in the Freimann Studio for a staged reading of "Robbed Women," a new one-act play by senior Sylvia Adome. Adome, an international student from Busia, Kenya, with a double major in economics and theater, wrote this play in partial fulfillment of her theater major.
Adome explained that the play, which addresses various themes such as sex, domestic violence, human trafficking and poverty, was partially inspired by events from her own life.
"My childhood friend was a victim of child trafficking at the age of 16," Adome said. "She was trafficked from Busia, Uganda, to Oman via Mombasa, Kenya." 
This incident inspired her to start her own project, "The Future of Children Is Now," to spread awareness against child trafficking in Busia, Uganda. In 2021, she received the Davis Projects for Peace Fellowship, which honored her project because of its focus on raising awareness in the community against child trafficking in the region. Her project entailed organizing youth clubs, spreading awareness through radio stations and congregating events and inviting human trafficking victims to share their testimonies. 
"After doing a lot of research and [taking] inspiration from the testimonies, I based my senior thesis on the story of a fictional character, Luna. [Luna is] living in a society of patriarchal superiority and poverty [and] eventually [she] loses her agency. The play continues with more events of mental and physical harassment experienced by Luna," Adome said.
The play, which ran about 45 minutes, follows Luna as she is taken advantage of by various people in her own life. The language used is intense and powerful.
"A touch on the thigh, then you grab me. You put me on my back; you hold my arms; you shut my mouth; you look me into the eyes as you take everything from me and then you leave me like damaged goods," says Luna during one moment in the play where she asks her new, much older husband to stop touching her.
Adome explained that she also wanted to use this play to bring more opportunities to actors of color.
"Based on my own experience from Kenya, I wanted to present this play to the Whitman community about the issues surrounding Africans, specifically in East Africa. I cast all African actors to give a platform to showcase their talent in theater and [to] inspire the Whitman theater community to have more people of color in their acts, especially [at] a White-dominated school," Adome said.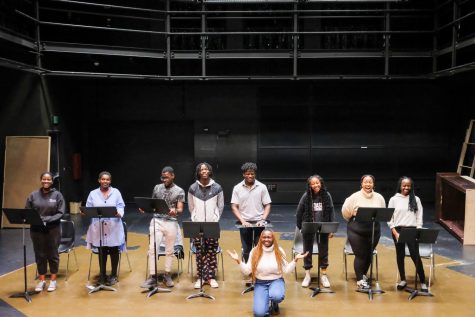 She went on to say that working with the cast was one of her favorite parts of the process, adding that she is very grateful for everyone who was part of her play.
"I loved working with the cast. The rehearsals with the African actors provided an arena for us to have conversations and really improvise, while [working with] White professors guided me to see my work from different lenses, which helped me articulate myself," Adome said.  
Among the audience was Dean of Students and Vice President of Student Affairs Kazi Joshua. Joshua, who has known Adome since she was a first-year, commented on how she centered the story around a particular region and the experiences of women of color.
"Adome elevated [this issue] in ways that are actually very rare on this campus. So it was almost historic," Joshua said. 
Joshua noted that he was struck by how Luna's rights were disregarded, as well as the portrayal of the system that facilitated her exploitation. 
"Although it was very heartbreaking, it was a realistic portrayal of the lack of gender justice," Joshua said. "While watching the play, I was outraged and energized; [I was] outraged because of what was happening and energized because there was an action taken against the injustice happening."
For Joshua, highlights of the play included the portrayal of Luna's parents' relationship — while her mother supported her after she became pregnant due to rape, her father was embarrassed and pushed her into marriage. In addition, he was impacted by the way Luna's friend and employers also took advantage of her.
"The main message of the play was [for] men [to] pay attention to relationships with women and avoid relations of exploitations. It was a call of awareness about human trafficking and for the audience to start acting against it," Joshua said. 
First-year Sybella Ssewakiryanga, an international student from Uganda, took part in the play as an actor.
"The play is shedding light on an issue that deserves to be discussed. The script was interesting and important, as it was told in the context of Africa; a lot of the time people don't really hear stories that come from Africa about Africans," Ssewakiryanga said. "I thought it was important for me to participate to make the general audience more aware of the issues that are being discussed in the play."
Ssewakiryanga said that she enjoyed working with Adome and the cast to develop the play.
"Everybody was just so passionate about taking part and doing their best, so even though it was my first time [acting], it was a good experience. Before the [reading], the first script was still being developed, so I was excited about how it would turn out," Ssewakiryanga said. "[Afterwards,] I was just proud of everybody who participated and the playwright for creating such an amazing piece of work."
In the future, Adome hopes to expand this play from a one-act to a full-length play, as well as to eventually build a theater company in her hometown. However, even though this first iteration of the play was short, it is clear it had an impact on cast and audience members alike.