Hello Africa: Welcoming a new year of WASA events
The Whitman African Students Association's dedication to the careful planning, set up and execution of the Hello Africa event paid off. Hosted on Sept. 25 in between Stanton, Anderson and Cleveland, the small grassy area bustled with life as students from WASA and the campus at large got the opportunity to let loose and re-experience some childhood joy by playing games from across Africa.
Senior Abdelrahman Elawadly's involvement in planning the event led him to reflect on the valuable form of community WASA has provided for him throughout his four years at Whitman. The event acted as a celebration of a variety of cultures and as a way to get closer to other students.
"It was fun to feel included in a space where I can actually play games and talk about my childhood without people saying, 'I don't know what you're talking about.' It's important to have the chance to introduce others or yourself to a place where you can relive those memories," Elawadly said.
For WASA president Silivan Munguarakarama, events like Hello Africa are important steps to make Whitman feel like a truly diverse international community.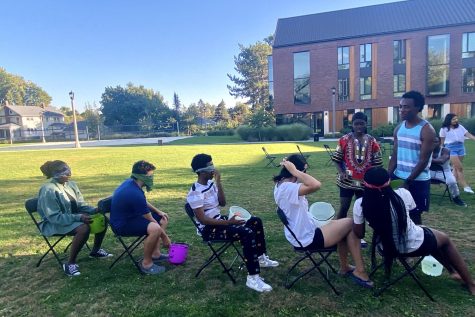 "Every different group's paths never really cross here. We are an international space, but not really a collective international community," Munguarakarama said.
Munguarakarama explained that by inviting others to participate in a game, they are also being invited to share in the life experience of the person they are playing it with, creating valuable opportunities for empathy and closeness.
"If I'm playing a game that you don't know… I'm going to have to teach you, and I'm sharing a part of myself with you. That goes beyond you knowing me as being from Zambia and instead [goes to you] knowing how it was to be in Zambia," Munguarakarama said.
Especially with a variety of different games being played across the continent, the event acted as a way for WASA students to learn more about each other while inviting others to appreciate different parts of African cultures.
Junior Angel Baikakedi mentioned that the event being at the start of the year made it a valuable opportunity for first-years to see the resources and sense of community that WASA forms on campus.
"The aim of the event, from my perspective, was to try and bring the African community closer together and welcome the new first-years to the community so they know who and where to reach out if they need anything," Baikakedi said.
Having Hello Africa occur in a laid-back and fun atmosphere made cultural engagement feel natural to students. With friendly competition and upbeat music to set the scene, WASA's first event of the semester left Whitties eager for the next one.