The Bat, the Man, the legend: Celebrating Adam West Day in Walla Walla
Who is William West Anderson?
Walla Walla threw on Batman t-shirts and lit up the Bat-Signal on top of the Marcus Whitman hotel as the community celebrated the life and work of a man named Adam West—actor, community member and Whitman alumnus—on Saturday, Sept. 24.
Walla Walla hosted Adam West Day to celebrate the life and work of Walla Walla's own William West Anderson, who was professionally known as Adam West. He is most known for his role as Batman from 1966-1968. As the Marcus Whitman hotel aired old episodes of the "Batman" television show, attendees were reminded of who West was.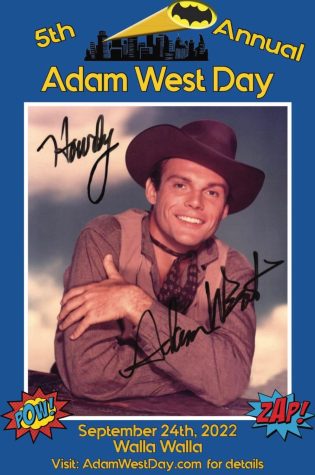 The event started in downtown Walla Walla at the Marcus Whitman hotel at 11:30 a.m. with a Q&A panel from event organizers and those close to West. The Batmobile and other authentic memorabilia were located on Main Street, and the day ended with a special lighting of the Bat-Signal from the top of the Marcus Whitman hotel. A personalized message from actor Stephen Amell of the DC comic show "Arrow" was a nice bonus, as Amell walked the streets of Walla Walla thanking West and the town for everything it has given him.
The "Batman" television show of the 1960s was particularly notable for its sense of humor and self-awareness. As opposed to the Batman of today, the Batman played by Adam West was far from the dark growling voice we hear in modern cinemas.
Film and Media Studies Professor Kathryn Frank shed more light on his work as Batman and why his role was so different than those in other superhero movies.
"In terms of the tone, it was very self-aware, sometimes to the point of self-parody," Frank said. "The show did not take itself very seriously and it is very funny by making a surprising amount of fourth wall breaks and tongue-in-cheek acknowledgments to the audience."
This tone and humor in the superhero world reminds one of the light that West helped bring to the genre. More recent superhero movies are often darker in tone. 
"His portrayal of Batman is so iconic and so different from the portrayals of Batman that became popular with the Tim Burton and Christopher Nolan movies," Frank said. "And the more serious superhero movies get people [to] think: 'You know, it was kinda fun when Batman was funny.' I think Marvel takes a lot of inspiration from that kind of humor that West brought to the screen."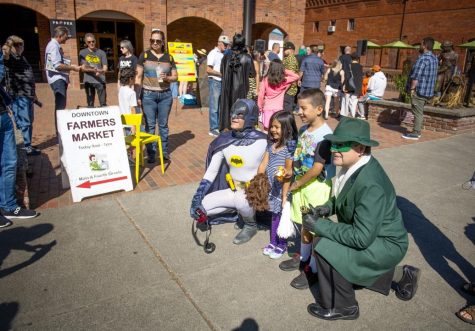 West's impact extends beyond the film world, as he was known as an honest, genuine person with a great personality to the people of Walla Walla. The town of Walla Walla is both proud and fond of their fellow townsman. A Walla Walla resident attending the event, who gave the name Cody, spoke of this very admiration.
"[West's] personality was great—he was a good guy. And he was great to be around," Cody said.
Cody went on to explain further how West helped him through hard times and that he was very thankful for how the "Batman" show gave more to him than just entertainment.
As a student at Whitman, West earned a degree in English with a minor in psychology, graduating in 1951. A member of the Beta Theta Pi fraternity on campus, he is an alumnus that the chapter is proud to claim. Current Beta president Ravi Narayan spoke of how the chapter is proud to have West as an alumnus and how he embodied the philosophies of the Beta fraternity.
"It's honestly amazing having Adam West as a former member," Narayan said. "It shows us that, irrespective of your major, being in a fraternity helps expand your social understanding and experience other people from different majors and walks of life."
After passing in June 2017, West still has a way of bringing people together, even those who weren't alive when he was in the Batman suit. Leaving a strong legacy in Walla Walla and on Whitman's campus, Adam West inspires the community to do the same in their own way—even if it's not in the Batsuit.