Celebrating seniors at the Sheehan Gallery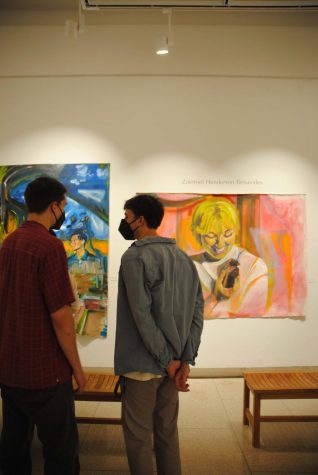 Entering the Sheehan Gallery, it is difficult to find just one piece of work to focus your attention on, as the graduating seniors' art calls to you with color, sound and unfamiliar form. Walking through the gallery, it feels as if you are wandering between different worlds as each student's thesis project tackles a different theme or medium, with each giving the viewer an intimate glimpse into their personality.
April 22 was the opening night of the senior thesis show, and for the class of 2022 art majors whose work is being shown, this celebration represented the culmination of years of hard work. For Nainoa Kahale, the access to gallery space opened up new artistic possibilities. 
"The space I was given was a perfect area for me to display my type of work. Having my own dedicated space is great because I have full control over how I present it," Kahale said. 
For Audrey Horner, the opportunity to display her artwork alongside those of her classmates mirrored the tight-knit community within the small major. 
"I've never installed my work in a gallery before, so that I get to do that is incredible. The Sheehan has been super helpful. All the professors rally around everyone and really want everyone to succeed. It's been great having a school full of support," Horner said. 
Zoëmiel Henderson agreed, discussing how seeing the work of her classmates acted as a source of artistic inspiration. 
"I am so incredibly inspired by each of the art majors. They all have taught me so much about creating and about loving. I think everyone was so generous in what they gave to the major and what they continuously give to their work. It makes me want to give more," Henderson said. 
The work students, faculty and gallery employees put into the showing to make it a reality was recognized at the show. For Hannah Paul, the celebratory atmosphere made the night especially memorable. 
"It's unreal, I feel like I have never felt so important and it's wild that my art is going to be on display for such a long time for any person to see… it is a great opportunity and I'm very happy about it," Paul said. 
The gallery's displays actively invite people outside of the art major to become personally involved in the art they are viewing, making them feel like a part of the community that the art students have been building up for the past few years. 
Horner's large ceramic sculptures invite the viewer to meditate upon what it means to be part of a communal space. Across the room, Paul's multimedia project leads viewers into a room filled with floating flowers, asking them to reflect on the beauty of Black women. Kahale's work asks passersby to write about their own legacy and incorporate it into his display. 
In between these works, you may pick up a notebook to fill and return to the "library," page through creative writing, come face to face with miniature beetles, tune into the recording of Dragtastica, gaze upon bright and colorful paintings, or even slip off your shoes to lie down on a textile rug below a bright yellow quilt. Visitors will have a chance to see the senior art exhibit until May 22.