Spotlight on Whitman alumni working in the arts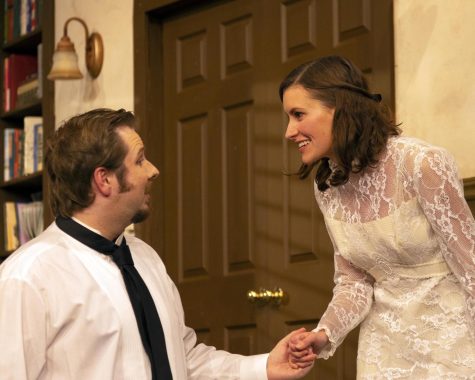 Every college has a percentage of its alumni graduating with a major in an area of the arts, and Whitman is no different. Many arts majors have gone out into the world and used their knowledge to inspire new generations with their talent, and some have even returned to Walla Walla.
One of these alumni, Leah Wilson-Velasco, graduated from Whitman in 2003. She is currently the director of the Walla Walla Symphony. 
"I've always believed in the power of music to connect people and have loved the Walla Walla Community since I came here as a student many years ago," Wilson-Velasco said. "Being able to connect the two through my work at the Symphony feels important and relevant every day."
The world of music has led Wilson-Velasco to work with various artists and allowed for some incredible collaborations and concerts.
"I think one project of which I am most proud was a presentation of the incredible pianist Simone Dinnerstein," Wilson-Velasco said. "We brought her to Walla Walla in the fall of 2019 and she did some engaging educational work in the elementary schools, performed an incredible solo recital and played a concerto with the Walla Walla Symphony that had been written for her by living composer Philip Glass. The concerto was incredibly moving and I think producing that concert is one of my absolute career highlights."
Wilson-Velasco also had some advice for current students.
"Surround yourself with people who inspire you even if their discipline is different from yours. They don't even have to be artists, but you can learn so much from other people and that can, in turn, make you a stronger artist," Wilson-Velasco said.
Ella Meyers, who graduated from Whitman in 2021, is another alumna who went on to work in the arts; Meyers majored in film and media studies and has been working for the Fort Walla Walla Museum as a communications associate. The experience has given her a new perspective on Walla Walla as a whole.
"Working at Fort Walla Walla Museum as their Communications Associate, I've seen a different side of the community than I touched while I was a student at Whitman," Meyers said. "Walla Walla is full of people who are passionate about the history of this town—its architecture, its people, its development, its different industries."
Working for the museum, Meyers has participated in producing educational videos for the museum's website and YouTube, something that the museum started when on-site school tours were not possible throughout the past two years. Meyers has also stepped into the spotlight of local acting as a cast member in the Little Theatre's production of "Romantic Comedy."
"I auditioned for Romantic Comedy because I have always enjoyed acting," Meyers said.  "It's something I wasn't able to do at Whitman my last couple years there because of the pandemic. Now that I live in Walla Walla post-graduation, the Little Theater is a great space for me to dip back into something I've really been missing."
Meyers encourages Whitman students to explore outside of campus and venture into Walla Walla to participate in local arts.
"I think it would be great if more Whitman students got out into the community and off campus—and one way to do that is to be involved in arts in the town, outside of the Whitman bubble," Meyers said. "There's so much that happens off campus, and if I had been more aware and motivated to participate in those things while at Whitman, I think I would have had a better understand of what a great place Walla Walla is to live—and not just as a student for four years."
Nancy Simon, class of 1963, is a retired theatre teacher who still writes and directs. She, like a good percentage of students who attend college, entered school with one idea for her major and walked out with a completely different one.
"As a freshman in high school I gave an impassioned speech about my goal of becoming a field ecologist," Simon said. "Enrolling with excitement in a biology class, I discovered that science was not just about exploring tidepools and picking up leaves in the forest and that I had little aptitude for it. Through friends in my speech and debate club, I became involved in a drama class, and having no idea what I was really doing, decided I would major in drama in college. Somehow it worked and has given me a very happy and fulfilling life."
When it comes to those interested in pursuing a major in the arts at Whitman, Simon gives advice based on a sign she saw at the beginning of her days as a graduate student at Harvard.
"When I arrived in Boston for my first year of graduate school, a large sign over the Harvard Coop read 'KEEP AN OPEN MIND,'" Simon said. "Probably the best advice I got in that year of grad school. Let yours be a search without a goal; you can't imagine right now the many directions a life in art might take you. Seek questions rather than answers; beware of anyone who claims theirs is the correct and only way. Know that art isn't about being rich and famous. It's about courage and discipline and passion."