Students celebrate community through Hanukkah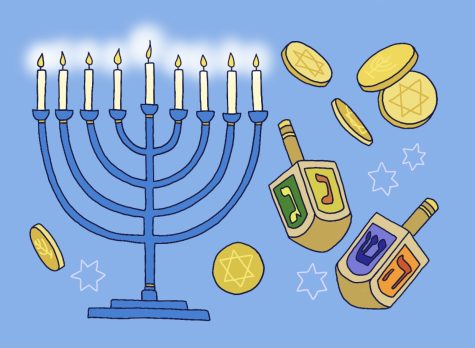 One of the stresses of growing up is figuring out how to navigate holidays, as previously-held traditions become harder to continue when one is far away from home. This year, Hanukkah began Sunday, Nov. 28, right as fall break ended, and ended the evening of Monday, Dec. 6. Student group Kehillat Shalom hosted nightly candle-lighting events, as well as a weekend Hanukkah party. However, different students still celebrate differently, and many students celebrate differently now than they did growing up.
Hanukkah, which is celebrated for eight days and eight nights once a year, is a Jewish festival celebrating the rededication of the Second Temple of Jerusalem. The eight nights are in reference to the miracle of a menorah lit within the temple, which did not stop burning for eight nights even though there was only enough oil for one night.
Cormac Li, a junior politics major—who is also considering German as a double major—explained that Hanukkah is more of a historic holiday than a religious one.
"I'm not sure how many Whitman students know about the background of Hanukkah but for sure it's not Jewish Christmas," Li said. "The holiday took place in a time when we were not allowed to practice our beliefs living the way we could, so you could say the Macabee uprising–which is what we celebrate–is like an anti-colonial movement back in the days… politically the movement of gaining our freedom."
Li was raised Jewish in China, which he described as being very separated from the rest of the Jewish community and the larger Jewish world. Growing up, Li didn't celebrate Hanukkah to the extent that he does at Whitman.
"We didn't have the equipment, we lost a lot of traditions through generations of isolation, we don't even have a rabbi in our community anymore—if you can call that a community, it's just my family now," Li explained. "We know what Hanukkah is, we know its history… we read stories of Hanukkah, we light up the candles—but we don't even have the Hanukkah menorah back home—and eat my favorite part, the deep fried food."
At Whitman, however, Li says he's found a strong community, and he was able to celebrate Hanukkah with others for his first year on campus.
"It's my third year in the US without going home due to the pandemic… but so far the Jewish community in Walla Walla and on the Whitman campus are pretty much my home away from home," Li said.
During the fall of 2020, however, Li lived alone on campus. He ordered his first menorah online and made latkes, giving some away to other students on campus who were unable to return home. 
This year over the fall break, Li stayed with another student, Sam Weiss, whose parents gave him his second ever menorah. Back on campus, even though he was unable to join Kehillat Shalom's nightly candle-lighting because of time commitments, he celebrated Hanukkah by lighting the candles, reflecting on the history of Hanukkah, and having video calls with his mother, as well as attending the larger party hosted by Kehillat Shalom.
Sam Weiss, a junior chemistry major, said that he celebrated Hanukkah with his parents growing up, exchanging gifts and lighting candles every night. This was his first year celebrating at Whitman, and Weiss explained that while he is often busy and unable to attend Kehillat Shalom events, he made time to light candles each night and have a Hanukkah dinner with friends.
When asked what he found most meaningful about the holiday, Weiss pointed to the community aspect.
"With other holidays, doing the tradition and doing the practice, in my opinion, is the most important thing—I think with Yom Kippur that's the case, like fasting reminds me of… what Yom Kippur is [about]," Weiss said. "But with Hanukkah it's really about getting together with other people and celebrating as a group. I regret not being able to do that more this semester, but I'm glad I get to do it a little bit."
Kaima Weiss-Penzias, a senior psychology major, said that she also celebrated with her family growing up, lighting the menorah, decorating, opening presents, eating latkes and jelly donuts, and playing dreidel.
"Sometimes my mom would come into my class to teach everyone about Hanukkah. Every year my temple would have a roller skating party which was a blast," Weiss-Penzias wrote in an email to the Wire. "For presents, my family got in the habit of doing scavenger hunts for each other to search for presents around the house."
Weiss-Penzias has celebrated differently every year since coming to Whitman, but the community—and food—aspects have stayed the same. 
"In first year, I was living in Jewett so I had an electric menorah which I lit with people in the dorm. That was really fun. We also had one night where we made latkes. Sophomore year, I was one of the presidents of the Jewish group and so we threw a Hanukkah party. I spent most of the night in the kitchen making latkes but it was still fun," Weiss-Penzias wrote.
This year, Weiss-Penzias said that she has been lighting the menorah with her housemates in person and her family on FaceTime, adding that her mom specifically wanted to see her reactions to the gifts she received.
"I've been really appreciative of how accepting and enthusiastic my housemates have been," Weiss-Penzias added. "It has been a lot of fun to make latkes for them and play dreidel with them."
Weiss-Penzias said that her favorite part of the holiday is picking the candles for the menorah, adding that she particularly likes certain hand-dipped multicolored candles. She also described the eighth night as the best night, as all the candles are lit, even though it is the final night. This year, she specifically enjoyed singing many of the songs, although she found that she missed singing more traditional songs with other people who knew the words.
Even though it's not the same as celebrating at home, all three students expressed an appreciation for the community they have found here, and the community found through celebration of Hanukkah.
"To this day… even when we are away from our families, [experiencing] uncertainties, when we light up the candles we know that we are passing down this firm belief that we will be alive, and we will be together," Li said.
A previous edition of this article inaccurately stated that Cormac Li was considering a film major; the Wire apologizes for this error.