Senior theater majors reflect on their time in the spotlight
Whitman's department of theatre and dance hosts a wide range of artists and scholars, who often contribute analytically and artistically to the Whitman community through various methods of live performance. Students work collaboratively with faculty and guest artists, delving into unique journeys of creative and artistic expression. By the time these students become seniors, they will have been exposed to a variety of academic courses and trainings that provide them with idiosyncratic practical skills, extensive historical context and necessary cultural background of the dramatic arts; all necessary skills to succeed in the many diverse facets of theater and dance. The class of 2022 boasts a myriad of such students.
Jay Tyson is a theater and film & media studies double major. Tyson has won several awards from the Kennedy Center American College Theatre Festival, including the National Award for Excellence in Scenic Design for their scenic/projection work on Whitman College's production of Ripe Frenzy, as well as awards for their contributions within Whitman's theater department.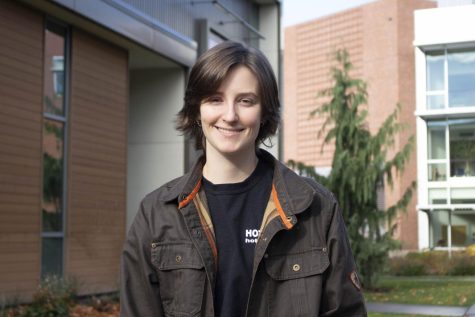 They have been involved in the theater department since the spring of their first year, working on over 16 seasons and student productions as mainly a scenic/props/projection designer and occasionally as an actor and box office employee. 
"It's been really great to be able to work more as a scene shop assistant this semester and to be able to answer new workers' or guests' questions. Not only is the prospect of teaching more enjoyable than expected, but it also feels good to know that I've absorbed more information and skills than I had the confidence or bandwidth to recognize earlier," Tyson said. 
Working on so many seasons and productions, contributing to class assignments and navigating the rigorous, rewarding curriculum the department has to offer, Tyson has been deeply involved in the theater department, utilizing many of its resources.
"Having been here for so many years (for a student), I've also had the opportunity to see how it can impact folks from all different walks of life, regardless of whether or not they actually wanted to pursue theater as a career; many of the skills learned in script analysis, stage management, directing, or collaborating as a designer, for example, are hugely applicable to most other environments," said Tyson. 
Lucy Evans-Rippy is a theater major with a minor in creative writing and has also been involved in the theater department since her first year. She has performed in a play every semester (with the notable exception of those lost to the pandemic). She received the Brandon Bruce Lee scholarship at the end of her sophomore year, an award dedicated to an "outstanding student with a strong interest in drama." Furthermore, she has recently received honors for her thesis work, which revolved around her performance in this semester's production of The Revolutionists. After graduating from Whitman this fall, Evans-Rippy will be moving to Los Angeles to pursue acting professionally. 
Evans-Rippy's work and interest in creative writing has tremendously helped her in her journey as an actor.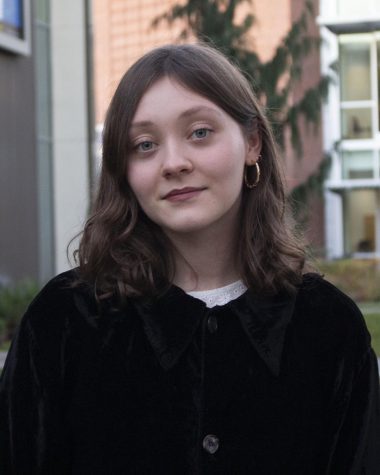 "I find that writing and acting go hand in hand. By strengthening my relationship to writing, I've strengthened my relationship to acting, and in turn, I have grown as both an actor and writer. I often use writing as a tool within my acting process when embarking on a new role," Evans-Rippy said. 
Evans-Rippy has been inspired by so many people in the theater department at Whitman, which helped her craft her own journey as an actress.
"It is the work that we produce together, as a collective, that moves me," Evans-Rippy said. 
Lola Bloom has been performing on stage for six years (and has performed on every stage in Walla Walla), sometimes performing in more than one production at once locally. She worked on designing the posters for the 2021 theatrical season and passed her senior thesis with distinction for her outstanding performance as Marie Antoinette in The Revolutionists. Moreover, she will be playing Penelope in the upcoming show The Penelopaid. Having been involved in theater for six years, Bloom has taken on an eclectic mix of acting roles. 
"One of the wonderful things about being any kind of performer is that there is always an opportunity to grow, learn and finesse your craft. I would also love to get into audiobooks if the opportunity presents itself!" Bloom said. 
Despite being a transfer student and being forced to take a year off during the pandemic, Bloom still managed to get the most out of her time with the theater department. 
"My short time at Whitman in the theatre department has been packed with learning, epiphanies and wonderful people and every moment has been challenging and fulfilling," Bloom said.  
Each year, a unique class with diverse talents and experiences graduates from Whitman, leaving a legacy and a bolstered sense of community. According to the theater department, more than 60 percent of all Whitman students either enroll in a theater class or dance class, perform on stage, design, build, crew, usher or work box office before they graduate."
"I would encourage everyone to take part in the theatre in any way possible because it is truly the closest thing to magic I have ever experienced. The more you do theatre, the more you realize how much it pertains to all aspects of life, politics and education," said Bloom.