Whitman Golf ends season under par
Mo Dow, Campus Life Reporter
November 4, 2021
On Oct. 24, Whitman's golf teams ended the season with the Confluence Classic, the last of four tournaments this fall. The season has been marked by a strong showing from players who repeatedly met and surpassed college records. Whitman ended the semester ranked among the top 25 colleges in the nation, according to the Golf Coach's Association of America. 
The Whitman golf program is divided into one men's team and one women's team. Both are coached by Skip Molitor, who is entering into his 28th year at Whitman. He spoke about the impressive accomplishments of both teams this semester, as well as how the team has adapted to new COVID-19 guidelines and changing circumstances.
"This year is back close to normal: you know when you have something taken away from you, you tend to appreciate it a bit more when you get to experience it again. That's certainly the case this fall, I think there is this comradery of being able to do what was taken away for a year," Molitor said.
According to Molitor, the men's team's best showing was at the George Fox Invite, where Whitman ranked second out of nine teams. At that tournament, senior Tom Hoyne set both a single round and tournament record for Whitman College. The very next weekend, at the Fall Classic at Quell Valley, first-year Alexander Knox matched this score and tied the school record set by Hoyne just a week before.
"Going into the fall, the school record was 291 (three over par). Our average round for the fall was actually below what used to be the school record," Molitor said.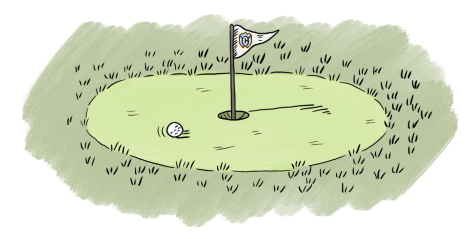 The women's team has also had a good season, although it was not without difficulties. According to first-year Katya Kurkoski, the biggest hurdle has been the health of her and her fellow teammates.
"Four out of five women on our team were sick at one point. At one of our tournaments back at the beginning of October, my teammate Pavita was in urgent care for an ear infection, and the next night I went to the same place and was diagnosed with pneumonia. One of our seniors Kaylee was sick as well that week, and I believe my freshman teammate Himanshika got sick the following week. I think the only tournament that we all felt 100% healthy was our first tournament in which we took first place," Kurkoski said.
"Bouncing back after a bad hole is essential to playing good golf. It will take a lot of training on and off the course, and being able to control the mind, but I think we can do it and prove to everybody that we are a force to be reckoned with," Kurkoski said.
Most of all, Kurkoski enjoys the feeling of community and competition that playing sports with a dedicated team brings. 
"I'd say the women's golf team atmosphere is definitely very chill, we love to have conversations with each other but at the same time we try to push each other to improve. Our coach Skip does a great job applying that healthy competition during practices," Kurkoski said. 
But despite the struggles that the women's golf team has faced these past few months, Kurkoski and the other members of her team are committed to moving forward stronger than ever, strengthening both their game and their resolve.