The Wire asks the hard hitting questions: Squished croissants in Cleveland Commons
Mo Dow, Campus Life Reporter
October 7, 2021
The breakfast croissants in Cleveland Commons: everyone who has ever searched desperately for something to eat at 3 p.m. is well acquainted with this ever-available item. A tried-and-true favorite of both those poor souls, who wake up after breakfast, and the everyday workaholic, who can barely spare a minute to eat, has stopped being served. But despite their popularity, the student body is whispering of a widespread problem and looking for answers: why do the croissants always come out of the heater so flat?
Kiley Komnik, a first-year, orders a breakfast croissant almost every morning and has witnessed this trend firsthand. More often than not, when Komnik goes to get their breakfast, they've found themselves face to face with yet another flat croissant. 
"I really have no idea why, and I think they taste fine… But in the display they are so pretty," Komnik said.
So what happens between the display case and the countertop that changes the croissants so dramatically? Arlund "Doug" Pomerinke has worked as a barista in the Cleveland Cafe since 2018, when the building was first constructed, and was able to reveal some of the inner workings of croissant construction.
"When they are fresh and warm, they will droop like a New York style slice of pizza. They are not structurally rigid pastries… they will literally come out flatter or sometimes rolled up like a taquito," Pomerinke said.
Executive Chef Jon Sodini, well-known by the student body for his active Instagram account, also walked through the breakfast croissant construction to shed some light on the mystery.
"Our croissants are baked fresh daily in our bakery and puff up during the baking process due to steam created by moisture in the dough, as all real croissants should. When the croissants are reheated in our Turbo Chef oven, which is designed to heat food quickly, the high heat and delicious butter inside the dough can cause the delicate structure to collapse," Sodini said.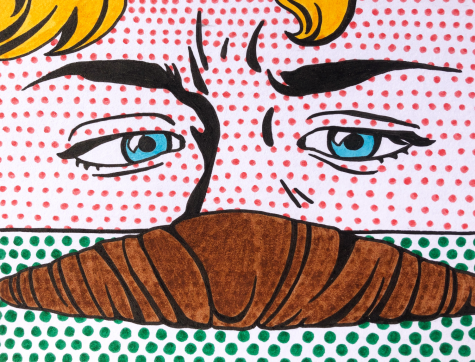 But that's not all—according to Pomerinke, there is an even clearer answer to this question:
"The other problem is, the shape of the croissant, when it's cut in half, the top sort of acts like a canoe, or a bowl. It's kind of unstable. So we actually smush the top when we open it up to heat it so it doesn't roll over," Pomerinke said.
Another part of this puzzle is the changing working environment of Cleveland Commons on the whole. As a national labor shortage impacts restaurants across the country, Cleveland has struggled to return its staffing to pre-pandemic levels. Combined with a larger-than-ever first-year class, this means that Cleveland has had to work to accommodate a larger student body with less staff. Pomerinke has witnessed this transition, from Cleveland Common's inception through the pandemic.
"We don't feel like it's totally off the rails—but we've definitely had to make a lot of changes… But you can tell throughout the building, especially those lunch rushes everyone knows, where it's just packed shoulder to shoulder," Pomerinke said.
Cleveland Commons and the workers employed there continue to provide new food options to students and adapt to changing circumstances. But regardless of the pandemic or longer lunch lines, one thing students can always rely on is a good, old-fashioned squashed croissant.