"Word II: Ars Poetica" exhibit explores color and letting go in the Stevens Gallery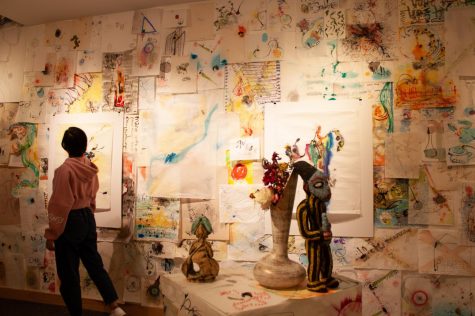 While walking through Reid, it's hard to miss the Stevens Gallery, covered floor to ceiling in a collage of vibrant colors, miscellaneous inky scribbles and peculiar poems. On display until Oct. 4, this magnificent amalgamation is interdisciplinary artist Dez' Mon Omega Fair's "Word II: Ars Poetica."
At first blush, it may appear to be the work of multiple artists, but Omega Fair crafted this wide array of work over the course of a decade. The project serves as a testament to the process of letting go of the strict artistic format he conformed to as a fashion assistant and exploring what it means to create free from judgment and rigidity. 
"I was fighting against what the fashion world was trying to tell me that I should appreciate in the human body," he said. "It came to a boiling point when I started painting and realized there were just certain things I don't believe anymore and I need to move on, and this is me blowing up those fashion drawings with all this explosive color."
This "explosive color" is what senior Hannah Paul, an art and Hispanic studies double major, first noticed about the display.
"There's a lot of color and splatters and different brush strokes," Paul said.
The piece offers no easy answers, allowing the viewer to experience and interpret it on their own.
"I love how it's all over the walls and I think that's really cool, especially when there are some main pieces to this project, but then the walls are covered in all these different really interesting conceptual art pieces," Paul added. 
First-year David Wang also commented on the boldness of the colors, and expressed that it's hard to tell what the pictures mean. Angela Eliacy, another first-year, agreed.
"I couldn't really get a theme out of looking at all of them, each of them are valid on their own and I can't really connect them to each other," Eliacy said. "I think it's really open to interpretations; even just one piece of art can be interpreted in different ways."
First-year Danica Stosic, who plans to major in English, noticed the occasional isolated words and messages written on the pieces, as well as the shapes and colors.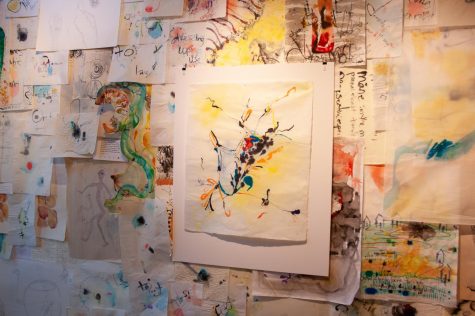 "Some of the pictures just have color blobs on them and some have shapes that you can distinguish from each other," Stosic said. As common themes go, "there are a lot of eyes and geometric shapes and faces, a lot of figures and different objects like cups and bottles." 
Stosic also noticed the connection to ancient mythology, pointing out Hermes Caduceus amongst a jumble of various ink drawings. 
The artist's primary medium is watercolor, and when asked why he prefers it, he pointed to its malleability.
"You can't control it but you can suggest and suggest and suggest and then maybe you'll get exactly what you want and I think that mimics living," Omega Fair said.
In addition to the watercolors and drawings, sentimental Instagram captions, asymmetrical poems and strange blurbs hide between the thin sheets of inked tissue paper. QR codes hang on the busy walls, distinct from the freehand abstractions around them. They lead to poetry read aloud by the artist, covering subjects like spirituality, creation, planetary bodies, death and rebirth. 
Ars Poetica translates to "the art of poetry," which today is taken to mean "poems written for the sake of art," according to the Poetry Foundation. Archibald MacLeish's poem, "Ars Poetica," explains that "A poem should not mean / But be." Attempting to make sense of Omega Fair's poems and art is futile—the words exist to exist, and they are a fragment of something that he was feeling at the time. The artist himself referred to the display as "confusing" with a lighthearted laugh. 
On the practice of Ars Poetica, letting words and shapes flow through you, Omega Fair said, "Ultimately I feel like art and writing is catharsis, and something that everyone can participate in." 
"It's nice to go back and read things that I wrote five years ago and understand where I am the same and where I am different," he added. "When you start to create things over a long period of time you get to see your own sort of thought patterns and I think that just helps people understand a bit more of themselves."
"Word II: Ars Poetica." is a personal exploration of freedom of expression; Omega Fair beautifully and intimately undoes his preconceived notions in what he describes as "the breaking down of the judgment process." He recommends that everybody tries to do the same.
"Once you accept how you draw or how you write you begin to accept other people for how they are and how you are, and then I feel like the world becomes less confrontational," he said. "I hope to invite people to that thought process when they come in here, and I hope they leave wanting to go write and wanting to draw." 
That feeling certainly resonated with Stosic.
"I feel like it's sending a very powerful message; it definitely wakes up a creative side of a person observing it, and I also feel very motivated after seeing this, which is good because now I can study," Stosic said. 
The display will be open through Oct. 4, and Dez 'Mon Omega Fair is set to visit for a few hours in the afternoon this Friday, Oct. 1. Whether you visit the Stevens Gallery while he's here or on your own time, you'll witness a slice of this artist's soul and what he's worked on these past 10 years. Who couldn't use a little inspiration right now?