Layers of loss: Tapestry of Journeys exhibit open in Stevens Gallery
Mo Dow, Campus Life Reporter
September 16, 2021
How do we make meaning in our lives? This week, Whitman's Office of Religious and Spiritual Life offered a space for students to reflect and connect through an exhibit in the Stevens Gallery.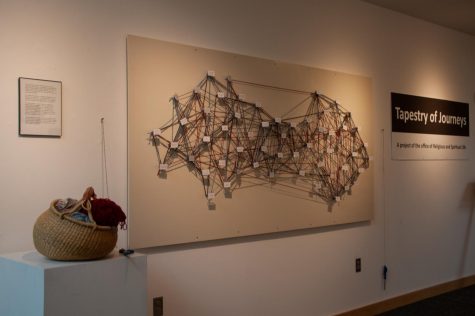 The exhibit, entitled Tapestry of Journeys, was a multimedia display which incorporated decorative rock gardens, poetry and a large wooden board covered in nails tied together with string, all in the confines of a single room on the ground floor of the Reid Campus Center. Students were invited to take a piece of string and tie it from one nail to another, linking pieces of poetry and meaningful statements written below the nails together.
The project was mostly handled by Adam Kirtley, Whitman College's Interfaith Chaplain. Kirtley has worked with the college for 15 years and strives to create space for meaning-making for all students at Whitman. With projects like the Tapestry of Journeys, Kirtley hopes to create a space where students of all or no spiritual and religious identities can reflect and look inward.
"The college years are a transformative time in the lives of young people. For many it's a time of burgeoning autonomy, it's a time of asking big questions: who am I, why am I here? How am I going to make a difference?" Kirtley said.
To Kirtley, this kind of experience is important to fostering a healthy student body and creating a feeling of community at Whitman.
"In some ways it's an antidote, I think, to feeling utterly unmoored and disconnected… It's not something that happens accidentally, I believe it's something that is more likely to happen when we carve out time for it," Kirtley said.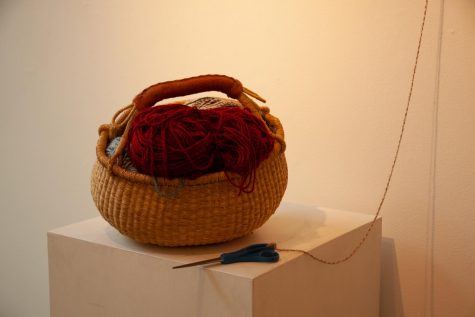 Kirtley worked closely with Merry Cockroft, the Inclusion Fellow for Religious and Spiritual Life and a sophomore French and English double major. Cockroft has been in her role with the Office for Religious and Spiritual Life going on two years. To Cockroft, this exhibit represented a chance for students to think on the path they've walked and where they will continue to go:
"Everyone's journey is a journey that is multilayer, and that crisscrosses and goes in different directions. What we wanted people to experience was being able to spontaneously go through their journey, physically with this piece of yarn," Cockroft said.
Cockroft feels especially connected with the ideas of the exhibit, seeing resonance not only with her own life, but also among many other students she's interacted with, who feel the weight of the current moment on their shoulders.
"We're all dealing with layers of loss, and turbulence. We've lost stability, not knowing what to expect has become a part of day to day life. Not knowing what COVID-19 restrictions will look like, or what the world will look like in 30 years because it certainly won't look the same, for a multitude of reasons," Cockroft said.
Yet even though the problems of the world can seem overwhelming, Cockroft thinks it's important to examine our perspectives from a different angle and end on a more hopeful note.
"The new trajectories aren't necessarily bad. Yes we've lost stability, but we have new opportunities available, opportunities to change the systems that used to be stable, and therefore seemed good," Cockroft said.
Another student, Tejashree Jadhav, has been reckoning with loss in another way. She recently submitted a poem into the March edition of Around The Table, the Office of Religious and Spiritual Life's publication. Jadhav wrote the piece back home in India while reflecting on the state of the world.
"I was thinking—so many things are happening around the world, and every day I write about myself. That day I felt really guilty, why was I focusing on myself? Was the poetry I wrote just for teenagers and trouble? Does it have any meaning?" Jadhav said.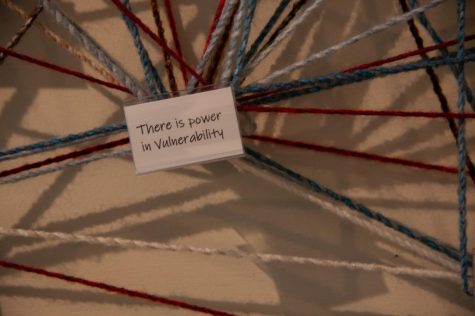 But as she wrote, Jadhav became more at peace with how she reflected for herself and how she used poetry as a tool to look inward:
"If I don't process what's going on inside my head, I cannot process what's going on outside my own body, in my community and in the world. It's okay to do that," Jadhav said.
At its core, the Tapestry of Journeys exhibit is a reflection of that very same principle. In the current moment especially, the Office of Religious and Spiritual Life hopes to create spaces for students to find meaning in their lives and look inward.
Although Tapestry of Journeys is no longer held in the Stevens Gallery, the exhibit can still be found in the Spirituality Room in the basement of Prentiss, where it has been moved for the foreseeable future.