Queer and Trans Students of Color club creates community for students struggling to feel seen
The Queer and Trans Students of Color club (QTSOC) was founded by co-presidents Toyona Howard (she/her) and Tatiana Villegas (she/her) in order to create a safe space for queer and trans POC on campus. Villegas was introduced to the idea during the fall of her first year at Whitman when she attended the Willamette Students of Color conference. She met students attending the conference from other colleges who were a part of affinity groups for queer students of color on their own campuses. 
She returned to Whitman feeling inspired to create a club of her own.
"I got the idea by talking to other students who attended their own schools' meetings and found that safe space," Villegas said.
She pitched the idea to Howard, who was receptive and interested. 
"It was a joke at first; we were like 'what if we start a club?'" Howard said. 
After gauging interest within their social circles, the need for a club became much more evident. They hoped that an affinity group specifically for queer and trans POC would help reinforce a sense of community and battle isolation at a predominantly white institution (PWI). 
"It's really easy to feel outcasted on campus being a POC,  and then you throw in being gay — that makes things ten times more isolating," Howard said. 
QTSOC meetings were just beginning to ramp up when quarantine hit. 
"We decided to not have club meetings in the fall because Zoom fatigue was pretty heavy for the both of us and just in general. It was really difficult and a little disappointing that that couldn't happen," Villegas said. 
Social media has presented an opportunity for ongoing engagement with identity within the Whitman community during lockdown. However, Villegas and Howard are wary of the looming presence of performative activism, as they question its impact and potential complacency. They agree that it can be difficult to locate potential allies on campus, as well as feel seen and understood.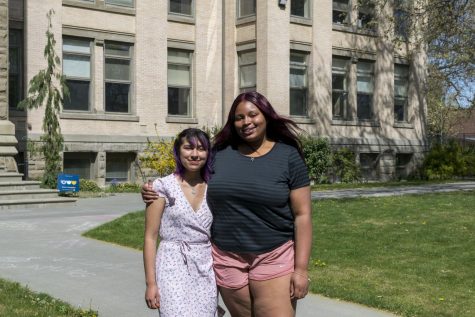 "It's hard to understand a space that you're not a part of, but when your friends are coming to you, it's important to listen and support them; when people who can't relate want to support us, just be mindful of how we feel and what we go through," Howard said. 
Sophomore club member, Antonio Shepherd Sitenta (he/him), resonated with not feeling seen on campus. 
"You would think that a person like me would stand out, but actually, it's more often that I get swallowed up," Sitenta said. 
As a PWI, Whitman can often feel homogenous, and for Sitenta, this makes the QTSOC group that much more vital to his visibility as a queer international student. 
"I think being in a queer club that has students of color gives me a real sense of belonging, and I can really share my queer experiences but also the experience of being Black in the United States," Sitenta said. 
Having a group of people that share similar identities allows fluid and enjoyable conversations for Sitenta. 
"When you're speaking you want a conversation, not to give a lecture," Sitenta said. 
Being able to truly connect and resonate with others is one of the best opportunities the QTSOC club provides for the sophomore. Additionally, it has allowed him to address room for growth within himself. 
"I don't know everything, but being around people like me allows me to feel like I'm understanding identities on a wider perspective," Sitenta said. 
It's this perspective that Sitenta thinks many domestic, white Whitman students lack experience with and need to work to interact with more often. 
"A lot of challenges that queer students of color have gone through deserve to be heard, and Whitman students need to be willing to listen," Sitenta said. 
Forming connections with peers is key for Sitenta, and he credits the natural work put into a friendship as the perfect medium through which people can practice seeing the experiences of others. 
"As we grow older, our identities push us further apart. [Forming a relationship] has to be a two-way street; you have to put in the work to create those relationships," Sitenta said. 
Sitenta hopes that, in sharing his opinion, more of his peers will understand that they have to put in personal work to become better allies and bridge the gaps in identity through understanding. 
"And hopefully, once we're more comfortable with ourselves we can help bridge those gaps in understanding altogether," Sitenta said. 
Like Sitenta, Howard expressed frustration about the complacent atmospheres that homogeneous environments within PWIs create. 
"[White fragility] is a never-ending cycle. At what point are we going to break this chain?" Howard said. 
"White solidarity gots to go," Villegas added. 
There are layers of internalized hate that require deconstruction within queer and POC communities as well. 
"It's not just POC vs. white people; it's POC vs. POC, too," Howard said. 
Villegas and Howard spoke to some of their personal hardships as queer students of color on Whitman's campus. 
"There's a lot of tension on Whitman campus," Villegas said. 
Microaggressions run rampant and there's segregation within most spaces. 
"You look inside a classroom and all the students of color would sit in one area and the white kids in another," Villegas said. 
This academic alienation experienced by POC translates outside of the classroom as well for Howard. 
"I don't understand why I'm so much less approachable than other students who walk around campus — that's one thing that I've never been able to understand," Howard said. 
Not only does the co-president feel like she is perceived as intimidating, but people often misidentify her with one of her peers. 
"A very large amount of people on this campus think that we're the same person — are we all just the Black girl?" Howard said. "You can't miss me when I'm walking around so why am I invisible to everyone?" 
And it is this invisibility that QTSOC Club is looking to combat with community and connection. 
"It's a place where we've built a community," Villegas said. 
"Hopefully, now people will ask themselves 'why haven't I talked to this queer POC yet?' or 'why am I so focused on my bubble that I haven't gotten out there?" Howard said. 
Queer or trans students of color interested in joining QTSOC should email either Toyona Howard ([email protected]) or Tatiana Villegas ([email protected]) for information.