Closer to normal: Students and professors contend with hybrid learning
Whitman's current hybrid model affords students and faculty the opportunity to meet in person at the discretion of the individual professor while also offering online participation and resources for those not on campus.
Many of the challenges of online learning have continued this semester — the lack of motivation, social skills, productivity and much more have been felt by staff and students alike. Visiting Assistant Professor of Politics Matthew McManus notices the difficulties that accompany these feelings within the hybrid model. 
"There's a kind of informal quality to what's going on, where you know superficially, this is class you should pay attention, you should give it your all but because you're sitting down in your house, it's difficult to take it with the same gravity as you would in person," McManus said.
The surprises seen this semester, however, were not necessarily participation-related. Instead, professors and students have commented on the fact that with the room to complete tasks with more time and freedom to do so due to the pandemic, there is a greater inclination to engage in work. 
With all the good that the hybrid model offers, the intensity of all its aspects on and off campus still takes a toll on students and faculty. First-year Maisey Jones was feeling overwhelmed at the start of the semester. 
 "I actually, at the beginning of this semester, came out to campus and I ended up leaving because… there were just a lot of things about it… that really just felt like a lot of pressure on me for my first time living at college away from home," Jones said. "I think that maybe if I was given the opportunity next semester or any other time in the future to come back and live on campus if things with COVID-19 were a little bit more back to normal, I think I would want to and be able to." 
A large part of the reason for a hybrid semester was to fit every individual's unique comfort zones. The overall response is that as much as we are able to, everyone is trying to find that zone and match the efforts of others' despite the lacking in contact and resources that would have been part of the normal routine prior to COVID-19.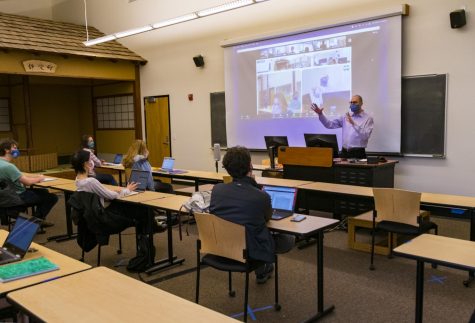 There is still an element of community maintained at Whitman, but it is undeniable that there is a loss everyone has felt being back on campus or at home while being so separated from each other and the college experience Whitman students expect to have. McManus shares those feelings. 
"Part of the university experience is really getting to know your peers. You know, doing stupid things together, having gossipy conversations, talking about the readings and crying over your coffee saying you're never going to understand this," McManus said. "I can really empathize with a lot of [students] who told me they miss that. And I think that's true of faculty also." 
From a student perspective, it is acknowledged that there is disappointment when it comes to the social interactions experienced in and outside of the classroom, but the college has still allowed students to make the most of their education during COVID-19. 
"Even though it's online and a lot of the face to face and actual interaction between people is kind of, not ruined, but taken away to some extent by Zoom, I think professors and a lot of peers… have still done a really good job at making it still feel like a community," Jones said.
There are mixed opinions about  hybrid learning, especially as faculty known that as hard as students try to be engaged, it will not be the same as in-person interactions and learning environments. But students and faculty still express optimism about the current state of hybrid learning and how there can still be adaptations made to the challenges it may present. Professor of Psychology Stephen Michael explains his choice behind hybrid courses.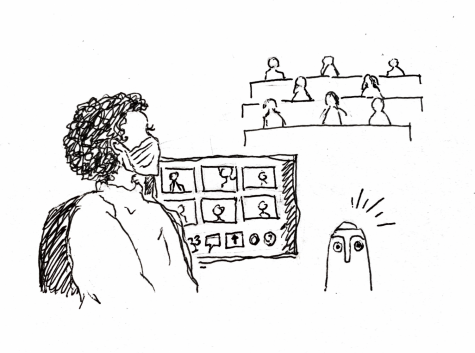 "For me, I thought that hybrid learning might have been the best of both worlds in that it would allow me the opportunity to… engage more with students and give students that opportunity as well because I know many at least wanted some in-person components tied to their semester. But it also didn't box us into an all in-person design when a lot of the stuff can happen online so I didn't feel like there was as much of a necessity to move fully online," Michael said.
Professors making the choice to incorporate hybrid learning are making an attempt at getting the academic lives of students closer to normal, despite hurdles they may come across in planning and executing their course design. 
It is clear to everyone that there are various aspects that people are missing out on by utilizing the hybrid system, but there is still optimism being found in the aspects that are working well. The alternative is a version with less interaction and lowered motivation that it seems would be less effective for students and faculty who hope to remain somewhat in contact and productive. Michael points out how academics may be altered after COVID-19. 
"I think that once we are back in person and in an environment where we can be in closer contact with each other, we will be able to bring back that pedagogy that's working well but also supplement with these other new, creative ideas that we've learned since then," Michael said. 
Professors and students alike are demonstrating their tenacity and positivity in their approach to hybrid learning. While everyone misses certain aspects of in-person, pre-COVID education, by working together we can create a form of education that may influence future learning for the better.