Walla Walla's Grand Cinemas reopens with empty seats, M-F Drive-In finishes its year with silver linings
The film industry has been experiencing an existential crisis in the face of streaming services, and now the pandemic has delivered a strong blow to in-person film venues. Washington's Governor Inslee recently allowed movie theaters, including the Walla Walla Cinemark Grand Cinemas (previously Hallett Grand Cinemas 12), to reopen at 25 percent capacity. Across the state line in Oregon, the M-F Drive-In Theater just finished its 59th year.
Mike and Lorie Speiss own the M-F Drive-In Theater. 
"Well it was a unique season, that's for sure, but we made it through," Speiss said.
While they have yet to calculate their final numbers, Speiss estimates they were down between 60-75% in revenue this summer.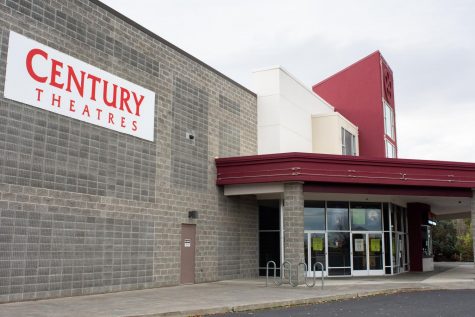 For the first two weekends, they did not play movies. Instead, they practiced social distancing with curbside pick up for their snack bar. They are normally open six nights a week, but they started the movie season with two nights and eventually moved to four nights.
"That wasn't necessarily something that the state of Oregon told us we had to do. Business was down and we were trying to limit overhead. Plus we're just trying to limit the social distancing potential issues. You know the more nights you're open, the more likely to have a problem."
The drive-in's normal season is from the first weekend in April to the last weekend in September, but this year they attempted to stay open through October. Having lost a few weeks in early September to forest fire bad air quality days, they took advantage of the nice fall weather to offer a few extra weekends. On the schedule for the final weekend was Hotel Transylvania 2 and Goosebumps.
"I think it's a family-type atmosphere. Our prices are a lot cheaper. It's more of an event that a family can do — something to get out of the house. I think we'll always have that niche, at least I hope we always have it," Speiss said.
CFilm and Media studies Professor Sickels called the M-F Drive-In Theater an "institution."
"You go to the drive-in for the experience of being at a drive-in, and that is very popular locally. I think drive-ins will probably come out of this better than theater chains. They aren't as reliant on the same kind of content chain movie theaters are," Sickels said.
The drive-in's open-air and naturally socially distanced setting made it especially well suited for the pandemic. They were able to hold six graduation events, an Easter service and fundraiser events this season.
"If I had to pick something out of this season that my wife Lorie and I have enjoyed the most, it's being able to watch community events being able to happen out here where they otherwise wouldn't have," Speiss said.
Drive-ins held a higher potential for finding the silver linings of the pandemic than traditional movie theaters. Until an October revision in Phase 2 requirements, movie theaters were forced to stay empty.
Whitman sophomore Sabrina Suminski worked as a concessionist at the Walla Walla Cinemark from Nov. 2019 to when the Covid-induced lockdown began in March. She remembers the exact date, March 16, that Governor Inslee announced a ban on gatherings of over fifty people, therefore closing all theaters. 
The staff was laid off and offered unemployment. Cinemark partnered with Costco to recommend Cinemark workers for jobs. At first, her manager assured the staff via email that they hoped to open and rehire everyone in June.
"The weird thing is that the emails started phasing out…I finally got an email that was like 'we don't know when it's going to happen' and I haven't gotten an email since. And then my dad was like 'On Indeed I'm seeing job offers for the movie theater'. I checked and they were going to open the sixteenth [of October]," Suminski said.
"I think they have a whole new staff except for the general manager."
Suminski believes she was treated fairly considering the difficult situation theaters are in. She imagines that they are currently operating with a very small staff. The cleaning, she recalls, was hard to manage since all frequently touched surfaces, especially touchscreen displays, had to be cleaned after every customer. She also questions the effectiveness of requiring face masks except when eating and drinking, as people may use it as an excuse to not wear a mask throughout the film. 
"There were a lot of die-hard movie fans that went consistently, so I just wonder if they can keep it going. The movie theater was doing really well, it seemed, before Covid, so it could go either way at this point," Suminski said.
Professor Sickels was one of those regulars. He typically sees a minimum of sixty films per year in theaters in order to stay up to date in his field. However, he will not be viewing films in-person anytime soon out of skepticism of safety measures and mask-wearing.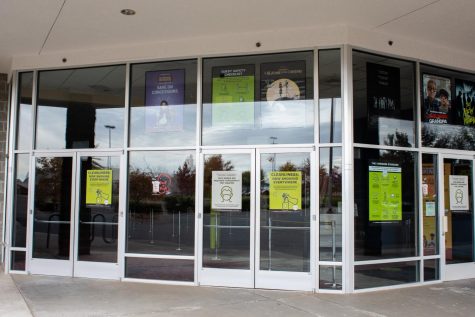 Several of the large movie theater chains, he noted, are declaring, or soon to declare, bankruptcy. Even before the pandemic, movie theaters had been going through a market shift.
"There has been a long, slow decline of in-person theater attendance, and because of that, the movies that most theaters were likely to get were big-budget, star-driven, event films. Those were the films that took up the most theater space and made the most money," Sickels said.
These major films, because of the pandemic, have postponed theatrical release since they would do so at a loss. Hollywood film companies are holding onto these big films for as long as possible.
Films with billion-dollar worldwide box office potential, like Black Widow or No Time to Die, are currently holding out. Release dates have currently been pushed to this spring. Considering current predictions about a return to normalcy, these dates may be moved again. Eventually, Sickels believes that Hollywood companies will sell to streaming services. 
"They will just hang onto it as long as possible until somebody doesn't," Sickels said.
Already in the family film sphere, Mulan experienced streaming success on Disney+ at $29.99 plus subscription. This also added a considerable amount of new subscribers. The new Pixar film Soul will be released in the same manner this December, but included with the subscription fee. 
"Just this past week, No Time to Die has been rumored to come out on Apple+. The minimum bid No Time to Die was willing to take was 500 million dollars. It would be a big deal if Apple+ got it," Sickels said.
Artistic films had already begun to shift to streaming services. In 2019, Marriage Story headlined at film festivals internationally, and had a limited theatrical release, before its true release on Netflix. In the same year, The Irishman followed a similar release strategy before taking its place in the Netflix catalog. Both films received numerous Academy Award nominations. For these types of films, New York and LA premieres were for Academy Award qualification status rather than box office success.
However, the move of major blockbuster films to immediate release on streaming services would be a significant change to the industry. For Sickels, it's not so much a question of if, but a question of when.

"The result is not going to be any different, the difference is going to be the pace at which it happens."