New Walla Walla businesses bring spaces for community to thrive
Although March may be the time during which New Year's Resolutions start to fizzle out, three new Walla Walla businesses are charging full-steam ahead into 2020.
In the past few months, Carte Coffee, Black Pearl Boba Tea and the Market by Andy's have all popped up steps away from Main St., shaping Downtown Walla Walla's character in the new decade. While each company fills a different need, they are united in their connections and commitment to the Walla Walla community.
Carte Coffee: "We might as well make friends"
At the corner of Main St. and Spokane St. stands a converted mobile camper-trailer. Inside, Joshua Huh can be found brewing up a coffee you've likely never had before. If you had wandered down last week, you would've sipped on a Colombia blend with notes of strawberry, praline, pineapple and bubblegum from Tacoma's Bluebeard Coffee Roasters. However, if you head down in the coming week, you will experience an entirely different Colombian blend from Olympia Coffee Roasters, featuring caramel, apple and chocolate. This is all due to Carte's multi-roaster model that rotates its offerings each week.
Huh, a 2019 Walla Walla University (WWU) graduate, is co-owner of Carte Coffee with fellow WWU alumni, Christian Bell '10. Bell offers business knowledge and family connections to Walla Walla while Huh has three years of experience as a barista at Atlas Coffee. With that, Walla Walla University's student coffee shop, Carte Coffee officially opened for business in January of 2020.
"Walla Walla is the first place that I've ever called my home. If anyone ever asks where I'm from, I grew up on the West side [of Washington state] but Walla Walla is my home," Huh said.
Huh added that his business partner, Bell, is from a family that has been in Walla Walla for many generations.
"We're not one of those places that pops in from anywhere to make money," Huh said. "We're a part of this place."
The name Carte Coffee pays homage to Huh's time at Atlas and its humble beginnings as a fold-up table on wheels. However, Huh sees the current mobile trailer format as a step along the way towards operating out of an actual store.
Unlike places like Starbucks and Dutch Bros. that offer the same standard flavor wherever you are, Carte brings roasts from across the U.S to Walla Walla, on rotation, setting Carte Coffee apart from other coffee places downtown.
"We like to tell people when they come, 'Welcome to my museum. These are our carefully curated pieces,'" Huh said.
This coffee selection process involves frequent travel to places like Seattle, Portland, San Francisco and Colorado Springs in search of new flavors to bring back home.
"We're like oh this one's kind of funky and pretty we're going to bring this to Walla Walla for a week," Huh said.
While multi-roasters are a growing model in larger cities, Carte Coffee is the first of its kind in Walla Walla.
Multi-roaster companies feature a variety of coffees from different companies instead of roasting their own, often with a quick turnover.
"Every week the coffee tastes completely different. It's from a different roaster, a different region, a different plant, a different farm, and we're just here to highlight that" Huh said.
When searching for the next brew, Huh pays attention not only to origins, a central feature for coffee connoisseurs, but also to soil, elevation and varietals. If you're worried about finding a new favorite flavor, but losing access to it in the following week, Huh will reassure you that there's nothing to worry about. Carte Coffee also sells bags of what they're brewing.
"It's almost modeled on like a taproom or winery where like you try something, you buy something, and take it home," Huh said.
Carte Coffee incorporates Walla Walla into a wider network of roasteries all across the U.S. while catering to the care of the immediate community. However, when asked about his favorite part of the job, it all boiled down to interacting with people. Walla Walla's size makes it possible for Huh, who is often the only one running the shop, to talk with new customers and regulars alike.
"I've noticed a lot of this small town thing is name-dropping," Huh said. "I like to do that in a wholesome way. It's really cool to make these connections and I find out like, this person knows this person, knows this person, which, really makes sense because I know a lot of people over my few years here, a lot of people know me and it just kinda spreads."
This network of connections is what makes doing business in Walla Walla special. Despite Carte's unique model, even business competitors have expressed their support.
"It's been so nice to have everyone so welcoming, supportive of us. Like for example, Tiffany at the Patisserie, she came and brought our merch, our coffee. They hold our cups behind their bar and it's really cool that we're selling coffee like a block away but they visit us and we like to visit them," Huh said.
Although Huh hopes to have enough success to be able to move into a permanent location, his goals may differ slightly from traditional businesses.
"We offer student discounts! I just made that up. But now that I said it, you can put it in there," Huh said. "We just like making friends. My whole idea is like if everything we do is so expensive anyways to begin with and we're not going to make money, we might as well make friends while we're doing it."
Black Pearl Boba Tea: Filling a niche
"The whole community seems excited that we actually brought boba," Black Pearl Boba Tea owner, Steve Salas said.
Similar to Carte Coffee, Black Pearl Boba Tea boasts a first-of-its-kind position. Black Pearl Boba Tea opened their doors in December of 2019 on 221 E Main St. The most popular drinks are their thai tea, golden tea (original milk tea) and purple velvet (taro). What sets Black Pearl Boba Tea apart from other places is their commitment to boba drinks.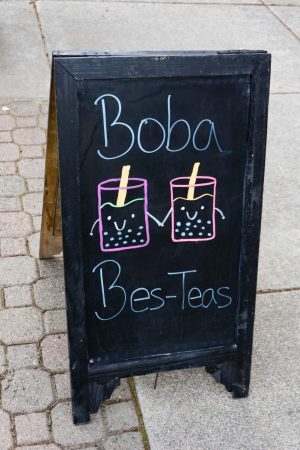 "We don't try to do coffee. We don't try to do food. We stick with Boba," Salas said.
After success starting up a Boba place in Boise, Salas decided to branch out and bring his business to Walla Walla, hometown of his fiance, Brandi Dunlap. Downtown Walla Walla's "trendy" feel reminded Salas of Boise and the store's proximity to many colleges helped Salas feel confident there'd be a market for this "younger drink."
Unlike other places downtown, Black Pearl Boba Tea brews all of their boba in-house. Instant boba is a common form that can be ready in minutes, but the raw boba they serve takes an hour and a half to prepare. Black Pearl Boba Tea is the only place in Walla Walla dedicated solely to boba drinks. Salas mentioned that the location can present challenges.
"We had our ice machine go down and we couldn't find someone to fix it in Walla Walla. So we ended up having to go to Tri-Cities," Salas said.
If the store experiences continue to be successful, he hopes to grow his business in places such as Pendleton or the Tri-Cities.
Salas' favorite part of the job is simple.
"Everytime I open a new shop it's really about just being part of a community," Salas said. "Getting to know all the people. Just seeing people happy because Boba is one of those things that's such a treat."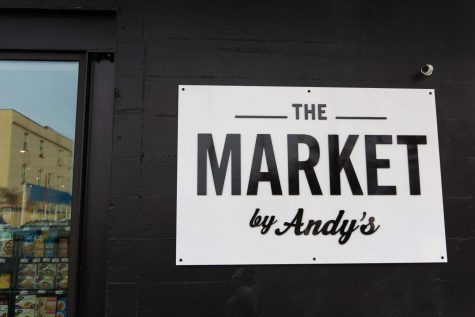 The Market by Andy's: "If it's not personal, it's pointless"
The Market by Andy's should feel familiar to longtime Andy's customers, but a tad different – there is now the background whir of bananas and mangos tumbling in a blender with its new smoothie and juice bar.
The Market opened in December of 2019 on 130 E Rose Street Suite 101, as the newest grocery store downtown. The Market is the child, at 1,500 square feet, of its 24,000 square foot parent Andy's Market in College Place. The location – and its smoothie and juice bar – may be new, but The Market is part of a 52 year-old family business. Store manager, Vicki Zanes' is the daughter and niece of Andy's current owners and understands the importance of family and building relationships.
"It's not just about selling groceries," Zanes said. "It's about being a team. It's about being part of this community. It's such a beautiful community to live in and work in and you know, we want to be a really positive part of that for people. And it's one little sliver of their life, food, grocery, smoothies, but we want to make it a positive one because life is hard."
One way in which The Market helps to make life easier is through their continued commitment to affordable, nutritious food.
"I get a lot of people asking, 'so are your prices different? You're downtown. Are your prices higher?' Absolutely not," Zanes said.
The smaller shelf space requires Zanes to listen closely to customer demand.
"This store is not for us, it's for our customers, so I don't really care what we stock on the shelf," Zanes said. "I wanna know what you want and what you need and what you're looking for and that's what I want to stock to make your life easier, your life more convenient, your life as healthy as possible."
One fun fact about Walla Walla shoppers? Apparently we have a special affinity for dried mushrooms.
"We've noticed here what doesn't really move in College Place as much is our dried mushrooms. We sell a ton of them here," Zanes said.
Bulk goods are popular, which allows shoppers to only purchase what they need. The Market strives to cater to everyone, from shoppers cooking for big families, empty-nesters cooking for two and college students who only have enough storage space to buy one cup of rice at a time.
Zanes is also delighted with the success of the new smoothie and juice bar, which offers whole food, no fillers and no added sugars.
"We had no idea it would take off like it did," Zanes said. "It has truly shocked us. We had to hire more people. It's very labor intensive to have this sort of food service and we've just not done that at Andy's before. So that's been an exciting challenge though, to see it be so successful and so welcomed by the community, and it's like a hole there that was waiting to be filled."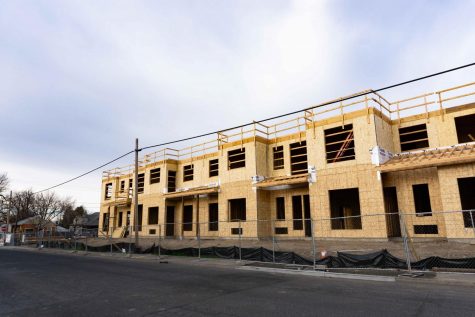 Zanes understands the importance of meeting people wherever they are in their nutritional journey.
"I feel like any little thing that you can do is a positive change. You don't have to do it all or nothing," Zanes said. "Like I think that's the worst philosophy."
Part of her role as manager is helping people feel empowered to take this step.
"If we have a beautiful display of apples and that makes you want to eat an apple that day, fantastic. After you had your Big Mac and Diet Coke? That's awesome. You had an apple. That's great," Zanes said.
In addition to growing connections with the Walla Walla community, Zanes cares about nurturing relationships with her family.
"I get to work with my dad everyday," Zanes said. "He's 72 and I know when I look back on my lifetime of working whatever my career shapes out to be I will never regret this choice because of the time I got to spend with him because he's just about my favourite human and I don't take that for granted because life is really short and we never know how much time we have… And I get to see him everyday while he's stocking my shelves with asparagus."
Being manager of The Market is about so much more than selling groceries for Zanes.
"I don't care if you're painting houses or drawing someone's blood at the hospital," Zanes said. "It's that personal connection that matters, otherwise what are we all doing here anyways? And weirdly enough groceries and smoothies are a vehicle for that if you allow it to be."