Shanty Town Biscuits Proves that Comfort Food Can Be Vegan
"We're not a health food truck; we're a vegan biscuit truck," said Caitlin Rockey, co-owner of plant-based biscuit shop Shanty Town Biscuits in Walla Walla.
Husband and wife Aaron Mooney and Caitlin Rockey opened their shop in mid-February with the aim of creating a menu that both vegan and non-vegan eaters can indulge in. The menu offers plant-based versions of comfort food classics, including biscuits with gravy or jam and biscuit sandwiches with scrambled tofu and a vegan sausage patty — all out of a food truck located at the Gut Grub Lot on 509 E. Main Street, a short distance from Whitman's campus.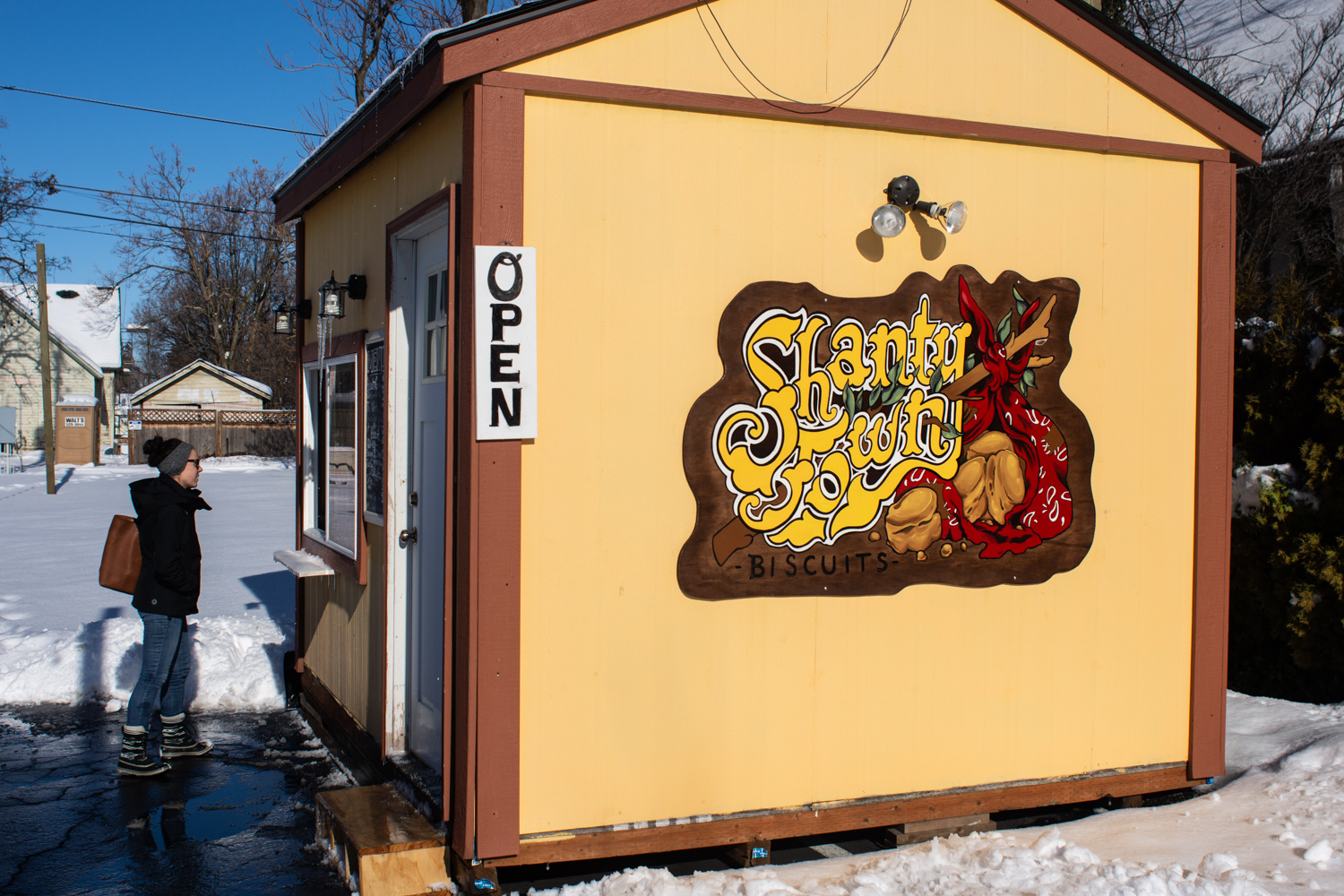 "I think when most people think about going to get vegan food, they expect it to be super healthy and that's not what we're focusing on," explained Mooney. "We're not focusing on the super healthy side of things, we're more focusing on [how] vegan food can still be glutinous, in a way."
As an added bonus of their vegan options, he explained, "You're not eating all the saturated fat and cholesterol that you would normally get from regular biscuits and gravy."
Mooney and Rockey started with a few trial runs early February, offering just biscuits and gravy, before putting out a full menu shortly thereafter.
The duo is not unfamiliar with the food service industry. Mooney went to culinary school in New York and spent time working in fine dining in Chicago, and Rockey went to the French Pastry School in Chicago. The couple moved to Walla Walla in 2017, in search of exploring the Pacific Northwest.
"Collectively we've both been in this industry for, I mean, 25 years plus," said Mooney. "We both worked in restaurants for so long that we're used to being in the back, you know, being in the kitchen and not interacting with the customers so much, so for us to do this here is nice because we actually get to interact with people. Not only are we the owners, but we're also the cooks, the servers — we're everything, so it's really cool."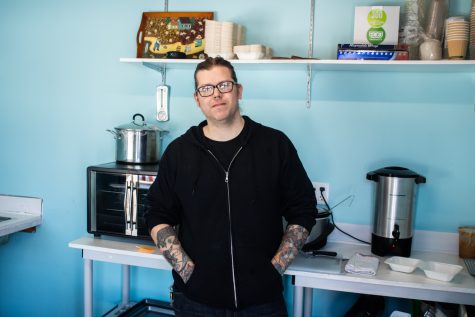 Mooney works full time at the shop, while Rockey works at the Colville Street Patisserie in addition to the food truck.
The truck was a long time coming, explained Mooney, and the original idea of biscuits began a few years back when the couple started offering biscuits as a special at a diner coffee shop in Madison, Wisconsin where Mooney was the executive chef. Once they went vegan, however, they faced the challenge of adapting their recipes.
"We were like, well what do we do now?" said Mooney.
Rockey points out that with all the alternatives on the market, it didn't prove too difficult to adapt the biscuit recipe.
"As much as we have in this day and age for plant-based food, you can almost recreate any recipe you're looking for. And it was the same with the biscuits — it was such a great recipe, and it was something that we really loved," said Rockey.
Once the couple tested out and found the perfect vegan alternatives to replace the dairy ingredients originally used in the biscuits, the next challenge was creating a vegan sausage patty for the biscuit sandwiches.
"The sausage patty took six months at least," Mooney recalled. "To look at a picture of where the sausage patty started, it's kind of funny, because they're so different than where they originally started."
Spiced similarly to pork sausage, the final perfected sausage patty is primarily made of chickpeas mixed with vital wheat gluten as the binding agent.
With these recipes to the couple's liking, Mooney spontaneously signed a lease in October on a space in the Gut Grub Lot to sell the biscuits out of. The truck was already there and available for rent, situated directly across from the Harvest Smoothie Company food truck owned by Whitman sociology student Marc Goff.
"Once I saw this [the truck] upfront across from Marc with the for lease sign on it, I just spontaneously went for it and signed a lease," said Mooney. "At that point it was like, ok, now we have no choice, we have to figure out how to do this."
It took slightly longer than expected to get the truck up and running, explained Mooney, due to repairs and permits.
"We didn't want to rush it and wanted to open it naturally," said Mooney. "We just did biscuits and gravy on the first week, and that's how we opened, and then once that milestone was out of the way of just being open for a day, things got way easier."
For Mooney, the most challenging part of running the food truck so far has been not having a kitchen. The pair has been able to use the kitchen space in the Patisserie, which has greatly eased their ability to run the shop, explained Mooney.
Having spent so much time working for others in a kitchen, the most rewarding part of running the business for Mooney is working for himself.
"You're accountable for your successes and failures," he said. "If you succeed, it's because you did it, if you fail, it's still your fault. There is no in between."
Rockey explains that her favorite part is the joy of providing customers with plant-based food.
"It's also really great to delight people and surprise them with vegan food," she said. "We're here because we live a plant-based vegan lifestyle. We care about animals and we care about the planet, and we're trying our best to convey that through the products we serve."
As Mooney said, "It's kind of like our own form of activism."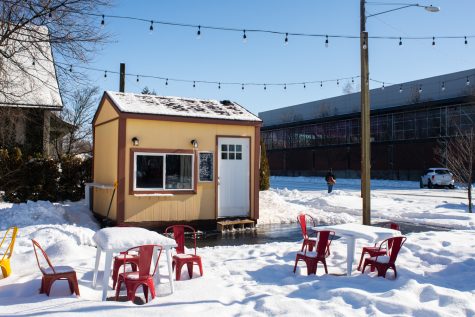 The couple credits Goff with inspiring and supporting them to get their shop up and running, after seeing how successful he has been running Harvest Smoothie Co.
Goff recalls being invited over to Mooney and Rockey's home to test out the food they were considering providing in their truck.
"I went over and they were like: 'try all this food that we're thinking about.' I ate it and I was like 'yeah, that'll work,' " remembered Goff. "And I wouldn't say that to anybody. If your food wasn't good enough, then I would say no."
Coming from a similar background of working in food service, Goff also considers being able to work for himself to be a rewarding aspect of owning a business, but notes the taxing nature of running all parts of the operation.
"I told them it's going to cost you everything, everything — emotionally, spiritually, physically," said Goff. "Only do it if you're passionate. You have to believe in it."
Mooney and Rockey want to expand in the future, with hopes of starting a full-scale restaurant honed in on their passion for breakfast food.
"As much as we love the biscuit concept, honestly at some point, I would see our future being owning a full-scale diner that's all good breakfast food but it's also vegan too," said Mooney.
Because Mooney often worked during the night, he explains that breakfast was a crucial time for their family to come together.
"Instead of a normal family that would sit down and have dinner together, we sat down for breakfast, so I think that's why we're so passionate about the breakfast food — it's because that's our meal together," said Mooney.
Mooney and Rockey plan to offer specials at the truck, which is open from 9 am until 2 pm Tuesdays through Saturdays, such as breakfast burritos and barbecue jackfruit biscuits.
As Rockey pronounces, "Who doesn't want a biscuit sandwich? It's different than a burger, it's something you can crave, it's salty, it's delicious, you can put jam on it, you can make it sweet, you can make it savory — it's an all encompassing vessel to put things on!"