Creating Spaces for All: Whitman Clubs for Many Interests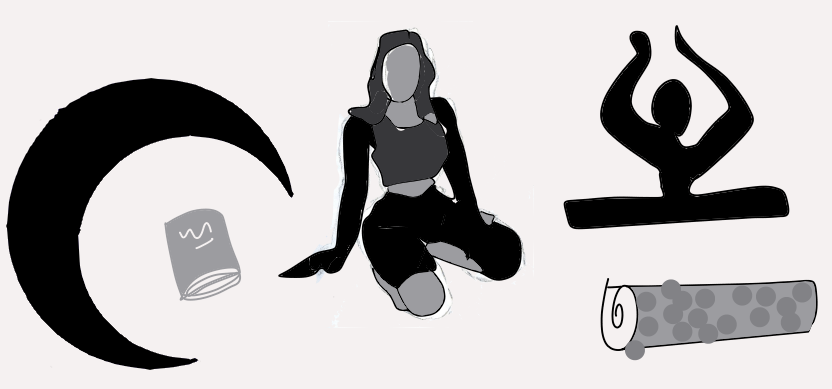 Dance Team: a Community through Movement
Leksi Kostur, a senior psychology major, has been co-running the Dance Team, a club on campus that invites students to let off steam through fun original dances created by Leksi and her co-president Grace.
"Typically we meet once a week, and we work towards a performance that's coming up in the near future," said Kostur.
Even though Kostur had done dance before coming to Whitman, she was not really involved in Dance Team until last year.
"After last year, I contacted a couple people I knew that were in it and asked about if it was happening or not, and they said no, the leaders are a little bit too busy to do it this year, so I was like okay I'll just take it into my own hands," Kostur said.
While both Grace and Kostur are trained in classical ballet, the Dance Team tends to do more jazz and hip-hop style pieces.
"We like to do kind of more accessible things because it's meant for just any level of dance skill," Kostur explained.
The Dance Team is open to all who are interested in joining, even if you have no previous experience in dance.
"To join, you can email me to be on the listserv. Or anyone can just show up at the meetings also. We don't have a meeting time for the semester yet, but it will probably be Thursday evenings and anyone can just show up!" Kostur said.
The club meetings are very much focused on having fun and creating a culture of acceptance and positivity for its members.
"It's very relaxed. It's very fun. Uhm, there's no like emphasis on being perfect at all," Kostur said.
This semester, they plan to focus on preparing for the Theta talent show and working on original hip-hop choreography.
"Grace and I took a hip-hop class over winter break, and we learned some choreography in that and so we're just working on that this semester and teaching people," said Kostur.
While the dance team has performed at previous Whitman shows like Freedom Songs and Walla Walla's Best Dance Crew, their focus is much more on creating a space for communal exploration of dance.
"I don't think dance team has ever been competitive. I can't speak for a lot of previous years, because I wasn't in it until junior year," Kostur said.
In fact, the main purpose of dance team is to create an environment where people can mess up and learn more about dance without the pressure that competition can create.
"It's very hard to find a comfy and very free space to move in. The gym is a great space to exercise in but its not the same to move to music and have a good time, you know? In rehearsal, you can laugh, you can mess up, and that's probably my favorite part about it, just the freedom of the space and the choreography and just dancing with friends," Kostur said.
Between working on her thesis, her internship with the cultural institute in Pendleton and her commitment to Schwa, it can be hard sometimes to keep up with dance team, but Kostur tries to make it a priority.
"It's just important to like schedule out that time because moving is so important and you don't even realize how important it is until you like don't have it in your life. Just making it another commitment as if it's a class is the only way to make it consistently happen," Kostur said.
However, to Kostur it is worth the time commitment as it is a non-judgmental place to have fun and dance.
"I think a big pro of dance team, or just in the dance world in general, is it's not a scary place at all. You know, even if you have never danced before you can come and dance and have fun. It's just such a freeing activity and I feel like there's a place for for everyone," Kostur said.
Yoga Club: a Space to Blow Off Steam
A good way to relax despite the stress of school is to join Yoga Club, co-created by first year Alex Feller.
"So at the beginning of the year I met this dude named Karsten and we were talking about how we wanted to create an environment for students to reflect and be able to take a timeout from stress through embodied movement, ergo yoga. We decided to give it a shot and we are in our second semester now," explained Feller.
In general, meetings take about an hour to complete.
"We do a 45-minute flow of yoga with 10 minutes at the end for Shavasana, which is kind of a meditative post practice state where you lie on your mat and take in all of the energy that you in theory created. But yeah, it's mainly just about embodied exercise," Feller said.
In general, the meetings start with a low energy warm up to higher intensity poses, eventually ending with a relaxing cool down.
"When we get in the room and usually everyone will spread out their mats and we'll do a three minute meditation the beginning to help people kind of settle. And then you start by doing movement, which is more I would say relaxing base to get your body just integrated into being able to hold poses for longer frames of time. And then after maybe five to ten minutes of that we will go into more intense practice. And then at the end we will come back from that intense state and go to more relaxed of poses like in the beginning," Feller said.
Anyone who is interested in yoga or meditation is welcome to join, no matter the experience level.
"A lot of it is just imitating the person who's leading up front and they will correct your form if you're off. So, yeah, it's a super easy, super simple just a way to connect your body and to get some exercise in a very gentle way," explained Feller.
While being a newbie can be intimidating, Feller says it's a very accepting environment that encourages beginners to try, all while being guided by one of the certified leaders.
"We definitely encourage all beginners to come join us. We have mats and we just want them to come on in and we will teach them through the beginning poses," Feller said.
There are some tips to know if you are considering joining.
"Wear stretchy pants! People laugh, but it I've seen people show up in jeans before. I'm like this is not going to end well," Feller said.
However, the most important rule to Yoga Club is to keep an open mind about your own body.
"One of my old teachers used to tell me that part of yoga is really being okay with where you were at. I think that in this culture were always taught to stretch harder, run faster, lift more, and that doesn't work with yoga because your body is not used to being in these kind of different poses and you could potentially hurt yourself. So part of the practice really is being okay with where you're at," Feller said.
This is easier to remember when we learn that even pros like Feller struggle with poses sometimes.
"I was in this room with people who are stretching their legs over their heads and I could barely touch my toes. I had to say okay, this is where my body's at and I appreciate what it can do for me and I'm going to stay in its comfort zone," Feller said.
While right now Yoga Club only meets once a week, the leaders Devi Payne, Karsten Beling and Feller have big plans for the future.
"We have been talking a lot about how when it starts getting warmer, we want to start doing yoga outside a lot. I do believe so we want to host some bigger gatherings and special events on Ankeny where people can kind of be out in the sun. And also sunrise yoga could be fun," explained Feller.
Since all three leaders are first-years, they have more time right now to organize and plan.
"As long as all three of us can do it and have an open schedule, we will continue and if that becomes a problem then we might pass it on to someone else who is certified," Feller said.
But when it comes to the future, Feller just really hopes to be able to share the benefits of yoga with as many people as she can.
"I think that calm and movement that makes your body feel good is for good everyone and I'm happy to share that with everyone at Whitman and I hope that they do come join us," Feller said.
Blue Moon: Whitman's Art and Literary Publication
Gillian Briglia is the current co-editor-in-chief with Eli Cohen of Blue Moon, the annual arts and literature journal on campus.
"So basically blue moon is an arts and literary journal that has different genres, so you can submit prose, poetry, art or digital media to be included," Briglia said.
Now the head of the journal, Briglia has been on the staff since she was a first-year.
"I was part of the digital media staff on my freshman year which included making the selections for the digital media section. It is usually like music recordings, videos, or Gifs that people make," Briglia said.
To join the staff of blue moon, there is an online application that you can fill out.
"The application process starts right at the activities fair at the beginning of the year and so people put their emails down and we send out emails to them and just generally broadcast on Facebook," Briglia said.
If you're worried about lack of experience when applying, don't fret. Many staffers of blue moon come in with minimal to no experience when they first start.
"It's really kind of interesting because you got people of all different kind of experience levels in the staff. You got a big range which is kind of cool," Briglia said.
Briglia explained how important it is that the staff have very diverse opinions and backgrounds in order to create an interesting journal.
"You don't want everybody to like the same type of poetry or else you're going to have a super bland journal," Briglia noted.
While blue moon hires its staff in the Fall semester, the selection process for which pieces are included does not occur until the end of winter break.
"In that time we're getting all the submissions, people are submitting their pieces to Submittable Online, and then after that we put all the submissions in confidential folders for all the editors and we send the editors their folders, and they schedule time to meet with their staff," Briglia said.
Once the pieces have been selected, the blue moon staff takes an overnight retreat to debate the cover art.
"What the cover is going to look like is always incredibly contentious. You always go into it being like, oh this is so obvious like which one's gonna win, and then it's never what you expect. It's always always like a fight to the death. It's so fun," Briglia said.
Although there are many differing opinions, the staff is pretty laid back.
"From what I've heard from editors, the meetings are going pretty well. And everybody seems to value each others opinions, which is vital when you're doing feedback," Brigalia explained.
Throughout Briglia's experience at blue moon her favorite part has been the discussions about the art she has been able to contribute to.
"I loved reading the work and talking with everybody about it and facilitating conversations. I have a pretty strong background in formal conversations about art, I find it really enjoyable to facilitate those and kind of be in charge of them because I feel like I have a good concept of like when to let people say what they want to say and went to maybe try to guide conversation in a more helpful way," Briglia said.