Walla Walla: A home for the summer
Claire Reichle and Ansley Peard
September 23, 2018
When students arrive in Walla Walla for the first week of school, there is an outpouring of reunions and new meetings that signal the revival of the Whitman campus.
But what would campus look like if you rewound the clock a few weeks prior?
Every year, a small percentage of the Whitman student body chooses to spend their summer in Walla Walla, experiencing the town in a completely new way — most notably the incredible heat.
But it's not just the hundred-degree weather that characterizes the difference between Whitman during the summer and the school year. Often students who stay for the summer get to know the Walla Walla community with greater intimacy and cohesion than when classes are in session.
Read on to learn the stories of a few of these students who spent their summers in Walla Walla, engaging with new communities around campus.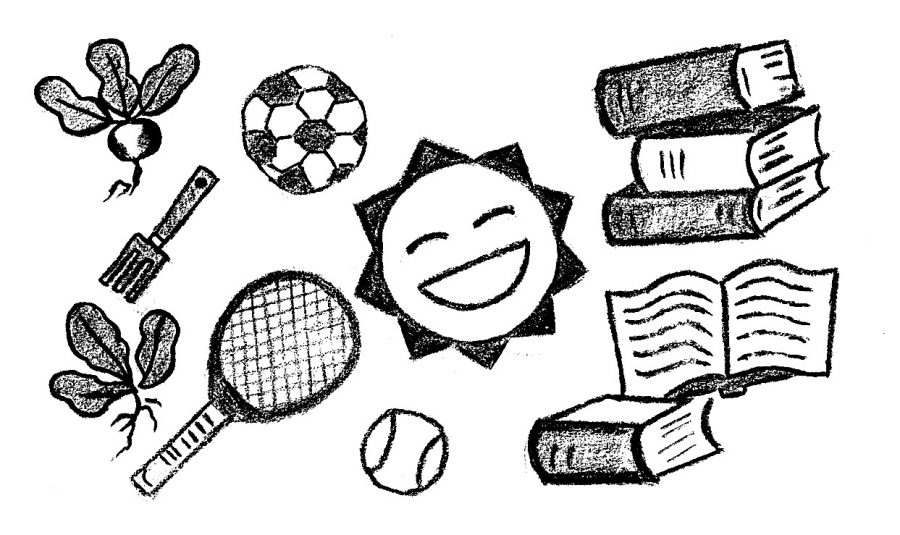 Ashlyn Quintus
Junior Ashlyn Quintus, an English and Theatre double major from North Dakota, stayed in Walla Walla over the summer with other Whitman students.
"I stayed at the Pink Lady with Whitman students that I didn't know super well," Quintus said. "It was a really great opportunity to get close with a few people I didn't know."
Quintus said some of her favorite traditions in her house from the summer included cooking together and watching Jennifer Lopez's show "World of Dance" every Thursday.
Additionally, Quintus told the story of one of her favorite memories with her housemates.
"One Sunday we drove to a local river west of town. We were cliff jumping, though not on a huge level — probably a 15-foot jump. We were just swimming and floating on our backs down the river. It was a really great day."
Even though Quintus spent time with Whitman students, she mentioned a feeling of distance from the campus.
"I got to know the community a lot more," Quintus said. "There's more of a willingness to really integrate Whitman and Walla Walla people. The connections come more naturally because you're not just here for school, you are here to be a part of the community."
Quintus felt this increased familiarity by working multiple jobs in both the Whitman and greater Walla Walla community. Her first job was as a groundskeeper at the Physical Plant, doing work such as tending to plants and mowing lawns around the Whitman athletic fields. Quintus said one of her favorite aspects of the job was getting to know the other groundskeepers.
"I got to know them while working together and we had fun potlucks where we could hang out. That was really great," Quintus said.
Another highlight of this job was getting to meet President Kathy Murray's dog while tending to the roses around her home, Quintus said.
Quintus' second job was working as a tasting room hostess at one of the wineries on Main Street, Studio Twozerotwo.
"It was really cool to dive into the viticulture scene a little bit, since I'm in Walla Walla," Quintus said. "I just turned 21 this summer, so it was perfect timing."
As a tasting room hostess, Quintus got to meet many visitors as well as establish connections with some of the winemakers in Walla Walla.
"Winemakers really know each other here, and it's a very hospitable scene," Quintus said. "I'm taking a little hiatus and hopefully I will return in the winter months when it's a lot slower here."
Quintus also worked as a volunteer intern at the Downtown Walla Walla Foundation, an organization that works to host large events throughout the year and organize the farmer's market every Saturday. Some examples of their events include the Annual Sweet Onion Festival and the downtown car show, "Wheelin' Walla Walla." Quintus helped them by organizing events, sitting in on meetings, and volunteering at events.
"I was working a lot, but it was fun," Quintus said.
This was Quintus' first summer staying in Walla Walla as opposed to going home to North Dakota.
"It was such a different perspective on the place I've been living in the last two and a half years," Quintus said. "It was a delight."
One of Quintus' favorite memories from the summer was the 4th of July, when she went to the fireworks show put on by Walla Walla Community College.
"It's very fun here. You're allowed to put off fireworks within city limits, which is a lot like my hometown," Quintus said.
Along with the similarities between Walla Walla and her hometown, Quintus also noted one major difference: The weather.
"I'm from the Midwest, so I'm used to it being humid and wet. Here it was dry, dry, hot — and then drier, drier and hotter," Quintus said.
Another difference Quintus noted was the greater independence associated with living away from home during the summertime.
"It was the first time not being in school and not being attached to family. It was the first summer in a long time where I could really do what I want, which sounds silly, but I could legitimately take time for myself," Quintus said.
Claire Pepple
Claire Pepple, a senior English major, spent her summer in Walla Walla working as a Marketing and Operations intern for the Walla Walla Sweets, a summer baseball team. The team usually draws D1 and D2 players, though sometimes Whitman students and Walla Walla Community College students play too, Pepple said.
"I heard about [the internship] through the Whitman network and I was interested because I want to go into sports marketing and operations in the future," Pepple said.
Pepple's internship included a vast array of tasks, including on-field promotions, fan interactions, office work, sponsorship pitches and working at community events.
"The internship itself was kind of a bit of everything," Pepple said. "I was really getting exposed to the ins and outs of a lower-level sports team."
One of Pepple's favorite parts of her internship was the firework nights after Sweets games.
"Everyone would come down and watch them from the field," Pepple said. "That was a lot of fun."
Pepple also said she was able to engage with the Walla Walla community in a deeper way through this internship opportunity.
"I loved all the other interns and we're really close now. I also got to know College Place really well," Pepple said. "There are several of the Sweets fans who were season ticket-holders who I got to know really well. It has been really cool to get to know people outside of Whitman."
While Pepple spent the majority of her time with the other interns and Sweets players, she also enjoyed the community that formed around Whitman students who were staying over the summer.
"People would post in our Facebook group if they wanted to meet on Ankeny to play soccer or suggest a concert at a winery for us to all go to," Pepple said.
Pepple said that some of her favorite activities from the summer included going wine tasting, going to the weekly farmer's market and making brunch with her housemates on Sundays.
One of the major differences Pepple noticed between Whitman over the summer as compared to the school year was the weather, getting up to 105 degrees on some of the baseball game days.
"It's just a funny little tidbit — you can't lay on Ankeny all day because you'll die!"
Calvin Lincoln
Junior Calvin Lincoln also stayed in Walla Walla for the majority of the summer. Lincoln is a Biology and Film double major — supposedly the second person at Whitman to ever combine these two majors.
Over the summer, Lincoln worked for Conferences and Events at the college with eight other Whitman students. Lincoln said his duties included cleaning Prentiss Hall for a dance camp that took place for five weeks, as well as setting up rooms and events for people who rented out parts of campus.
"I got really close with the people I worked with," Lincoln said.
Along with his co-workers, Lincoln was able to forge connections with other Whitman peers who were staying the summer.
"The campus was empty, so everyone kind of knew everyone," Lincoln said. "I met a lot of people who were on campus through barbecues."
On top of his job, Lincoln did biology research with Professor Moss and three other students on synthetic biology.
"I wanted to get some biology experience and being here was a nice way to do that," Lincoln said. "I was doing research with a plant hormone called oxin."
Although Lincoln is not continuing this research right now, he says he might in the future.
Lincoln was staying in a house with five other people, all of whom were doing work in or around the Whitman community.
"I had a lot of friends staying over the summer so I was excited to hang out with them," Lincoln said. "We hung out a lot, cooked dinner together a lot of the time and went swimming a few times."
Lincoln said that one of his housemates was an extraordinary cook.
"It was nice to have that routine of eating dinner together everyday after work," Lincoln said. "One time he cooked some really good chilli that he had been making for three days. That was really good."
Lincoln said that one of the biggest differences in being in Walla Walla for the summer was living away from family.
"It was cool to live really independently for the first time," Lincoln said.