Tunes in The Blues: Student Musicians on Spotify, iTunes and Soundcloud
All musicians must start somewhere. 
The simplest tune on a harmonica can develop an artist with complex style and inspirations. Sophomore Claire McHale, senior Chloe Serkissian and first-year Andreas Asimakopolous have been experimenting with music since a young age. Over time, their sound and style has developed and they have experimented with recording and putting music on recording platforms such as iTunes, Spotify and Soundcloud.
Development of Style
Every musician creates their own unique style through music. This style is not innate, but rather developed over time and influenced by their surroundings.
Sophomore Claire McHale's passion for music began at a young age.
As a kid, McHale had the dream of learning to play the harmonica. After a short rendezvous in harmonica lessons, McHale was inspired to learn piano, trumpet and guitar as well as songwriting and recording.
With a base level of musical instruction, her passion for music pushed her to explore the limitless opportunities music allows.
"I've always been told I have a good ear and, especially with piano, I know how to sound things out and play things that sound good even though I don't really know what I'm playing," McHale said.
As McHale continued to grow in her skill, the style of her music developed with her. While much of her music started with folk influences and acoustic instruments, she has recently begun to include more electronic influences.
"I'm always kind of conflicted with how to describe what my music sounds like or like the genre that it would be under," McHale said. "I feel like lately I've been doing more acoustic, electric kind of stuff where I have acoustic guitar, acoustic-sounding instruments and then I mix in electronic beats and stuff."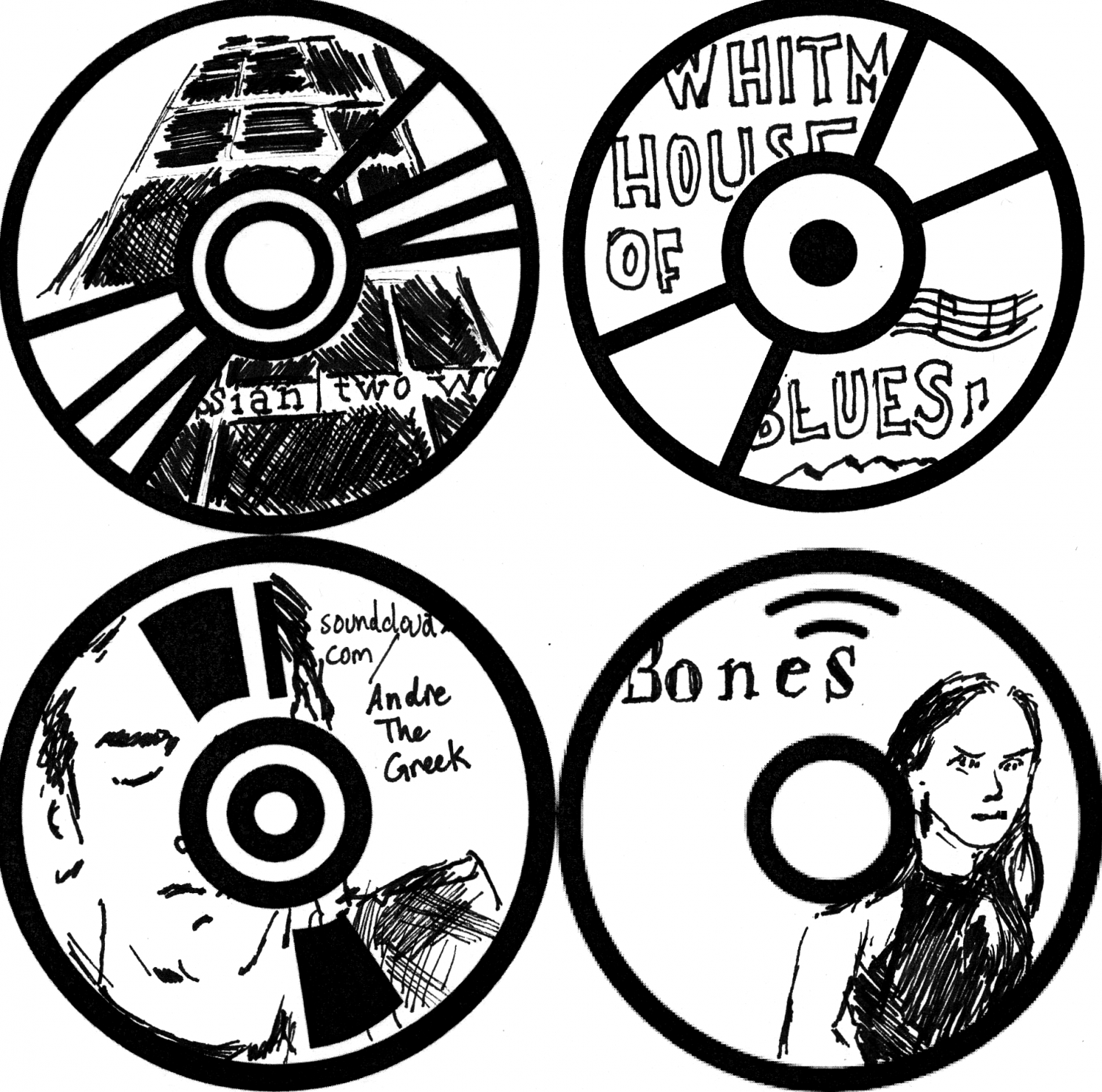 Similar to McHale, senior Chloe Serkissian's love for music grew out of her introduction to a wide range of musical outlets at the Waldorf School she attended.
"Part of the Waldorf curriculum is centered on music and it was from literally day one. Some kind of music is always present in the classroom … there always was a bunch of music going on all at once," Serkissian said. "So it was kind of thrust upon me, but I had an affinity for it. From second grade it was my favorite period always."
While Serkissian was learning music at school, she was also surrounded by a love for music at home. Serkissian was heavily influenced by her mother's love for folk artists. Folk artists such as Gregory Allen Isakov were and continue to be an inspiration for Serkissian's music.
At first, Serkissian described being uneasy with how influential other artists' music was over her own.
"I was always ashamed that like, 'Oh I sound too much like this person or I sound too much like this person.' But my mentor at the time was a songwriter for some other musician; she said all musicians are a product of the musicians that came before them," Serkissian said.
This advice was extremely impactful for Serkissian. She has now learned to embrace her influences and encourages using other artists as a springboard for one's own work.
"It's a fine line between not trying to copy anyone and trying to be yourself, but who you are as a musician is absolutely a product of who you listen to," Serkissian said. "I can take this song as a template and use this as a jumping off point and tweak it and change it and make it my own, but using that as a jumping off point was huge for me." 
"And that was also advice we got in the songwriting class: steal from people, for lack of a better term, take from other people because that's how a lot of songs are written and that it gets really easy after you start doing that you can start branching out using these templates," she added.
Rapper, songwriter and first-year Andreas Asimakopolous' interest in music originally stemmed from singing and playing guitar. Recently, he has begun to become more interested in rap and recording his own music.   
"I was with my friend and he started freestyling and I thought freestyling wasn't even a thing and I was like come on that's weird, but I got into it and it was pretty fun," Asimakopolous said.
Since Asimakopolous has become more interested in rap, he has developed a preference for old school hip hop. Some of his music inspirations include Eminem, A$AP Rocky, Fifth Element and Wu-tang Clan.
"I like more the old hip hop style, like a mix between maybe newer beats on something that I make, but then with old school style because I don't really like the trap … I kind of despise it slightly," Asimakopolous said.
When writing his raps, Asimakopolous likes to create complex and meaningful lyrics, diverging from the "trap and stuff like that."
"I think generally in my music with rapping especially, I'm trying to kind of emphasize more intellectual rhymes and stuff rather than 'pussy, money, weed' sort of thing and sort of bring it back to meaningful words and messages inside the songs," Asimakopolous said.
Recording and Promotion
For individuals who wish to make music their career or simply more public, recording and distributing is an important step in their music career.
For McHale, learning to record, mix and master her music has become an important piece in how she makes her music her own.
"I started recording in middle school with GarageBand on the iPad, but I really wouldn't do anything with that or I'd just kind of write little tunes or whatever," McHale said.
Always striving to improve her sound, in high school McHale took a class on Logic, a sound recording software, at Cornish College. This week-long class gave her an introduction to the basics of Logic, and since then she has been experimenting with the software.
During McHale's senior year of high school, she recorded and produced her own album entitled "Bones" for a senior project.
"I pretty much recorded [it] all … myself, but I just went to a recording studio to re-record some of the vocal parts and a couple of the guitar parts with better microphones and stuff," McHale said.
McHale released this album on a variety of music platforms such as iTunes, Amazon and Bandcamp. In order to release her album on these platforms, McHale used a third party platform called CD Baby.
"Basically that's where I ordered the hard copies of my album," McHale said. "You can also choose different platforms that they will then put your music on there … I did most of them except I decided not to do Spotify because I kind of wanted to make money back."
According to McHale, different platforms have different pros and cons.
"With both iTunes and Spotify, you like maybe you get .005 cents for a download," McHale said. "Using that is more for promotion stuff." 
While iTunes is useful for promotion, Bandcamp allows the artist to keep a higher percentage of the profit.
"I mostly use Bandcamp, which is kind of just mostly for independent artists and a lot of the funds actually go back to the artists which is pretty cool," McHale said.
Similar to McHale, Serkissian recorded music for a project in high school. Her project was a set of songs inspired by the idea that a musician is a product of the musicians who came before them.
The two songs she wrote and recorded were put up on iTunes as singles. Although they have since been removed off iTunes since the end of her contract, the experience of selling her music was exciting for Serkissian. She estimates that she made around $100 over the two years of sales.
"It feels really cool to make money off your music and that was the other thing that I was like, 'Wow that's really cool! That's really dope that [that's] something that I wrote and that I worked really hard on,' and just having people pay for it was kind of baffling to me," Serkissian said.
In addition to the monetary revenue, Serkissian also was overwhelmed by the recognition and legitimacy iTunes provided her.
"It's pretty crazy to me, the kind of recognition that you get when you're like, 'Oh my music is on iTunes.' That really seems to be almost like a milestone for a lot of people. And all the people who have it up there know that it's not, at least from my perspective, that difficult to do and anyone can do it," Serkissian said. "And it's not like it's not a big accomplishment, but it just felt really good to have people take you seriously."
Since her single that was recorded in a professional studio, Serkissian has been experimenting with home recording.
"I got a microphone for Christmas and my phone had a microphone, so from there we had a couple of different options for how to record and like tinkering around like recording in different rooms and different volumes and with multiple tracks and all this stuff," Serkissian said.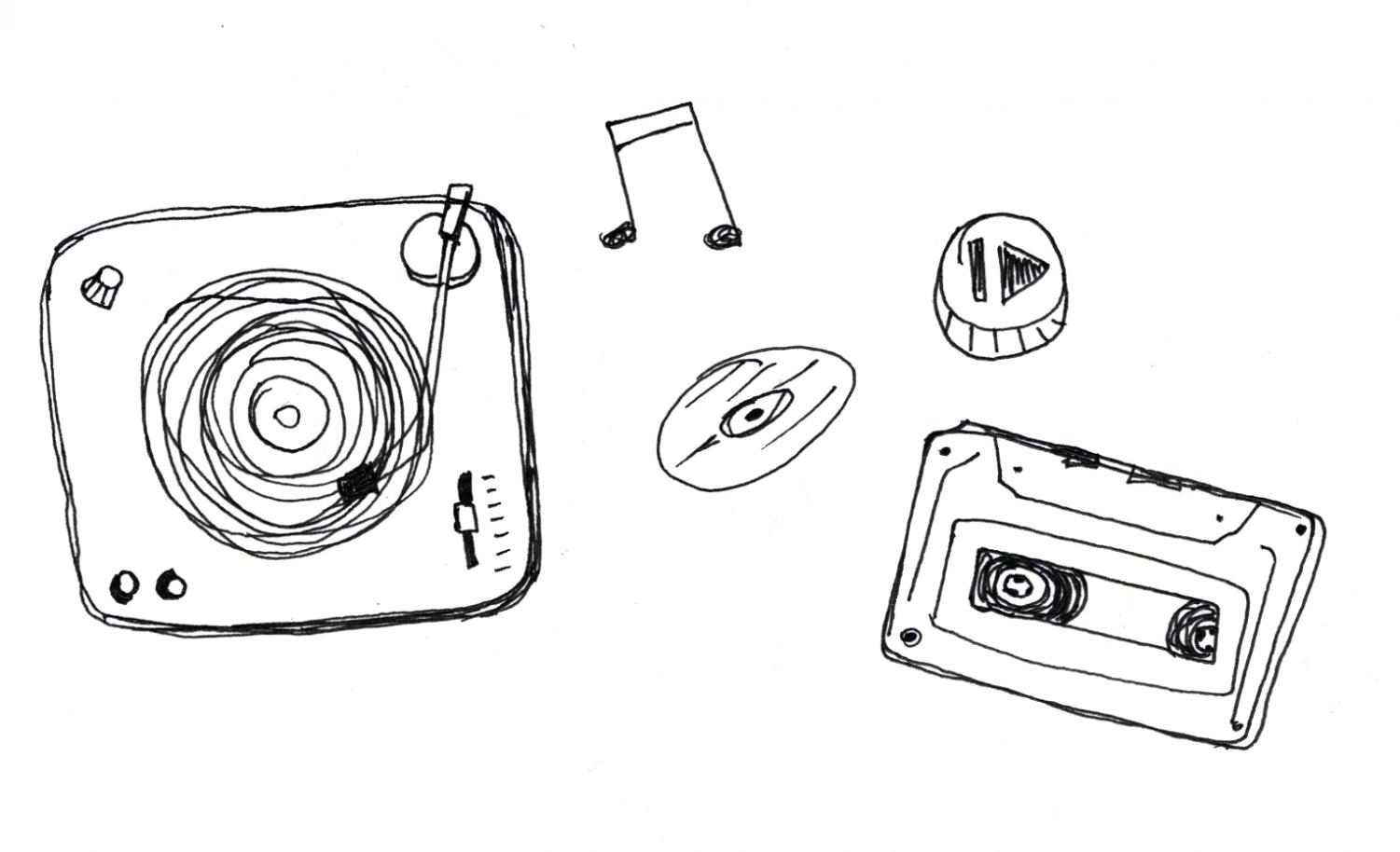 Asimakopolous, however, is new to music platforms. He values the ability to expand his audience through recording his music.
"A lot of the reason I record songs is because, yeah, I just wrote this whole song and now I record it and just show people instead of just doing it live," Asimakopolous said. "Let's say I don't have my guitar or something, then I don't have to play the song – I can just send them the link or something."
Currently he only has music on Soundcloud, but would like to put some on Spotify soon.
"Since Soundcloud [has] been in this sort of genre of like Lil Pump and stuff like that, I'm not really that style, so I feel like Spotify would be more sort of in tune with what I'm doing," Asimakopolous said. "Also it's easier than Soundcloud; a lot of people have Spotify."
Asimakopolous does the recording himself in Whitman's music tech room using Ableton Live to make beats.
"I go to the music tech room and I've been having to go when there are parties because then there's no one in the music tech room because it's a Friday night and I stay from 9 til 2:30, 3 a.m.," he said.
The Future
On the horizon for McHale is a new album she has been writing and recording. The album is set to be released in May providing she decides not to get it professionally mixed and mastered, in which case it would be released in the summer.
"I'm happy with how it sounds now, but I know it could sound way better, so I'm wondering if it would just be better to go to a studio and have professional musicians record my stuff," McHale said. "But that would also kind of take away from me being like myself doing it all and producing and stuff."
While music continues to be an important part of McHale's life, she is unsure of whether music is something she wishes to pursue in the long run.
"It just feels kind of daunting on my own and also because [on] the music I record, and produce, and stuff, I'm doing all the instruments, which I wouldn't be able to perform because you can't play multiple things at once," McHale said. "So it just seems like it would be difficult to like get the same sound when performing."
Another factor of McHale's uncertainty lies in the aspect of self-promotion that McHale has found to be a part of the business.
"It's obviously talent and musicianship and just your playing matters, but most of it is mostly like promotional kind of stuff and being able to book gigs and stuff and being able to put your name out there and get people who are followers or whatever," she said. "So I feel like a lot of it is promotional kind of stuff which I'm not super into."
For Asimakopolous, making a living off his music is a far-off but appealing career.
"I definitely love playing music and I would want it to be a career," he said. "I wouldn't want it to be a make or break thing where I'm struggling to put up this song because I'm worried about what everyone will say, but it would be nice to just do music and kind of survive off music and not have to have an extra job, but I'm sure it will take a while to get to that point regardless."
For Serkissian, who is currently in a band with fellow Whitman students named "Pacific," the idea of pursuing a music career professionally has been daunting yet exciting.
"We've been talking about what we want to do for the rest of our lives … We've all just been talking about how, as people who've grown playing music and stuff, it's really easy to look at other careers as fantastic plan Bs," Serkissian said. "And you're always thinking like, 'Oh man I wanna play music but if I can't do that what is another thing that I can do?'"
"But admitting that is kind of hard because it's kind of a far-fetched thing that isn't guaranteed to work out, obviously. So it's been a discussion right now," she added. "But, as of now, yes."
Serkissian's motivation for wanting to further pursue music lies in its importance in her life rather than the fame or money.
"It's not necessarily even like being famous, everyone knowing your name kind of thing, it's just music being present in whatever it is that I do and whatever that means," Serkissian said. "Whether I'm a third grade music teacher or if I go into music therapy or something."
These three Whitman students push the boundaries of their music and strive to create a more developed sound. Whether they choose to pursue music in the future or not, their passion for music is apparent in their constantly developing sounds. These three musicians certainly do not represent the wide range of musical talent at Whitman, but act as a taste of the incredible passion of Whitman students.