The Sounds of the People awaken hip-hop on campus
If you walk up Main Street on a Saturday night, you can often hear live music pouring out of various wineries and bars. If, however, you realize that all of the music sounds similar and everyone performing looks very much alike, the Sounds of the People may be the remedy. The hip hop artist collective based in Walla Walla seeks to bring a new sound to this monotonous lack of musical diversity. 
Audience members began to stream into Reid Ballroom at 6:30 p.m. on Feb. 22, greeted by flashing lights and upbeat background music. After settling into the rows of chairs at the very back of the room, MC Jon Crest grabbed the mic and proclaimed that "those chairs are just a decoration – when this starts, I need everyone standing up front and close to the stage."
What followed was a wide range of dynamic and emotional performances by the Sounds of the People's collection of local talent. The concert opened with the energetic stylings of HNYZEE, who hyped up the crowd with her vibrant stage presence. Next, Selektis, Jon Crest and ASANI? showcased their improvisational abilities by freestyling about audience suggested topics in the wake of brief technical difficulties. 
JVMVL followed with an impassioned and authentic performance. Next, Jon Crest, Selektis and ASANI? each got the crowd jumping with their upbeat styles. Finally, Chauncey Bass anchored the night with his passionate, vehement approach, including some powerful verses and songs that highlighted racial injustice.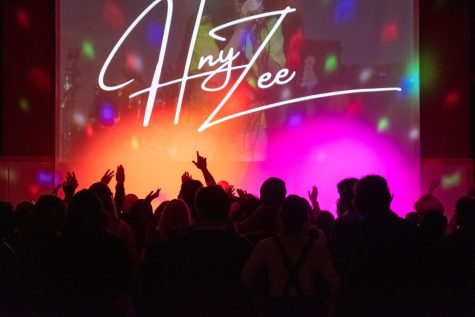 Cofounder, director and artist HNYZEE for Sounds of the People Lindsey Luna described her experience performing at Whitman.
"I had a great time. It was super fun; the energy was cool," Luna said. "It was cool being able to perform, but then also being able to educate on a couple of things. It's Power & Privilege and Black History Month, and that's super important to us. It's also really important to support Black artists, support Black joy, Black dreams and Black teachers."
The concert acted as a suitable precursor to the next day's Power & Privilege Symposium, as Luna alluded to. Senior Sydney London further remarked how the concert was a valuable way of expanding Whitman students' views on race and culture, particularly in the community surrounding campus.
"Since no one in Sounds of the People is a Whitman student or has any affiliation with Whitman, it's good for people to see that you can support artists outside of our own little bubble," London said. "There are Black and brown people that are not just on Whitman's campus and not just in Walla Walla for the sake of going to school. There are people here who live and are able to pursue their own endeavors."
The artist collective introduces an avenue of genuine success that people of color in the music industry struggle to attain in majority-white areas, such as Walla Walla. The city has traditionally seen a very homogenous field of music without many glimpses of hip hop.
Cofounder, director and artist ASANI? for Sounds of the People Asani Watson spoke to the difficulty that certain performers can have in the local music scene.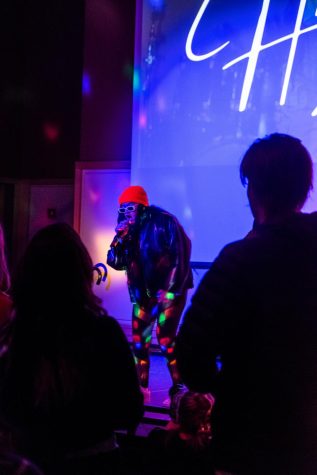 "In Walla Walla, there's nothing for us. Just straight up. There's no opportunity for Black artists or artists who make music in the same genre that we do – I think it's important. There's a want; there's a need to be catered to," Watson said.
Sophomore Xander Land spoke to the way that Sounds of the People gives a voice to hip hop in a community that has historically been deprived of the genre.
"That was the first time I've felt that hip hop alley come into Walla Walla and this area," Land said. "Just being around that, hearing new music and what they do with their styles, you can kind of see them bringing in ideas from other artists that they like. I'm definitely going to check more of their music out." 
Luna and Watson both emphasized that the group's formation was centered around the goals of promoting local talent of color, as well as pioneering an outlet for historically underappreciated genres in the area. Luna spoke directly to the artists' ambitions.
"Sounds of the People has evolved over time. We're an artist collective and concert series now," Luna said. "Our mission is to create inclusive stages, showcase undiscovered talent and elevate Black and brown voices." 
Check out Sounds of the People on their website soundsofthepeople.com, and follow them on Instagram @soundsofthepeopleofficial for updates. Each of the five current members are planning on dropping new albums before this summer, so stay tuned. If you get a chance to see them perform live, you certainly won't be disappointed.