What Hitomi Johnson loved
Hitomi Kosaka Johnson, long-time Whitman instructor of Japanese, passed away on Sept. 27 after a battle with cancer. She was 66.
The Whitman community gathered on Saturday, Oct. 29 for a memorial in Olin Auditorium, as students, faculty and family members eulogized Johnson-sensei. Some of the memorial's speakers included Shigeto-sensei, Takemoto-sensei, current student Nana Kumagai and former student Jesse Moneyhun.
Shigeto-sensei arrived at Whitman in 2010, and she first met Johnson-sensei in the tea room. She felt welcomed, as Johnson-sensei eagerly drove her around town like a tour guide and then invited her and her husband over for dinner. Given the small size of the Japanese department, they worked very closely together over the years. They always focused on their students' wellbeing. 
"We wanted to build a sense of community," Shigeto-sensei said, and the two achieved this by co-organizing many events — many involving food — such as lunchtime conversation tables.
When Johnson-sensei was sick, Shigeto-sensei once visited her with a Kaho Nashiki novel that featured many flowers — Johnson-sensei loved flowers. In return, Shigeto-sensei was given three volumes of "Toma no Shinzo," a 1970s manga about unconditional love.
Beyond literature, Johnson-sensei loved to share food. She was renowned for growing vegetables in her backyard. This year, enamored by the cucumbers that Shigeto-sensei had shared with her, she began harvesting her own. Johnson-sensei had said she felt glad that she could better see her loved ones by getting sick.
"She was able to really understand people around her and how much her family cared about her," Shigeto-sensei said.
Takemoto-sensei wished to clarify that Johnson-sensei's time teaching Japanese predated her professional career. Although she was officially hired in 2004, her engagement with students dated back to 1988.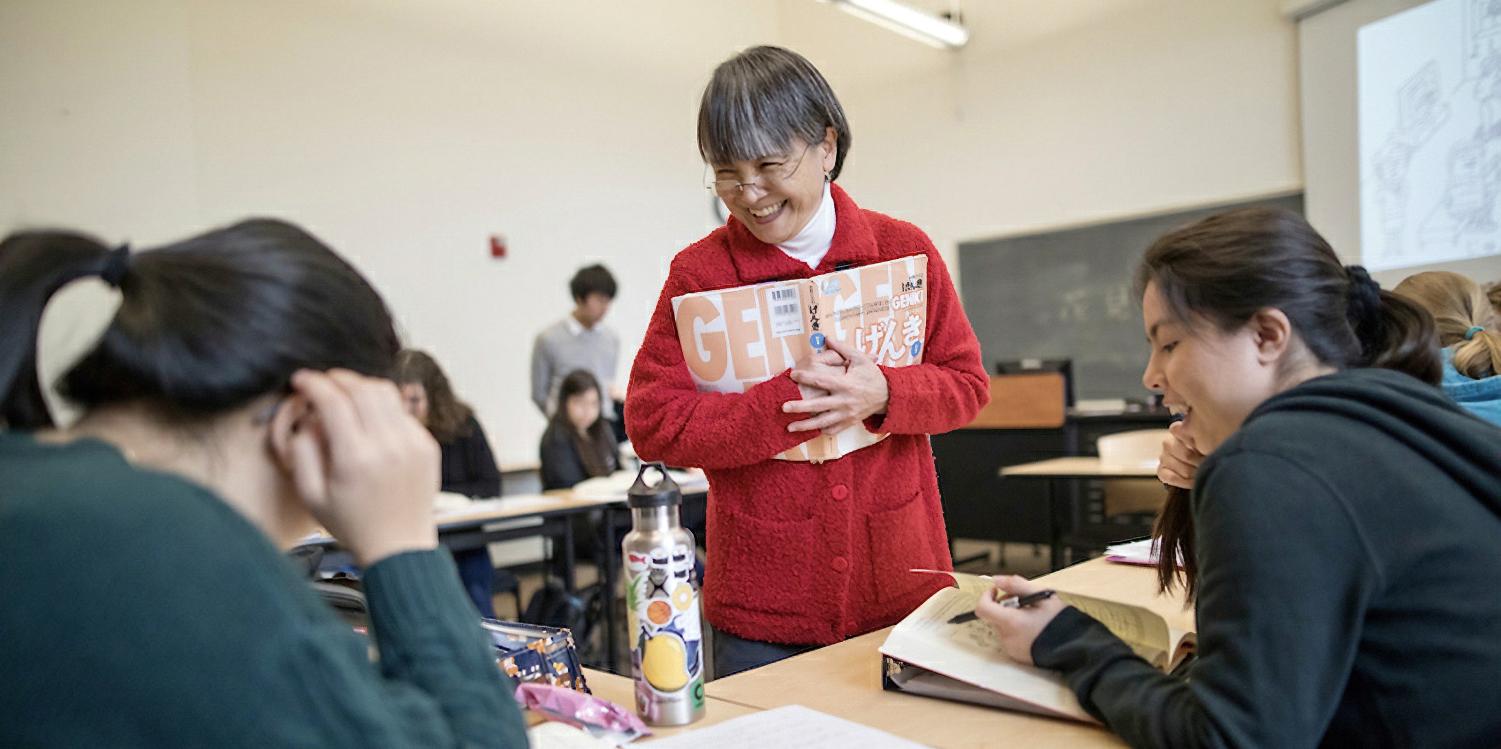 As Japanese studies grew in prominence across the U.S. in the 1980s, Johnson-sensei was encouraged to serve as a resource in College Place. Challenged by this role, she sought guidance by way of auditing Takemoto-sensei's classes. She had first sat in simply to observe, but this quickly turned into helping students learn Japanese. Although she was unpaid at that point, she kept returning to his classes. She assisted Takemoto-sensei and his students, absorbing everything like a sponge.
Learning and teaching helped Johnson-sensei connect with the language and traditional arts of Japan. Takemoto-sensei especially admired the way in which Johnson-sensei flourished in his tea room. Mirroring the way she sat in his language classes, Johnson-sensei started attending Takemoto-sensei's tea lessons, watching students learn before becoming a student herself. Then, eventually, she started to help teach students how to wear kimonos, how to walk, sit and serve a bowl of tea to a guest.
Takemoto-sensei knew that Johnson-sensei was sick when she stopped coming in for Sunday practices. They missed each other and missed sharing their love for tea. 
"I tried not to call her because it makes it difficult," Takemoto-sensei said.
They were connected through tea, and they stayed in touch to figure out where her kimonos would go.
While attending Whitman, alumnus Jesse Moneyhun '17 would spend a few hours every Sunday in the tea room alongside Johnson-sensei. He now teaches music in Seattle, and he admitted that his teaching style originates from the way in which he was taught tea ceremony. 
"[I'm] just trying to be Takemoto-sensei and Johnson-sensei at the same time," he said.
Moneyhun explained that they were a superb teaching duo because Takemoto-sensei would intensely teach you the right way and Johnson-sensei would lovingly support and affirm you along the way.
Junior Nana Kumagai shared that Johnson-sensei had gradually become like a mother to her. Among the many memorable dishes Johnson-sensei served, Kumagai most favorably reminisces on the plain white mochi for New Year's. Kumagai would try to eat the mochi little by little so that it would last longer.
The generosity of Johnson-sensei extended into her own home, which had served as refuge for many students over the years. This past summer, Kumagai stayed with the Johnsons for a week or so, experiencing new Walla Walla sights whilst tasting many homemade meals. In the morning, when Kumagai slept off her jet lag, a worried Johnson-sensei would come knocking and gently call out, "Nana-saaan!"
At the memorial, Adjunct Assistant Professor of Art Daniel Forbes was requested by Johnson-sensei to share a few words on her behalf. She had asked him to tell everyone that "life is good," and he repeated it a few times like a mantra.
"Life is good."
Life is good.