Falling into new routines at Baker Ferguson Fitness Center
The hustle and bustle of the first month of school brings a sudden spark of motivation to many Whitman College students. This energetic atmosphere is almost palpable in Baker Ferguson Fitness Center, where students from a variety of workout backgrounds are joined under one roof, sharing the same equipment. Whether you are constantly making workout plans that never materialize or you have a consistent six-day-a-week gym routine, the center's resources are open to Whitman students free of charge seven days a week. 
Before their first arrival on campus, many students found that financial and transportation barriers often limited their use of their high school gym or larger facilities. For sophomore Charlie Thompson, Baker Ferguson's resources create opportunities for a more pleasant workout experience. 
"I really like Whitman's gym because of how new and nice it is and how well maintained it is," Thompson said. "I've been able to take advantage of doing different things in my workouts because of the different equipment available to me." 
Junior Jozie Munch-Rotolo agreed, mentioning how the restrictions on gym use during her freshman year due to COVID-19 made her appreciate the current availability of the facility and equipment. 
"Recently, they changed from having four squat racks to the entire gym having them with multiple layers set up," Munch-Rotolo said. "There's never going to be a time where you want to use one but can't, which has been a great change." 
Many may believe athletes to be the primary users of the gym, but many students on campus, like sophomore Aria Rumley-Wells, utilize the facility for personal health, strength and growth. The start of a new semester acts as the perfect scene to begin a new routine that will stick.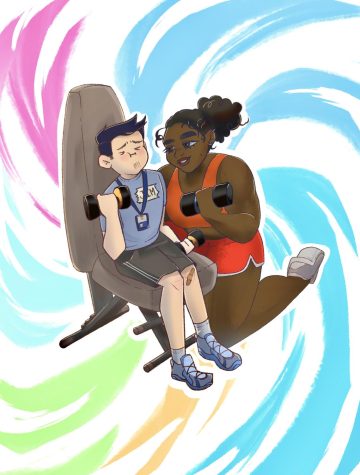 "[My motivation] definitely fluctuates. I feel that, as the semester goes on, I have to balance what I do in work with being at the gym," Rumley-Wells said. "The more you get in assignments, the less you have vigor to go. Motivation comes and goes, but I try to stay consistent." 
Many students mentioned the difficulties that arise when going to the gym on their own and feeling outnumbered by athletic teams that use the facilities. First-year Claire Keller combats this discomfort by working out in a group.
"I've been going with friends sometimes," Keller said. "I really like it. We get to share music taste and share each other's workout routines." 
Rumley-Wells mentioned how the set-up of the gym's bright lighting and floor-to-ceiling windows helps to make the space feel open and secure. Keller added that thinking of the gym as a judgment-free space makes the experience more welcoming. 
Working out serves as a way to improve health, creates a source of community and acts as a stress reliever. As new routines are created and solidified, students are ready to start off their year with the gym as a central part of their personal care regimen.