WEB and webbed feet: Whitman hosts annual duck hunt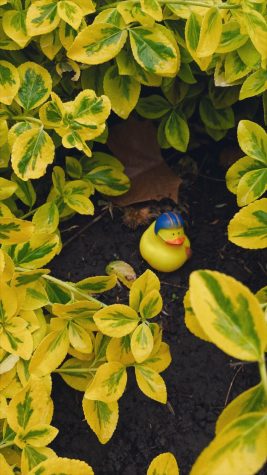 The Duck Hunt is a spring Whitman tradition where students and staff have the chance to win prizes by collecting ducks hidden all over the campus, in both obvious and strange places.
Senior Associate Dean of Students Juli Dunn, who has been at Whitman for 29 years, shared the origin of the Duck Hunt tradition. 
"It replaced a previous spring duck-themed activity where people got big wooden ducks and decorated them, and then the wooden ducks were all over. So the wooden ducks went away, and the rubber ducks came in," Dunn explained. "I know people who have specifically used their lunch time, like staff members, to go search for ducks."
Sophomore environmental studies and biology major Marharyta Tkachenka has been working collaboratively with her friends to find the ducks.
"We planned much more time before with my friends that we do want to participate in this Whitman tradition. As my friend said, that's part of the Whitman experience that every student should have," Tkachenka said.
Tkachenka also shared her guess on why the symbol of this scavenger hunt is a duck.
"The ponds on campus are home for many beautiful ducks and ducklings. It's such an integral part of our campus that we made it almost our mascot," Tkachenka said.
Senior Alí Rodríguez, the Whitman Events Board chair, is one of the people organizing the activity and hiding the rubber ducks.
"I prefer to organize the event rather than finding the ducks, because it is fun to see that people actually find the ducks you hide, especially the ones in weird places. I prefer hiding ducks in the trees. It is really funny when people notice that a duck is high up in the tree, and they still climb to get it," Rodríguez said.
The Duck Hunt is a fun event to enjoy the weather and the campus, and Tkachenka hopes more people will participate in the coming years.
"It is a great opportunity to explore the campus when you get used to it, because you go to unexpected places, you think where people would hide stuff, where it is the place where people don't usually go. So it is a nice thing to find and rediscover the campus places again," Tkachenka said.