BIPOC outdoor club seeks to increase inclusion in the outdoors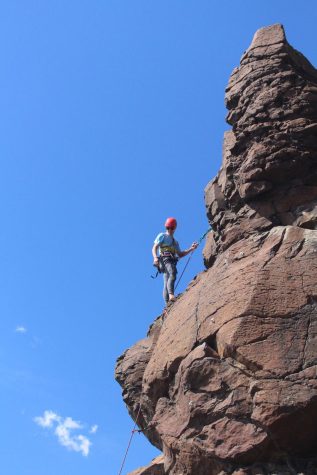 Whitman is often described as an outdoorsy school: there's the climbing gym, a myriad of Outdoor Program (OP) events and various outdoor classes and student-driven trips.
However, oftentimes these spaces are dominated by white students, and they can be intimidating.
The BIPOC (Black, Indigenous and people of color) Outdoor Club is working to make these outdoor spaces more welcoming to everyone. As stated on their Presence page, the club "is dedicated to creating a welcoming and safe community for BIPOC students to explore outdoor activities, strengthen outdoor skills, and build meaningful friendships and connections."
Outdoor Program Director Brien Sheedy is the club's advisor, and according to him, "the club has partnered with Club Latinx, MOCA [Men of Color Association], the IC [Intercultural] office, international students and FGWC [First Generation Working Class]."
Since being founded in spring semester of 2021, the club has held various events. These include biweekly climbing wall events as well as other outdoor trips, including day hikes and a climbing trip to Wallula Gap on Friday, April 22.
"Pretty much all the events at the climbing wall are student-run and organized by club members themselves, but I have been helping with some of the outside rock climbing trips," Sheedy said.
Student Outreach Coordinator Sothea Teng works to promote club events and make sure they run smoothly.
"My favorite part of the club is getting to interact and meet with people, especially those who have never climbed before. I also enjoy reaching out to people…to plan [events] for the different groups on campus," Teng said.
Although the club has not gotten to do the outreach they want due to COVID-19 restrictions, Teng expressed hope that this could change in the future.
"Because of COVID-19, our events have been limited to only open to the different groups in the [Whitman community]. However, as the climbing gym is slowly opening up to people from outside campus, we hope to organize some events with people from the [community]," Teng said.
One example of this was when a climbing event coincided with a group of admitted students visiting Whitman. The prospective students had the opportunity to participate in the event with current club members. 
"It made me really happy to see [the prospective students] have a fun and exciting experience at the climbing gym," Teng said. "We were sharing experiences about where we come from and how much our home is different from life at Whitman College. It was a beautiful moment and hopefully the climbing center becomes another reason for the students to choose Whitman College."
All in all, the club hopes to make outdoor spaces and activities more accessible for historically marginalized groups.