The Sweet Onion Crank is approaching: Q&A with student organizer Keathley Pinney Brown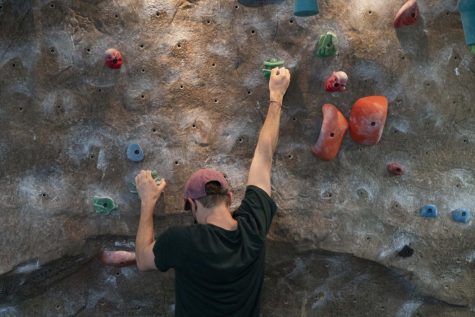 The Sweet Onion Crank, Whitman's annual rock-climbing competition is returning to campus on April 23. The Wire interviewed first year organizer Keathley Pinney Brown to learn more about the competition and how it differs from other Whitman events.
The Wire: For students unaware of it, what is the Crank?
Brown: The Sweet Onion Crank is Whitman's annual rock-climbing competition. It's one of several comps in the Northwest Collegiate Climbing Circuit (NC3), which is made up of ten colleges across the Northwest that all run comps during the spring. This year, the Crank is the final event in the circuit, so it's especially exciting and will host climbing teams from several states, as well as any Whitman students who are interested. You don't need a harness or any technical knowledge about belaying to compete–all you need are shoes (which you can rent at the Climbing Center) and some stoke!
The Wire: When is the event this year?
Brown: The comp will take place on April 23. It's essentially an all-day event. Registration begins at 7:45 a.m., then the first heat of climbing begins at 8:30 a.m. and lasts for two hours. We have three heats, each two hours long, so the final round of climbing will finish at 3 p.m. We'll follow up the heats with a raffle, onion eating contest, finals and awards, so we'll be wrapping up the entire event around 5:30 p.m.
The Wire: How long have you been organizing this event?
Brown: I took the position of crank coordinator this academic year, so I started in September of 2021. The Crank is a cool event because it's student-run, which isn't the case for any of the other NC3 comps. I've had a lot of fun working on the comp for the past couple months and am excited for it all to come together day-of!
The Wire: What sets the Crank apart from other annual school events?
Brown: One really interesting thing about the Crank is that, because it's part of the NC3, we'll have other climbers coming to Walla Walla from all across the region. However, the Crank is still open to any Whitman students who are interested, so it allows Whitties to meet climbers from various schools and make new friends. The Crank is also a mix of all different types of activities–there's the climbing, of course, but we'll also have a raffle that everyone who registers will be entered into automatically. There are some great prizes this year, so keep an eye out for those! We're also going to have goofy activities like the onion eating contest, which will be a great way to unwind after a couple hours of climbing. Long story short, there's a bunch of activities and a little bit of something for everyone! If you want to spend the entire day at the Crank, that's an option, or you can just swing by for your heat and call it a day.
The Wire: Any advice for students willing to sign up for the Crank?
Brown: My main advice would be to go for it! Climbing can feel intimidating at first glance, but the Crank aims to provide a fun and supportive environment for all students and can be a great way to learn more about climbing and meet new people. I've been competing for a while now, and I've always been amazed at how supportive the climbing community is—at comps you'll see climbers from other teams cheering each other on and forming a strong community, even in a short amount of time.
Those who want to participate in the Crank this year should sign up as soon as possible. The event is capping participants to 150 for this year's competition. Pinney Brown warns the event will fill up quickly, especially once the other schools sign up. Proof of vaccination (a photo of the vaccine card or the physical card works) and masks will be required at the event for competitors, spectators and volunteers.
For further questions, contact Keathley Pinney Brown at [email protected]