Q&A with national champion swimmer Tanner Filion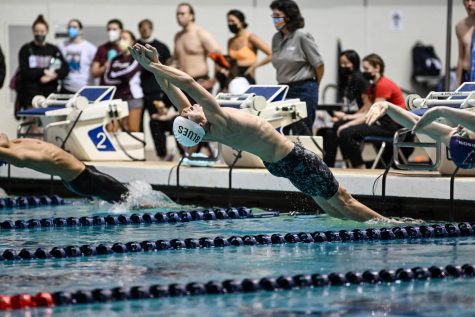 Junior Tanner Filion competed in the NCAA Division III national competition in Indianapolis over spring break. Filion competed in three events, a feat given that there are usually only around 16 athletes total competing in each event. The Wire sat down with Filion to hear more.
The Wire: For people who don't know how your season went, can you give an explanation?
Filion: We started in September, had a couple of swim meets and then had our conference meet in February. At that meet, I qualified for nationals. From there, it was another four weeks of training before the national competition, where I got seventh in the 200 free, second in the 100 back and won the 200 back.
The Wire: Can you talk about what your experience at nationals was like?
Filion: Nationals was crazy. My coach wanted me to go out Sunday, and I raced on Thursday of that following week. With daylight savings, there was a four hour time change, so she really wanted me to get acclimated to the new time zone. A couple of my teammates came out to support me as well. Monday, Tuesday and Wednesday, I went to the pool and maintained my taper. Monday when we walked in, the pool was absolutely unbelievable. All the teams were there and they had free gear. Attached to the pool there was a gymnasium, and March Madness was going on, so all of the swimmers were watching the ball game, and it was cool to see other collegiate athletes playing their sports.
The Wire: What was it like actually swimming your events?
Filion: I've never swam on a stage like that before. I feel very blessed to have that opportunity. There were a lot of spectators, and the pool is really historic—it's been used for Olympic Trials in the past, and world records have been broken there. It was really cool to be a part of that and touch that water. It was a little intimidating, but really exciting, and in my last 25 of my 200 back, I actually started smiling to myself and kind of laughing a little bit because the pressure had come off at that bit, and I could enjoy it a little more.
The Wire: What are you looking forward to now that this season is over?
Filion: Right now, I'm excited to hang with [ultimate frisbee] teammates, rock climb, get outside and enjoy all that spring has to offer in Walla Walla. Like I tried to do for this season, I don't want to set any expectations, so I'll do that again, and hopefully I can drop time and see what ends up happening.
The Whitman men's swim team will return next year. You can follow their Instagram @whitmanswimming for updates.