"Its own kind of little world": Maria Chávez brings multidisciplinary art to the Sheehan Gallery
Beginning Feb. 1, 2022, and extending until Apr. 8, 2022, Sheehan Gallery is welcoming the "Paperworks, 2008-2022 (paper, sound, motion)" exhibit by Peruvian abstract turntablist and sound artist Maria Chávez.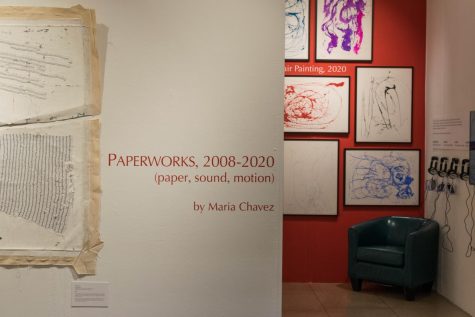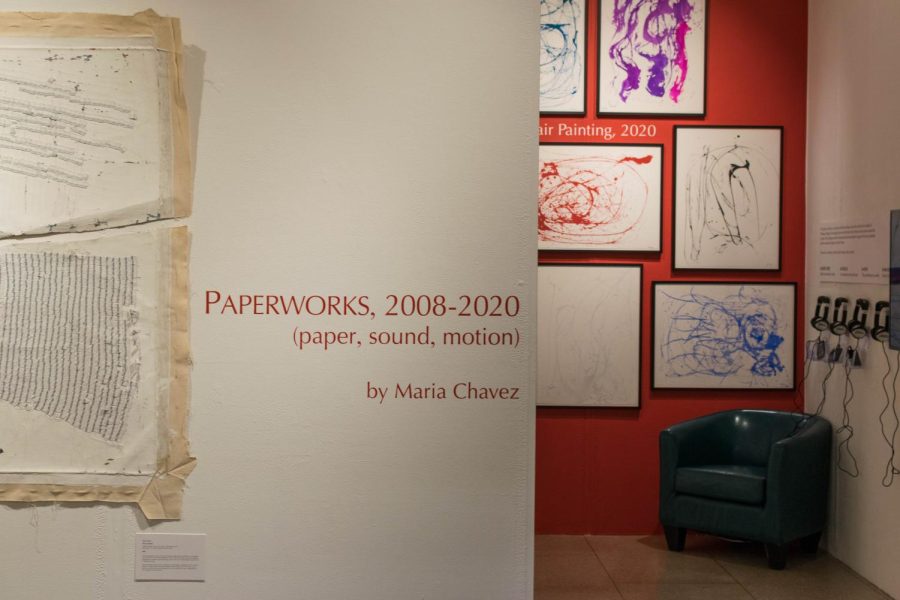 The exhibit explores the visual artwork of Chávez's career, from sound and multimedia installations, to her collaboration with Whitman students: Audrey Mace, Chloe French, Fi Black, Hannah Marker and Morgan Greaton. They helped create "The Sound of Safety" wall and compositions. Associate Professor of Art Justin Lincoln also collaborated with the exhibit.
Director of the Sheehan Gallery Kynde Kiefel describes Chávez's art as generous, inclusive and surprising.
"Maria is a big thinker, and her art spans many disciplines, merging right and left-brain studies," Kiefel said. "I love that we get to see visualizations of needles and sound waves that appear as landscape paintings… I love that we get to learn and practice the art of visual music through her piano scrolls and make improvised 'music' of our own."
This exhibit welcomes visitors to engage with their senses in interactive art pieces, while allowing them to explore new forms of  art through sound and visuals and play with their own artistic imagination.
Junior Lee Thomas said that, when it comes to art, a lot of people tend to overlook different types of mediums that an artist can use, like audiovisuals and music.
"It is its own kind of little world—to kind of pop in for a little bit. You get to see the different outcomes to different sections of places with different videos, different music, different things to interact with," Thomas said.
For sophomore Nana Kumagai, the piece "Of Technique: Chance Procedures on Turntable Book Object" stood out. She likes the way Maria Chávez combines the unexpected, and the way she makes art with materials she would have never thought could be used.
"The concept is a little different from the semester before," Kumagai said. "This semester is more back to basic […] because it combines visuals and hearing, with ways that I would never imagine they would combine."
Sheehan Gallery also opened the art exhibition "Mind Maps: The Art of Vicki Bennett" at the beginning of February. The exhibition, featuring the work of multimedia artist Vicki Bennett, follows her 30-year journey into immersive media, from music and radio to text-based art and moving images.
"Each of these artists make me want to make my own work, too, and that's my hope for anyone traversing our gallery spaces," Kiefel said.
Staff at Sheehan Gallery have planned a series of events to explore the exhibits, encompassed in a "mini-residency" with Chávez in April, according to Kiefel.
Associate Professor of Art Justin Lincoln also expressed his excitement about the exhibitions to which he contributed.
"I believe that Maria's exhibit and the concurrent exhibition by Vicki Bennett, both encourage us to develop a more expanded experience of creative activity. A more extended stay or return visits really rewards your attention. I've spent a great deal of time with the work, and I don't feel like I've even begun to exhaust what the work communicates to me," Professor Lincoln said.
Vicki Bennett will be visiting campus in early March, followed by Maria Chávez's visit in early April. For more information regarding the events related to these exhibitions, community members can refer to Whitman College Sheehan Gallery's website.