KnitWhits: A close-knit community
Knitting, crocheting, even sewing: KnitWhits do it all. Despite the catchy name, the club isn't solely a knitting club, although many of their members are knitters.
Every Thursday at 7 p.m., members meet in Cleveland Commons behind the global station. According to president Jolene Keller, the atmosphere is relaxed and friendly.
"We just sit around a table and all knit, and kind of just talk about our days and whatever comes up. Sometimes people still want the social aspect but don't have time to knit that week, so they'll still bring their homework and some of the other KnitWhits will help them with their homework if they have questions," Keller said.
KnitWhits welcomes members of a variety of skill levels, and members are able to learn from each other in a welcoming environment. One new member is first-year Sonia Burns.
"I took up knitting over the past summer, and I kind of wanted to build my skill set and find other people to teach me some new things. I've definitely learned some new techniques–I can now knit things in the round instead of just a very long rectangle," Burns said.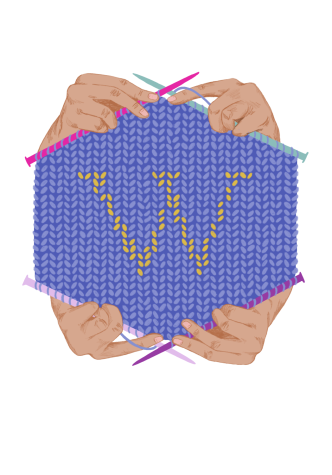 There's no minimum skill level needed to attend KnitWhits meetings. In fact, they have yarn and knitting needles that members can borrow for the semester as they learn to knit. 
Junior and KnitWhits Treasurer MollyAnn Burkey had little knitting experience before joining KnitWhits, but quickly learned.
"I had never knit, really, before I started coming to this club. Jolene [Keller] and I lived in the same residence hall section, and one night, she was going [to KnitWhits] and suggested I come with her, and [after that], I kept going," Burkey said. "It was a nice atmosphere. They taught me how to knit, and I enjoy [the club]."
 KnitWhits members emphasized the community the club creates. 
"[My favorite part] is probably hanging out. Personally, I'm not the most avid knitter, so it's kind of funny that I'm in the government, but it's a good activity to do while hanging around other people. I do enjoy the knitting, and I'm interested in doing more interesting projects with my knitting [as well]," Burkey said.
It's clear that KnitWhits is not just a knitting club; it's a break from the stress of school and a fun atmosphere to get to know new people.
"I don't have a lot of other people that knit or crochet in my life, so it's been exciting to see the accomplishments and growth of people in the club. It's also a different group of people…from who I usually hang out with, and getting to know a different group of people from different years with different interests [is great]," Keller said.
KnitWhits is open to anyone and everyone, and the close-knit community brings people together.