Celebrating Super Bowl LVI at Whitman
Whether you are rooting for the Los Angeles Rams or the Cincinnati Bengals, this year's Super Bowl LVI will bring family and friends together around football. The Whitman community has its own set of Super Bowl traditions.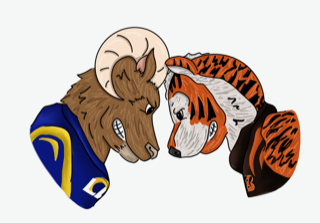 Professor of Sociology Michelle Janning does not have many family traditions; however, she still likes watching the commercials.
"I don't have much to say in terms of family traditions, and I really only ever cheer for the Minnesota Vikings, who are sadly never good at winning the Super Bowl. I do like watching the commercials, though," Janning said.
Advertisements during the Super Bowl are in high demand. A 30-second advertisement can cost over seven million dollars.
Students at Whitman also have peculiar traditions that can make Super Bowl parties memorable. Senior Alejandra Wait is not supporting a specific team this year; however, she does have some traditions with her family.
"My family doesn't have any particular traditions other than betting on certain scores for each quarter or whatever the time fragment of the game is," Wait said.
Junior Llewyn Merrill, recalls how, when he was younger, he would sometimes go to his siblings' Super Bowl parties and on the menu, they would usually have chips, bean dip, mini hotdogs on toothpicks or a small vegetable spread with hummus.
"I support the Rams for this game, but my heart will always be with the Seahawks," Merrill said. "I'm most excited about the halftime show since my home team isn't in it."
As the community prepares for game day, there is always the legendary halftime show to look forward to, featuring singer, songwriter and actress Mary J. Blige; rapper, record producer and songwriter Kendrick Lamar; actor, rapper and songwriter Snoop Dogg; record producer and rapper Eminem; and a performance of the national anthem by singer Mickey Guyton.
This Sunday, Whitman community members who watch the Super Bowl will partake in a long-standing tradition and connect with loved ones near and far.