"The Penelopiad" pulls back the curtain on Odysseus and Penelope
Mo Dow, Campus Life Reporter
December 9, 2021
This Thursday, Dec. 9, marks the opening night of the Whitman theatre department's last show of the semester, "The Penelopiad." The play, as well as the book of the same name it was adapted from, are by Margaret Atwood, best known for her novel "The Handmaid's Tale."
The play was devised as a retelling of the Greek epic poems that follow the tragic hero Odysseus, both as he goes to fight the Trojan War in "The Iliad," and as he struggles to return home in "The Odyssey." Atwood's version of the story takes a deeper look at the women in these influential works, especially Odysseus's wife, Penelope.
The play grapples with Odysseus's actions and the heroic status he is given that often seems to justify all his choices. Gillian Mackay Brown, a junior, plays Odysseus—or, at least, a version of him.
 "So I play Odysseus, but I'm not actually playing Odysseus—I'm playing one of Penelope's maids (really, her slaves) playing her interpretation of Odysseus. As it turns out, the maids don't have a very favorable view of Odysseus. He's kind of a terrible person, as Atwood makes extremely clear," Brown said.
"I love playing male characters, and I especially love playing bad male characters, because I feel like my experience with men as an outsider adds a new layer to explore … I hope my character will make a lot of men reflect on their position of power and their treatment of the women in their lives. Any man who fancies themselves to be a hero like Odysseus may want to reconsider after this show."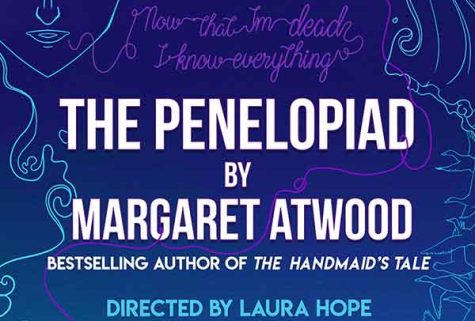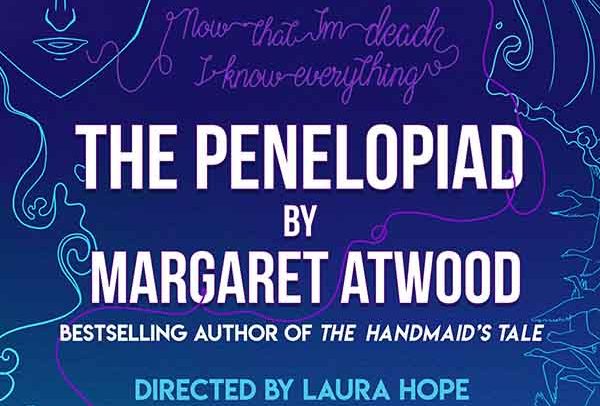 To Brown, much of the work that this play hopes to accomplish, both at Whitman and since its inception, is to grapple not only with the legacy these stories have left on modern European and American storytelling, but also with the historical narrative that these poems have built.
"I think a lot of times we view the way Odysseus exploited women or the way women were treated by Homer's narration and by the society at large as unfortunate side effects of a heroic tale, but 'The Penelopiad' has re-centered that narrative. Atwood is saying that actually these women do matter, and their pain, which real, living women endured, should not be set aside in favor of a story glorifying men's fictional exploits," Brown said. "I also wouldn't go so far as to say Penelope is the heroine of this story. As a woman in a unique position of power, she is not free of sin. But whether or not she deserves to be called a hero or a villain is up to the audience's interpretation, of course." 
But for all the joys that theatre brings, both to its audience and the cast and crew that work to put these shows on, there are some real challenges going on behind the scenes. Brown described the intensity of the past few weeks and the burdens that have come with it:
"Stressed doesn't even begin to cover it. We've been working for almost three weeks now, six days a week, for three and a half hours or more. It's a little heartbreaking that after all this time and work, we only have one weekend of shows before it's all over. The shows are the fun part—it's the rehearsing that's hard," Brown said. 
This semester has been a uniquely difficult one for the theatre department especially after the tragic death of Kevin Walker, who worked as the master electrician and sound engineer for the Harper Joy Theater for 13 years before he passed away this summer. Many in the department have grappled with the vacuum left in his absence, both in the production of these shows and in their lives as well. As they fight against the clock, working long hours under high stress conditions, Brown is proud to say that the work they've done has paid off.
"I think our biggest strength is that against all odds, we're making a damn good show," Brown said.
Playing across from Gillian Mackay Brown is Lola Bloom, a senior theatre major, in the titular role of Penelope. Bloom addressed the clear themes of the play and delved a little deeper under the surface, without going into any spoilers.
"It talks about feminism. And I think that's pretty obvious just from rewriting the tale of the Odyssey to Penelope as a perspective. But it's also a very Marxist feminist play where it also talks about like, class disparity. So it's Penelope's story, but the maids are constantly interjecting and talking about things like, yeah, Penelope had it bad, but the maids had it way worse. Because they're slaves. They were raped and used and nothing good happens in their lives," Bloom said.
Furthermore, Bloom is fascinated by another aspect of the play as a feminist narrative: how Penelope has historically been weaponized as a model against other women, and what she represents as a subject of the patriarchy. 
"Penelope herself is … well, how do I say this? She is, like, the ideal woman, and has been used as the ideal woman for such a long time. And I think it also shows the negative side effects of presenting yourself as the ideal woman and living for men and living for other people," Bloom said.
This has led to one of Bloom's most important considerations as a performer and has helped her define the role for herself.
"I've been playing on this idea of, you know, as a woman in society, you're not supposed to take up space. You're not supposed to be seen, necessarily. So being very quiet in your clothes, your body movements as an actor, and just playing into those traditional feminine roles," Bloom said.
The production of a play of this size requires a lot more than work from the actors and director of the show, according to junior Chloe Williams. Williams works in the costume shop sewing and creating outfits and costuming for the actors in the play. She has found this production to be an especially fun canvas on which to work. 
"There are a lot of really fun costumes for the show, lots of like, texture and movements that kind of plays well with the set. There's kind of this motif of weaving and ropes, and cord-like textures throughout the show, which Aaron [Chvatal, the costume shop director] has been bringing into the costumes, which is really cool," Williams said. 
Although the costuming is heavily inspired by Greek antiquity, Williams says that the costume shop isn't letting these stylistic considerations keep them from exploring new ideas and putting a fresh spin on the outfit designs.
"We've got this huge roll of silk. It's like 70 inches, and it was yards and yards long. And that's what we've made a lot of the costumes out of. Like, it started out as just undyed white silk. And we're using it for a lot of the costumes. So it's very flowy, lots of movements, lots of colors … But definitely a lot to get done. Just like the sheer amount of costumes that you have for the amount of characters that are in the show is kind of a lot," Williams said.
A massive endeavor by anyone's standards, "The Penelopiad" has been both a source of hardship and release, a stressor and an outlet, for both students and faculty. Now, countless hours of work have led up to a four day period of shows, from Thursday to Sunday. Tickets are available online at all hours, as well as at the Harper Joy Box Office, 45 minutes before each show begins.