quarterlife's Best Bathroom contest: Finding community in the weird
quarterlife holds Best Bathroom contest
Mo Dow, Campus Life Reporter
September 30, 2021
This week, the student publication quarterlife seeks to answer one of the biggest questions looming over the student body: which on-campus bathroom is the best? The best bathroom contest is part of a public-relations campaign for the magazine's newest issue, which will come out later this semester and has the theme "quarterlife is: on the bathroom wall." Through this contest and this theme, quarterlife's staff hopes to connect students to each other in ways only recently made possible as we start a semester completely in-person.
quarterlife is run by Coeditors-in-chief Heleana Backus and Anna Johnston. Johnston, a senior, has been with quarterlife since her very first semester at Whitman and now is entering her second and final year as coeditor-in-chief. Johnston hopes that the best bathroom campaign can reach out to the inner child in everyone and encourage people to have some fun with the newest issue.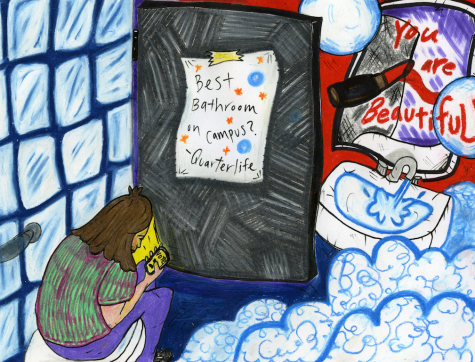 "Our vision for this is that it can evoke a 'gossipy' feel, like when you're in a middle school bathroom, and there are little crush notes and gossip graffitied around,"  Johnston said.
According to Johnston, the choice of theme also was in large part an attempt to show a side of the Whitman student body that is usually neglected.
"We're kinda a bunch of weirdos, especially on the quarterlife staff. We are able to find and foster that weirdness that other Whitman students are experiencing. By doing that on a small scale, on the themed scale, we can get that creative energy that Whitman students have," Johnston said.
Coeditor-in-chief Heleana Backus has also found the odd lilt that marks quarterlife's voice in campus discussion to be one of the most interesting and exciting parts of the publication. Backus, also a senior, has worked with quarterlife since her first year and is entering her third year in her current position.
"I think the Best Bathroom contest is representative of the way that quarterlife taps into the weirder underbelly of Whitman campus. I think a lot of students have opinions about the bathrooms on campus, but there isn't really a place to voice them… I guess we're trying to tap into that weirdly controversial thing," Backus said.
Although quarterlife's theme announcements are always paired with a PR campaign to try and drum up interest in the magazine, there is certainly something unique about this go-around. Bridget O'Brien, a senior and the PR editor for quarterlife, says that the publication is trying to make a splash. She hopes that the new issue will bring quarterlife back in full force after a period of dormancy during remote learning.
"We try to do a creative and funky PR initiative for each issue… Now that we are back in-person, it felt like a good time to really use that to our advantage, get people involved with what's on campus and be able to actually implement PR in-person, rather than last year where it was mostly social media," O'Brien said. 
The staff of quarterlife hopes to foster community in a way that only local media can: by tying together the student body through specifics that are often lost in a 24-hour news cycle meant to appeal to as many people as possible. quarterlife finds itself in a unique position—as an artistic magazine, they have a chance to reach out to students without worrying about current events and can appeal to readership on campus without concern over widespread appeal. By putting the focus of their theme on physical space and bringing people together, they hope that they can help restore the sense of community that's been fractured by the pandemic.
quarterlife is accepting both digital and physical media contributions from all students for its next issue until the submission deadline on Oct. 1. To submit creative work, just email [email protected] with your piece. quarterlife issues can be found online, in physical issues across campus or on their instagram: @Quarterlife_Whitman.