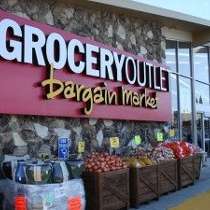 Welcome back to Vegan Beats! After a hiatus, we are back and excited to once again talk food with you. As the new year gets into full swing, money and health-related resolutions can easily get pushed aside for Bon App coffee cakes and Taqueria burritos. This little guide can help you on your journey to save cash and cook more.
I challenge you to go beyond the familiar confines of the Rose Street Safeway, with its hallowed alcohol cases, and perpetually understocked shelves of tofu and kombucha. Here are three stores that I regularly go to for food, and what I buy at each one.
Andy's- 
bulk grains, grind-your-own nut butter, cheap local produce
1117 S College Ave
College Place
Ten minutes from campus by car
Ah, Andy's. The holy grail. Multiple aisles of bulk bins, a dozen varieties of artisan granola, a DIY almond butter grinder… this is what dreams are made of for those with affected millennial tastes. Andy's is in College Place, and its hours coincide with Seventh-Day Adventist services (don't go on Saturdays, or on Friday evenings).
A large percentage of Seventh-Day Adventists are vegetarian, and many avoid alcohol and caffeine. You can read more about this phenomenon here. Communities with large Adventist populations boast some of the best health records because of it.
Andy's accordingly has a lot of great veg things, including tempeh, a wide variety of nut milk, and local vegan baked goods. It also has a lot of local produce, and has some of the cheapest prices for fruits and vegetables in town. You won't find a huge amount of packaged snacks, compared to Super One or Safeway, but if you're looking for Garbanzo bean flour or coconut yogurt or nutritional yeast, you're in luck here. And you're supporting a local business!
Grocery Outlet
–
granola bars, bread, hummus, general cost-saving, surprises
910 S Ninth Ave
Walla Walla
5 minutes from campus by car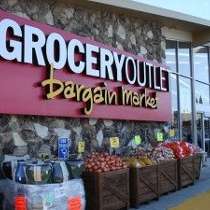 If you haven't yet been to a Grocery Outlet, what on earth are you doing? Get up and go borrow someone's car, and head to the 'bargain market,' lovingly referred to as Groc-out by many. You will find UNBELIEVABLE deals.
Have you ever had Justin's nut butter? It is typically $12-13 a jar, and comes in varieties as exotic as maple almond and chocolate hazelnut. Last week at Grocery Outlet, I got a jar of chocolate hazelnut butter for FOUR DOLLARS. What a steal.
The hard thing about Grocery Outlet is that what they have constantly changes. Their business model is based on selling things other supermarkets can't sell, so expiration dates are looming but prices are out of this world. You can buy things like shampoo and hand soap for cheap, and they have a corner devoted to organic packaged foods with things like bulk chia seed bags and granola bars for half their original price. They also have produce and meat, though I'd keep the store's mission in mind before throwing a big steak into your basket.
When you're shopping, always go to Grocery Outlet first. You can get what you need there, and if things on your list are missing, head to next-door Super One.
Super One-
bulk items, packaged foods, organic speciality foods
710 S Ninth Ave
5 minutes from campus by car
Super One is huge. They have a huge area for produce, but the prices are typically on par with Safeway. Go to Super One when you need your staple snacks, and hit their bulk section to save a bunch on things like rice, beans, and nuts.
They also have a section devoted to organic, gluten-free, vegan things. The prices are market-rate, and you can sometimes find these specialities at Grocery Outlet. Super One's advantage here is reliability. (They also have five brands of vegan ice cream, and rotating daily kombucha samples).
Farmers market-
produce
Crawford Park at 4th and Main Street
10 minute walk from campus
The Farmer's Market won't start up again until May, but when it does, make it a habit on Saturday mornings! You can get vegetables and fruit at awesome prices, handed to you by the people who grew them.