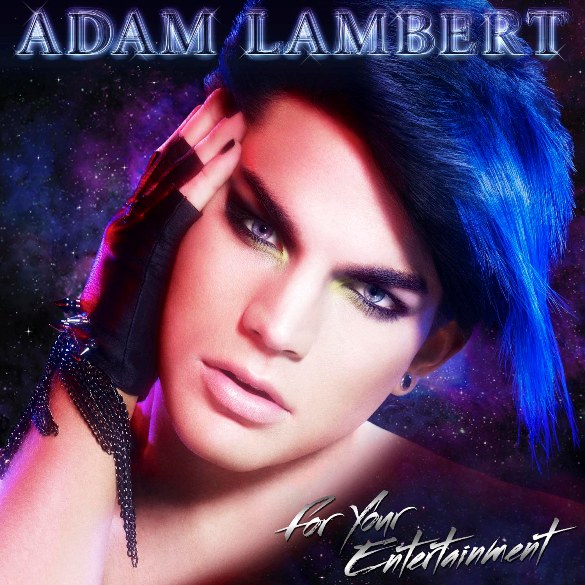 When Rolling Stone proclaimed Adam Lambert "the Wild Idol" six months ago, the American Idol runner-up had a lot to live up to. Since then, he has continued to earn the name, throughout the summer Idols Tour and with the Nov. 23 release of his new album, For Your Entertainment.
For Your Entertainment fuses old school glam rock with futuristic electronica. It's packed with pop anthems from a wide spectrum of the industry's top producers. The influences on each song are all over the place: from track to track Lambert's voice chameleons freely between his own signature acrobatics and stylings of everyone from Freddie Mercury to Lady Gaga.
Confusing but interesting, this medley comes from a vast array of collaborators. One almost wonders if Lambert has given too much creative control to his famous producers and composers. Muse frontman Matthew Bellamy's work comes through clearly in the frenetic rock orchestrals of "Soaked." Lady Gaga's unmistakable sound is stamped all over "Fever": the track bears her style of idiosyncratic lyrics and stutters, as well as her contagious, electronic dance beats. Weezer's Rivers Cuomo also leaves his mark on the quirky synth-rock of "Pick U Up." But despite the range of sounds, Adam's flamboyant personality still manages to dominate the album, in every defiant, exuberant lyric and soaring vocalization.
However, the multitude of power producers on this album: from hit-maker Max Martin, to Kara Dioguardi on "Strut" and three of Tokio Hotel's long-time collaborative producers along with OneRepublic's Ryan Tedder on "Master Plan": might prove problematic should Lambert ever decide to try for a cohesive concept album. Hopefully, his future releases will evolve along with a more consistent creative team.
The main strength of the album is its overwhelming catchiness: the title track "For Your Entertainment" attaches itself to your mind at first listen. With kinky handcuffs. Of course, there are a few misses. "Time for Miracles" falls rather flatly in the bland realm of ultra soft rock, while "Music Again" is way over the top without much synthesis. They are redeemed by the enchantingly hypnotic "Broken Open" and the album's two strongest tracks, "Sleepwalker" and "Aftermath." The former is edgier, with addictive, heavily harmonied choruses, while the latter shines in the pure strength of its pop-rock anthem sound. Its emotional message is directed especially to young people struggling with their identity, sexual or otherwise. Subtle female backup vocals in the mid-track enhance its sweet poignancy.
The album has already had a transformative impact on American pop culture. For Your Entertainment sold 198,000 copies in its first week, leaving Idol winner Kris Allen's album in the dust at 80,000. Lambert has since embarked on a whirlwind of promotion and has continued to be fearlessly open about his sexuality, cheerfully discussing his celebrity crush on Tokio Hotel frontman Bill Kaulitz, flirting with male fans on Twitter and instigating a national media scandal with his brashly sexual performance at the American Music Awards.
Adam Lambert is definitely here for our entertainment.