"Still Life" exhibition in Sheehan Gallery displays senior art thesis work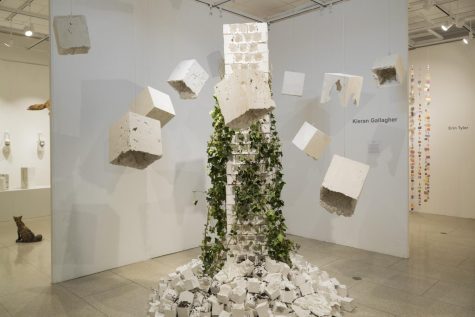 Whitman's senior art majors have worked tirelessly to create a physical exhibition of their thesis projects at the Sheehan Gallery. The finished exhibition, titled "Still Life," opened Friday, April 23, and will be open until graduation on Sunday, May 23. 
The 11 senior art majors met virtually during their fall semester and worked on smaller projects to hone in on their idea for their final project. For some, like senior Kylie Pittsinger, the thesis project presented an opportunity to work on something they had been hoping to pursue for some time, such as a graphic novel.
"I've always been interested in doing comics, and I've been returning to that especially lately. I've had the idea for the story for a couple years now. I first got the idea in 2019, but it hasn't really formulated into something until now," Pittsinger said.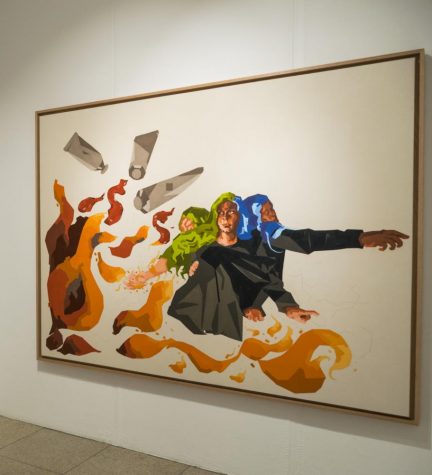 Other art majors, like senior Erin Tyler, found the idea of a final cumulative project rather daunting. She wasn't sure about what she wanted to create, but she found that the fall semester's focus on "play" was critical to her artistic process and helped her hone in on the project she wanted to pursue for the exhibition.
Tyler has made many monotype prints of plant life around campus. She layered them on top of each other, strung the prints together and hung them on the ceiling to create a sort of canopy. 
For Tyler, the most important aspect of her work was to pursue something that she was passionate about. She credits the senior art thesis project as giving her the opportunity to do this. 
"I think a lot of people approach college by thinking, 'Tell me what you want to hear, and I'll do it.' We all probably come from that background. We all want to do the right thing and we want to succeed, but I think growing away from that and really listening to what you want and the things around you that you haven't taken the time to actually pay attention to is important. That's a lot of what I was trying to do and practice," Tyler said. 
Building restrictions during the pandemic has posed challenges to the creative process. Only a few majors are able to access the studios at a time, and all collaborative or interactive work has to be done virtually, or masked and at a distance. 
Besides the logistical drawbacks, Tyler found that the greatest loss due the pandemic was the lack of bonding between the seniors. Under normal circumstances, art majors get the chance to go to New York City for class, and the opening of the Sheehan Gallery thesis exhibition brings guest speakers and members of the artists' families. 
Despite these losses, the students are satisfied with the results of their hard work. Tyler credits the art faculty and the Sheehan Gallery staff as being critical to seeing the exhibition come to fruition.
"All of the faculty and especially the Sheehan Gallery staff, Kynde Kiefel, Tara Graves and Daniel Forbes, did such a good job of helping us do this, especially because it was unorthodox. I know last year there was a website, but there was no physical show. So, all of us are really grateful to have this opportunity and their help," Tyler said.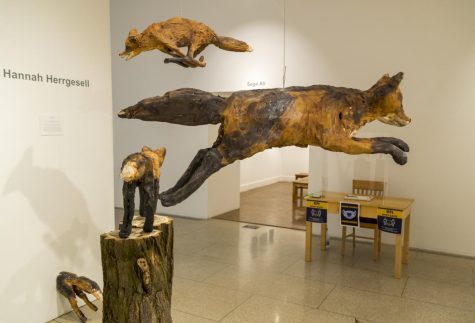 The seniors are grateful to be able to display their work in an exhibit. The space hasn't been a viable venue until recently due to the sudden closure of school facilities in the spring. Senior Daniel Hernried reflected on this with mixed emotions.
"A part of me is terrified and scared, especially because this is expression through the manipulation of physical materials. Once it's out there, it's out there, and it's up to the people, if they want, to interpret it how they would like," Hernried said.
Hernried, Tyler and Pittsinger all reflected on the vulnerability associated with putting artwork out there for the whole school to see. However, they also felt real pride for being able to showcase the hard work that they've been putting into their senior thesis projects.
The exhibition is open Tuesday through Friday, 12 p.m. – 5 p.m., and Saturday through Sunday, 12 p.m. – 4 p.m. The art is also available to see virtually on the exhibition's website.