Show review: Varsity Nordic returns with their goofy spontaneity on Zoom
As the sun sets over Walla Walla, five individuals congregate within the bounds of a Zoom webinar. At the bottom of the screen, framed in dim light, a man removes a pair of cheap plastic sunglasses and addresses his invisible audience. He is Detective Bathwater, and he is here to solve Varsity Nordic's virtual murder mystery.
There is a body: that of the late King Gizzard, dangling toothless and eyeless from his royal tower, his feet bound by barbed wire.
There are suspects: Ken Balls, host and organizer of small, intimate balls; Princess Babyteeth, the King's social media influencer daughter; Gremlin Fourfingers, the King's bicentigenarian babysitter-turned-lover; and smooth-talking Uncle Ricky, the King's brother, who never quite managed to escape his shadow.
Respectively, these characters were developed on the fly by Matthew Triplett, Kaia Roast, Jack Frey, Maddie Ott and Ryan Kinerk based on a prompt they sourced from the audience ("Princess").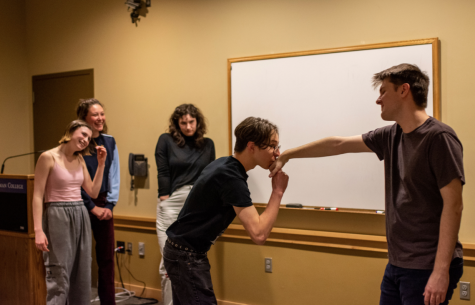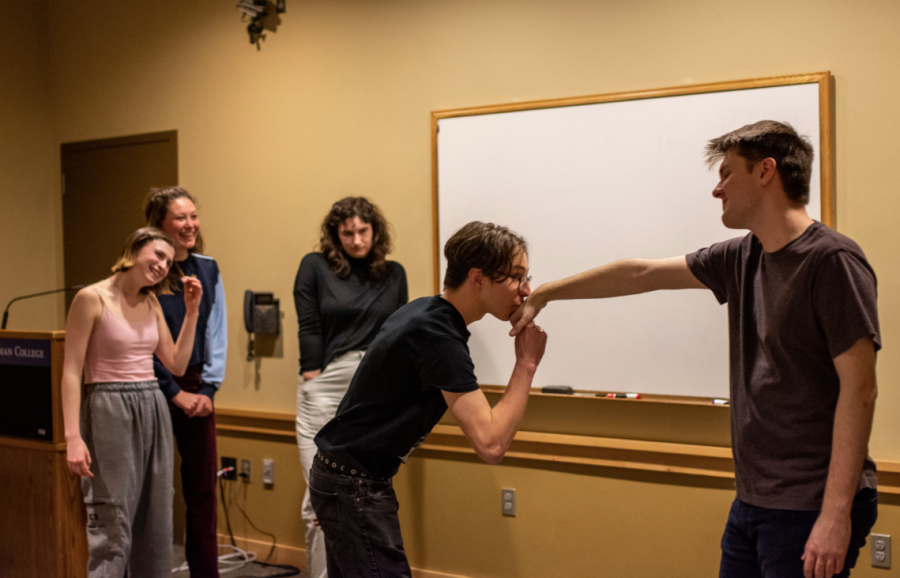 Varsity Nordic, Whitman's resident improv troupe, has been a community staple for well over a decade. As first-years are welcomed into the group and seniors inevitably depart, VNord has experienced its fair share of change, though the shift from their beloved Kimball Auditorium to the restrictive boundaries of individual Zoom windows has forced their shows to take on wildly new formats.
Back in January, during Whitman's now infamous Quarientation, VNord hosted an improvised panel, during which each member maintained the same character for around an hour and encouraged first year students to ask questions about campus life, to which they gave comical advice.
Then, on Valentine's Day, they invited their peers to submit stories from memorable dates, which they used as inspiration for short skits in a show that more closely resembled those of previous years.
While Thursday's murder mystery wasn't the troupe's first virtual endeavor, for members of their audience, it seemed as though they had found their stride in the new format. Senior Phyllis Pawa said it was heartening to see student groups finding such successful ways to adapt. 
"I think for people doing improv, it's awkward to do it alone because it's just not the natural instinct of improv work," Pawa said. Though to her, they seemed to have overcome that obstacle with relative ease. 
While the members cracked obvious smiles now and then in moments that ultimately made the experience all the more delightful, VNord's Murder Mystery felt tight and skillfully executed, with a great balance of structure and spontaneity. Audience members voted in the chat for which characters they wanted to see meet one-on-one, and these brief rendezvouses revealed key details about the mystery (A plot by Gremlin Fourfingers to off the King? A sordid affair between Gremlin and Ken Balls? Theft of intellectual property from Uncle Ricky by his royal brother?). 
In the end (spoiler alert!), it was Ken Balls who was found guilty (audience members got to vote for that, too). Though he didn't act alone — in a shocking plot twist only VNord could have pulled off, Balls was assisted by Detective Bathwater himself.
"Are you telling me detectives can be corrupt?" Princess Babyteeth cried as the troupe thanked the audience, and one by one, the suspects vanished, and the Zoom call faded to black.