In The Bag Shop artist Isabella Margolin brings color to campus
From colorful stickers to retro-looking collages, @in.the.bag.shop on Instagram features a wide range of art. Isabella Margolin, a senior English major, is the artist behind the shop.
Margolin explained that in July of 2020, she was working a part-time job with a professor that left her with a lot of free time. Margolin had gone to an art school growing up but hadn't had much time for it in a while.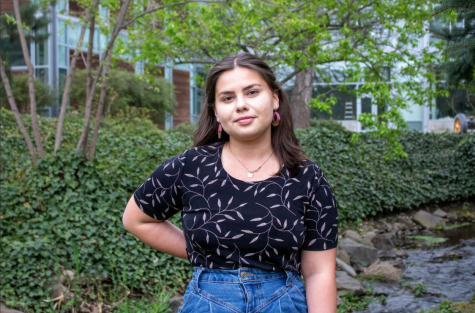 "I've always really enjoyed art and it's been a great place to spend time with myself," Margolin said. "With college, I haven't taken many art classes here — I'm not a big fan of making it into an assignment — and it's been hard finding time during school to make that time for [myself], but I really had a lot of time on my hands this summer and so I got back into that… I've enjoyed it a lot."
Margolin started experimenting with putting her art on different pieces, from tote bags to stickers, just to give herself a project to work on. She explained that while it was fun to sell her pieces, that was never the priority.
"It is something to make some money from, but I think more of it as a project that's growing and hopefully I see it growing in different directions," Margolin said.
Margolin's pieces range in price from just a few dollars for a sticker to upwards of 25 dollars for a tote bag or T-shirt, and she explained that this was done intentionally.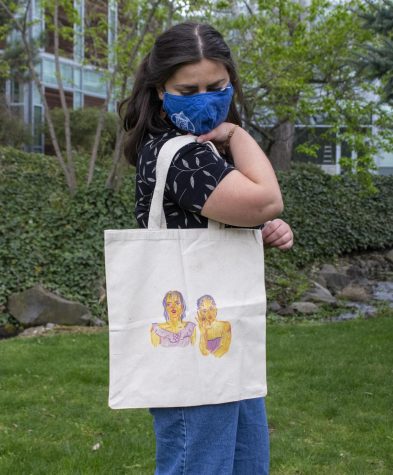 "I started with the tote bags first and wanted the stickers as a cheaper alternative — I am an FGWC student, so… I don't have a lot of money to spend on those kinds of things, so it is fun to… be able to buy smaller items," Margolin said.
Collage T-shirts are one of the more expensive items in the shop, and they are also the ones that take the most thought, according to Margolin. The collages take time to piece together, and Margolin has also found a way of making them more personal.
"Sometimes I use images [of] my family, like old pictures of my mom when she's younger or my little brother or something, which is always interesting and kind of weird and fun if someone buys them," Margolin said. "But I think it makes it more personal to me, and… I like working collage with retro images and those aren't always super diverse, so I feel like a way to make it more diverse is just using my own family images."
As her account has grown, Margolin says it's been fun to see her art pop up in different places.
"When you make art for yourself, it kinda just lives in your room and on your walls and in your boxes, so it's been fun to see it appear in different places like on people's water bottles," Margolin said. "I've gone into a few class Zooms and seen them in the [Zoom] boxes, and there are some people that I don't really know well that have bought them, but it's nice to see them in the boxes — it's a little surprise."
Emma Greenberg, a senior environmental art major, is one of the students featured on Margolin's Instagram page wearing a collage T-shirt. Greenberg says that she first found out about the shop on Instagram and that she really appreciates the designs.
"I think the designs are really creative and beautiful. It's nice to have pieces of art like this around every day; it makes me happy. I love Izzy's art style," Greenberg said.
Nancy Delgado, a senior film & media studies major, is also featured on the Instagram page wearing one of Margolin's pieces. Delgado explained that she was hanging out with Margolin and her housemate last semester when they made time for a photoshoot.
"When Izzy asked whether I'd be okay with being on her business account, it was practically impossible to refuse, especially since she had always been willing to shoot every time I needed a picture for something; she's sort of been my unofficial photographer throughout college," Delgado said.
Delgado said that she appreciates seeing her friends share their talents like Margolin is doing with her art.
"Supporting independent creators and small businesses, like Izzy's @in.the.bag.shop, whenever possible, is just a tiny way of encouraging them to keep doing what they're passionate about. I'm so excited to see what this project may evolve into," Delgado said.
Isabella Margolin's designs can be found on Instagram @in.the.bag.shop.