Professor of Music Michael Simon releases rock EP chronicling pandemic isolation
Mo Dow , A&E Reporter
March 25, 2021
As part of the masters program at Berklee College of Music, Whitman's senior adjunct professor of music Michael Simon released an EP (mini-album) this month. The EP, "Social Distancing: Four Songs of the Pandemic," deals with themes of isolation and the intense emotional impact of the pandemic. 
As the title suggests, the album contains four songs and contains a range of genres from pop-rock to folk, and more in between. It was recorded remotely and features several other musicians. Those credited include Michael Simon, Brian Griffith, Trevor Larkin, Katryna Nields and Eric Stepanian.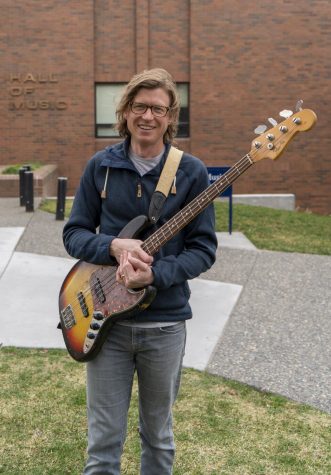 Massachusetts-based producer and guitar player Dave Chalfant first met Simon in 2006 when he helped to produce and mix an album for Simon's band, Stepanian. They became fast friends and kept in touch. When Simon reached out to ask Chalfant to work with him on his project, Chalfant was happy to oblige. Chalfant spoke about the technological innovations that make a project like this possible.
"It's amazing what you can do now," Chalfant said. "Everything is so fast and available. I've been working for a while online, collaboratively. Mastering is a part of work I do, and it's been years since I've seen any mixing or mastering clients actually in the studio."
Despite being only able to communicate online, Chalfant felt connected to the project. Both he and Michael agreed that it was a powerful way to create meaningful relations through the pandemic.
"I'm inclined to just say what an amazing collaborator and creative person Michael is," Chalfant said. "It was really cool to watch him work, and be along for the ride."
After releasing the EP, Simon spoke briefly about it to a group of faculty, among them, Associate Professor of Music Paul Luongo. Luongo was struck by the EP, but was particularly interested in an element that Simon had discussed during the faculty meeting: what it was like having young children in the pandemic. 
Luongo has felt the intensity of having two children under the age of ten growing up in the pandemic, and although he is gratified to see them adjusting so easily, he said it is heartbreaking by how little his four-year-old remembers of the world before social distancing. 
"Everybody needs an artist who they feel has lived their experiences and understands first hand what they are going through. Everybody. And I didn't really realize I needed a parent of young children to help me process some of this," Luongo said. 
As both members of the Whitman music department and fathers to young children, Luongo and Simon became friends long before the release of the EP. Luongo said that they had spoken on Simon's project back when it was in its early stages.
"The conversations I had with him were very different plans for a very different project, pre-pandemic," Luongo said. "It seems like he was thrown some significant curveballs, and really managed to make some lemonade from his lemons. He found a way to make an amazingly relevant and, I think, even more interesting project out of the obstacles he was presented."
Simon echoed this thought and emphasized how much the project had to shift since its inception.
"I started with this idea that I wanted to do an album on place, specifically exploring the nature of space within recording. So going to different places in the country and recording friends that I knew. But that had to change when the pandemic started, and we couldn't be in the same places as one another."
Overall, Simon was happy with the work he created, and how it could stand as a testament to technology's ability not only to connect people but to facilitate a project grounded in the human experience that was personal to all those involved. His first release in years, this EP was a perfect creative outlet to process the harsh realities of the past year, realities that many still connect with.
"It was nice to put something out into the world, it felt like so much of last year was about taking things away," Simon said.
Social Distancing: Four Songs Of The Pandemic by The Michael Simon Project is out now on Bandcamp, as well as other music streaming services.