"Holding Patterns" exhibition in Stevens Gallery navigates artistic moral questions
Last week, colorful abstract paintings filled the walls of the Stevens Gallery, with pinks, oranges and blues popping out from the walls of the small room.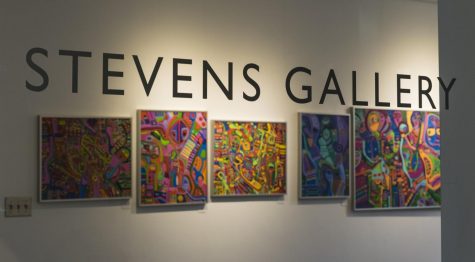 The display, "Holding Patterns," was a set of paintings by Louise Abrams, an artist who was born in 1941. Although the Stevens Gallery generally features artists who are connected to Whitman in some way and are in direct contact with the curators, this situation was unique —  the gallery has had no contact with the artist on display.
Daniel Forbes, the director of the Sheehan Gallery, explained that he has been working with the Stevens Gallery for a number of years as a mentor to student curators. The Abrams paintings on display last week are ones that he bought last fall from a New York auction house.
According to Forbes, as well as Abrams's website, Louise Abrams is a "visionary artist" who attended art school in the 1960s. By the '70s, she was a renowned artist with displays in several gallery exhibitions.
"[She] has produced literally thousands of pieces… she's incredibly prolific," Forbes said.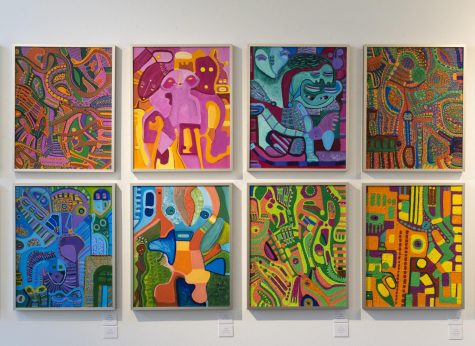 But after the '70s, there is little record of any exhibit activities. Abrams, although still producing large amounts of work, dropped out of the public eye.
"She is someone who has had significant mental health challenges throughout her life, and as a result, she's had to be in different sorts of care facilities," Forbes explained, adding that there is no public record of what sorts of challenges the artist faces.
The work on display in the gallery came from a storage facility, which was subsequently sold through the auction house due to a court order. Although Forbes reached out through the auction house to Abrams's caregiver to try to form a connection, he has yet to receive a response.
Forbes also noted that he was shocked by what he saw at the auction — there was so much artwork that it was divided into sections, and he saw some of the art later listed on eBay for extremely high prices.
"One [listing] was kind of horrific because they had it labeled as "Visionary Artist with Mental Health Issues"—it was so insensitively written. And I doubt that they'll get the prices that they wanted [because] they had [listed] her paintings for like 12 thousand dollars, 15 thousand dollars," Forbes said. "There are other artists that I know of who fall into this category where, they make all of this work, but then someone else ends up benefiting."
Forbes explained that he wanted to get Abrams's work out there and make it visible again, but that it's still an interesting moral question for the gallery. Elie Flanagan, a junior art and English double major and a student curator for the Stevens Gallery, agreed.
"[It's] definitely a strange ethical conundrum to be in, [in my] first year working in a gallery," Flanagan said. "This whole ethical quagmire of what are the moral ramifications of putting this work on display when she potentially has no knowledge of what exactly is going on… Obviously, she used to display in public galleries, but… we don't know if she would like it or not, really, to have her work up in this way."
On the other hand, Flanagan noted, the college is an educational facility and is not monetarily profiting off of the display.
"It's complicated; it's not black and white from every angle… Speaking for myself, I know I've put a lot of time and work into making the show look good and presenting the work in a neat way," Flanagan said.
Flanagan also noted that knowing the history behind the work certainly makes the viewing experience more complex.
"I think knowing the context for it and knowing the background of how it came to be makes it a more complicated viewing experience, but I don't think it takes away from it," Flanagan said. "Gallery spaces are just so ethically fraught… it's always been complicated to have stuff shown in a gallery… just questions of who owns what."
The artwork itself is full of bright colors and abstract shapes. Maya Virshup, a senior biology major, works at the Reid front desk about once a week. When asked about the paintings hanging in the gallery across from her, she expressed that although she's never studied art, she thought they were very interesting.
"I really like the artwork — I think the abstractness and the colors are really fun," Virshup said. "It seems like the artist just painted whatever came to her mind or imagination."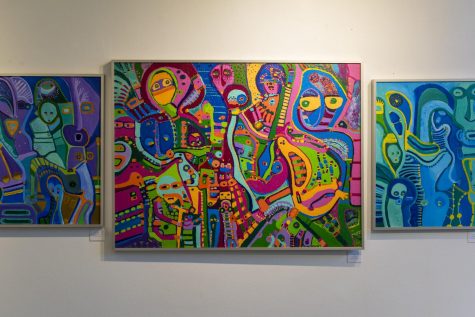 Forbes explained that Abrams's work reminded him of a recent exhibition on Aboriginal artists in the way that it was patterned, but that the work was truly something all her own. He also noted that oftentimes, the industry is unfair to those with mental health challenges like Abrams's.
"Her work is really fantastic, and I'm not just saying that as the person who it now belongs to," Forbes said. "It's really unfortunate — there's a really complicated relationship a lot of times between creativity and [mental health]… You have these individuals who are driven to create and they make these works that are really fantastical… they're really profound. And, unfortunately, a lot of times, historically, you find [visionary artists] — they don't receive the recognition that they deserve, or a lot of times they end up being exploited because they are not able to represent themselves in the established paths."
Forbes hoped that with this gallery, Abrams would be able to gain more recognition and visibility.
"What I like about her work is that it causes me to ask a lot of questions. I much prefer art that incites questions than art that simply provides pad answers," Forbes said.
Although the gallery has now rotated to a different display, Abrams's artwork can still be seen online on the Stevens Gallery website. Flanagan noted that there is a full roster of interesting shows lined up, and recommends checking out the Stevens Gallery in person or online to see what new work they have displayed.