Remembering Rick Martinez in "VOYAGES"
Mo Dow, A&E Reporter
March 4, 2021
The exhibit entitled "VOYAGES: A Rick Martinez Retrospective" in the Sheehan Gallery comes to a close this Friday, on March 5. The exhibit's end marks just over a year since the professor's unexpected death in January of 2020. But although the exhibit is reaching its end, Professor Martinez's memory and work will still carry on.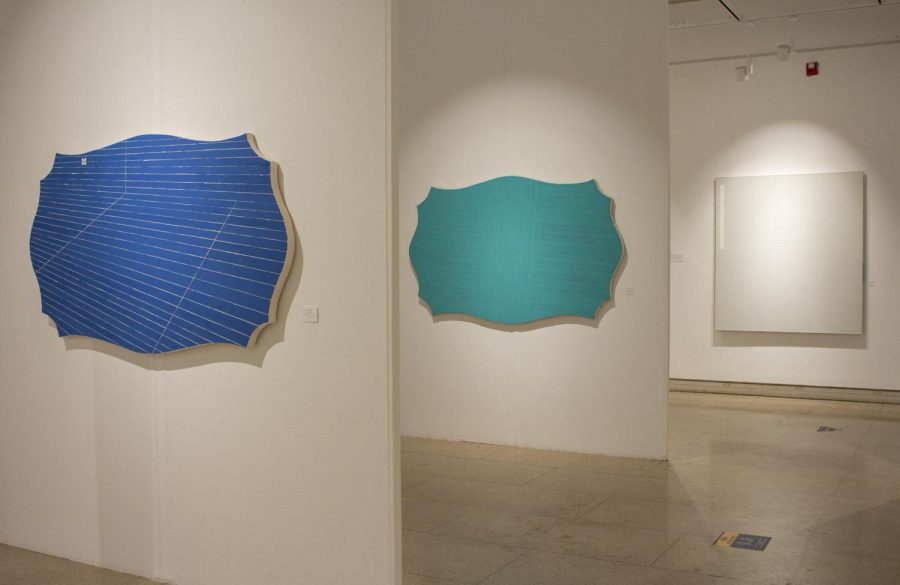 Daniel Forbes is one of the co-directors of the Sheehan Gallery, and played a major role in organizing the retrospective. According to Forbes, this project faced a lot of obstacles. Martinez passed away not long before the start of the COVID-19 pandemic and his memorial service was set to occur during the week in which classes were first moved online. Because of this, Forbes felt like no one had been given the space to properly grieve. 
Forbes hoped that the retrospective would serve both as a reflection on Martinez's life and artistry, and to allow people to have a closeness with him that could finally open up the space for people to grieve. To Forbes, this kind of work is crucial during the pandemic, and to helping people process its personal and abstract impacts. 
"At a time where there is so much loss, and each loss is so personal, it's hard to honor the individuals that have passed," Forbes said.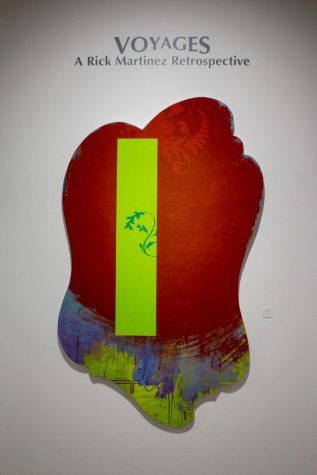 Although Forbes is happy that the retrospective was able to happen and that they were able to shine a light on Martinez's work, he had still hoped to create a more open experience for those who wished to experience and contemplate Martinez's art.
"The pandemic has really disrupted people's channels of grief… I feel like we've accomplished what we can during this time, but have we accomplished what I really wanted to? Not really," Forbes said. 
Forbes recognized that Martinez had impacted both the Whitman and Walla Walla communities. He had intended to open the Gallery to all those who wished to pay their respects to Professor Martinez, but on-campus policies and coronavirus restrictions made this impossible. 
Sheehan Gallery co-director, Kynde Kiefel, has been in her role with the Sheehan Gallery for fourteen years, and with Rick for eight of those. She remembers Martinez in many ways — as an artist, a professor and a colleague. But one memory that still sticks with her extends beyond any of these roles. She remembers when her young daughter saw a polar bear in one of Martinez's paintings and was inspired to color her own polar bear for him. Martinez hung up the drawing in his office. 
After knowing Martinez for close to a decade, Kiefel found that putting on the retrospective was almost cathartic, and being able to talk about Martinez's life as an artist was very personal to her. 
"It haunted me that we couldn't do the memorial last spring… It felt like it just needed to happen," Kiefel said. 
Senior art major Kylie Pitzinger spoke about Professor Martinez and his impact on their work. When Pitzinger transferred to Whitman, Professor Martinez was assigned as their advisor. Pitzinger said that Martinez' style as a professor opened them up as an artist.
"His biggest impact on me was showing me it was okay to make work I wanted to make, and not necessarily just making things for a grade," Pitzinger said. 
Pitzinger, along with other guests, was able to attend a Zoom event in which the directors of the Sheehan Gallery and others spoke about Martinez's work as an artist. Being able to see all Martinez's work was something very new to Pitzinger — although they had seen some of what Martinez was working on before, this was the first time they had seen such a complicated picture of his whole oeuvre.
"It was interesting — kinda like seeing a whole new part of his personality… Being able to see all of his work — it felt like we were finally [in] the space to grieve for him," Pitzinger said. 
Even with the exhibit now closing its doors, Martinez's work will still be available in different parts of campus, including the piece "Stop Motion," which is planned to become a permanent installation in the foyer of the Fouts building.
If you are unable to visit the exhibit in-person, the Sheehan Gallery website offers a virtual interface to explore "VOYAGES."