Whitman students find places in Walla Walla to gather safely
When the Whitman community emerged from the mandatory two-week quarantine at the beginning of February, students of all grades were keen to escape the confines of their residences. Returning students flocked to familiar hangout spots, while first years eagerly began exploring Walla Walla on a quest to establish their own.
Now that Walla Walla has entered Phase 2 of Washington State's Roadmap to Recovery, indoor dining is permitted at 25 percent capacity and the limit on outdoor social gatherings has been extended to 15 people. As a result, outdoor gathering spaces have become increasingly viable spots for students seeking to connect.
For some first years, getting acquainted with the broader Walla Walla area involved some considerable trial and error. Roommates Zach Johnson '24 and Leo Cohen '24 described their search for the ideal casual basketball spot that took them from the aging courts at Green Park Elementary School to the lush, open fields of Wildwood Park.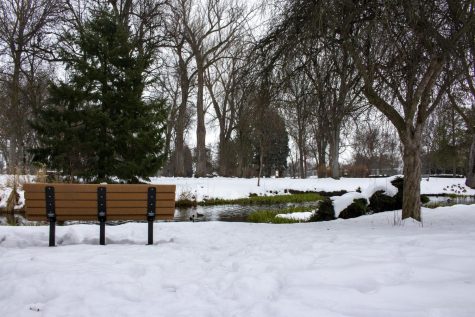 "We met each other when we all moved in and stuff. After quarantine ended, we kind of realized that there were a few of us who were interested in hooping casually, so we were like, 'Oh, we should go figure out a place to do that,' because it's a good time. You can get some exercise, you know, just have fun with some friends," Johnson said.
Though Johnson and Cohen have settled on a permanent spot for shooting casual hoops, there's still much to explore in the Walla Walla area.
"I'm trying to find day hiking spots in the surrounding areas. It's really snowy right now, so that's tough," said Cohen.
Residence halls, as well as the Outdoor Program, have also found Pioneer Park to be a viable space for holding safely distanced, in-person programs and activities. Its size and proximity to campus make it an ideal space for frisbee matches, cross-country ski trips and outdoor hall events.
Another central conduit for community beyond the bounds of campus can be found on 1st Avenue between Main Street and Alder Street. Back in July 2020, the City of Walla Walla closed this portion of the street to motor traffic and set up a vast outdoor dining space in an effort to revitalize foot traffic for the area's restaurants and coffee shops.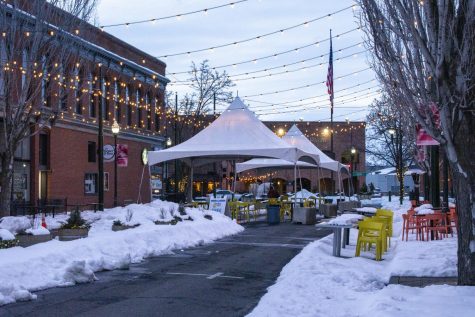 This setup has allowed some Whitman students to escape the repetitiveness of campus life and experience a small taste of normalcy. String lights and colorful umbrellas offer a persuasive alternative to dining out, and the act of sitting and dining with close friends is something many students haven't been able to experience since the COVID-19 pandemic began.
"Just because something is technically allowed doesn't mean it's the safest choice," said Holden Gaupo, the Resident Director of Lyman House. "Indoor dining, for example, is now permitted under county guidance, but has also been linked to high rates of community transmission. We should enjoy the lessened restrictions while continuing to exercise common sense and caution."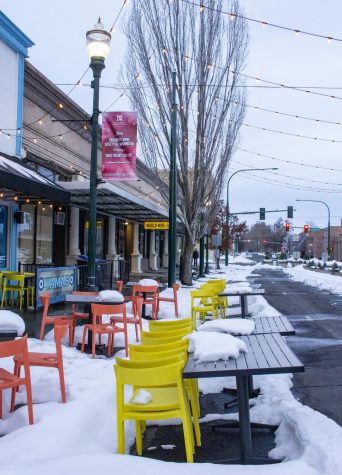 For many, the outdoor dining area strikes the perfect balance between safety and community. However the respite offered by this temporary setup is by no means universal. While to some it represents the freedom of safe gathering, it poses a considerable hindrance to those with vision and mobility-based disabilities.
"Right when folks started reopening their restaurants and trying to make them as safe as possible, of course they made some outdoor dining areas. What that meant was taking up sidewalk space, and taking up parking spaces — particularly disabled placard parking spaces — which has been a huge challenge for me," said sophomore Súeli Gwiazdowski, to whom that particular stretch of 1st Avenue represents a further manifestation of Walla Walla's already poor accessibility.
In Gwiazdowski's experience, much of Walla Walla's infrastructure is exclusionary to those with significant physical disabilities. She described more than a few restaurants and coffee shops downtown with ableist construction that prevented her from being able to physically access them.
"It's a pretty big challenge to be an extroverted cripple in Walla Walla. My two options are to be a recluse, or to constantly face access barriers and subject myself to discomfort in an effort to have a social life. I almost always choose the latter in a non-COVID-19 world."
Back when gathering did not pose significant health risks, Gwiazdowski said she enjoyed spending time at Bennington Lake with friends and using some of the area's more accessible trails.
In fact, Bennington Lake has long been a staple destination among Whitman students interested in the outdoors, but as of late, it has become a gathering spot for more than just avid outdoor enthusiasts.
Sophomore Amelia Leopold frequented the lake this past summer while living in an apartment a few blocks off campus. She has since returned occasionally with friends, and has found it to be a wonderful place to gather on the weekends for socially distanced walks and beautiful views of the Blue Mountains.
"Although socializing in person has become rare this past year," she said, "when possible, I look forward to gathering safely with people whose company I enjoy."
Leopold said she and her friends also frequent the Agapas food truck near the airport, one of many in Walla Walla with outdoor seating and cozy heat sources.
While Walla Walla may have a ways to go when it comes to creating gathering spaces that are universally accessible, for now, as students shoot hoops, gather for outdoor meals and enjoy trips to the park, life for some feels a little closer to what the world used to be.